On July 9th, AYANEO officially released the all-new ultra thin & light OELD 7840U handheld, AYANEO AIR 1S, delivering a powerful true handheld experience that breaks through traditional Windows handheld for players.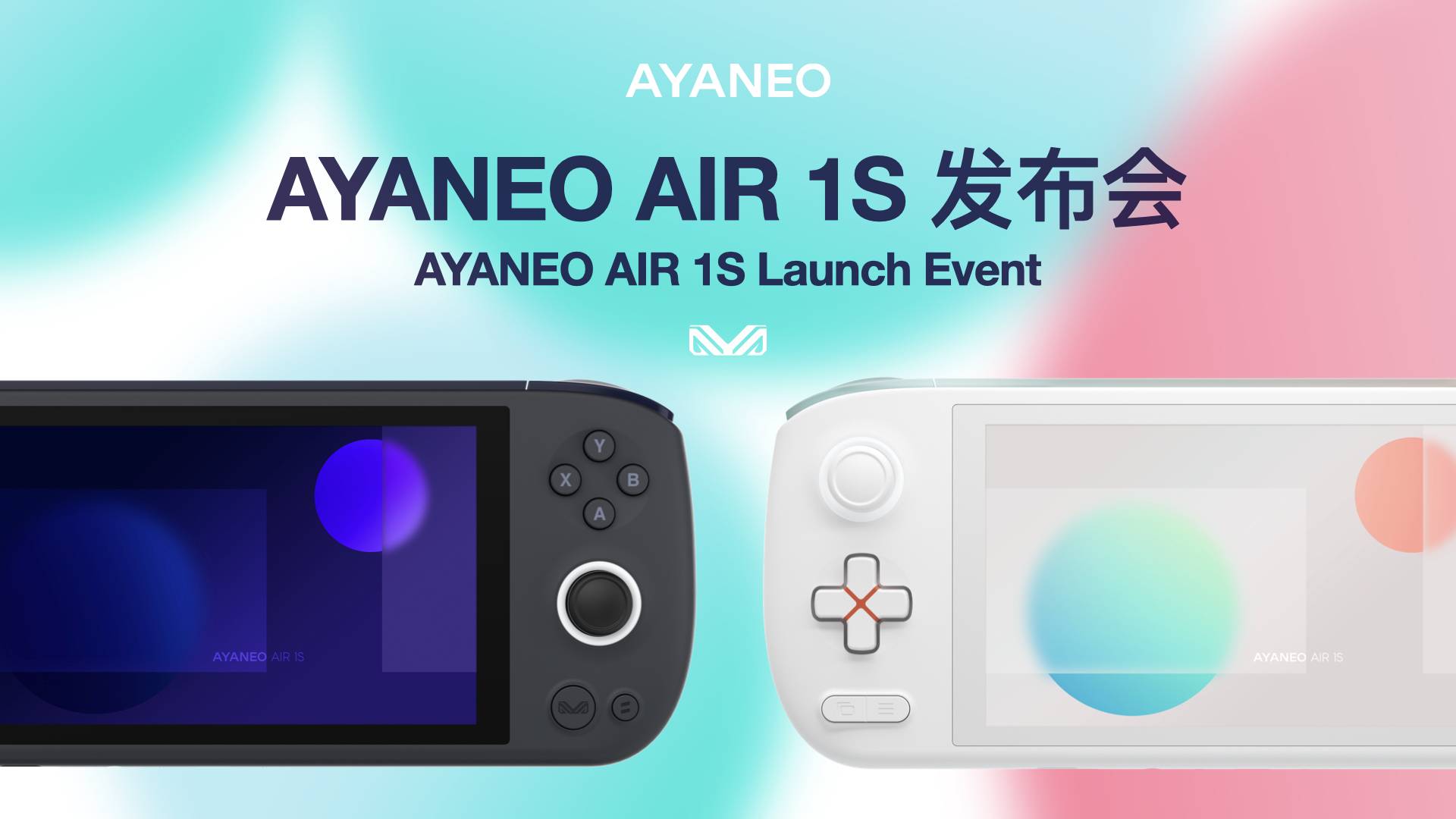 Tracing back to the origin of handheld
At the beginning of the launch event, AYANEO CEO Arthur shared a story about classic handhelds. Whether it was the dominant GB and GBA that once ruled the handheld market, or the Bandai WSC and Sony PSP that attempted to challenge the reigning champion, these classic handhelds followed the principles of compact portability, sufficient performance, and impressive battery life.
It is precisely because of these three characteristics that these predecessor handhelds became beloved classics that players couldn't get enough of, and they can be regarded as the essence of handhelds.
Their success also inspired and influenced CEO Arthur in defining Windows handheld products. As a result, the groundbreaking AYANEO AIR series was born. With a thickness of only 18mm and a weight of 398g, AYANEO AIR became the thinnest & lightest Windows handheld in the world at that time, pioneering the era of lightweight Windows handhelds.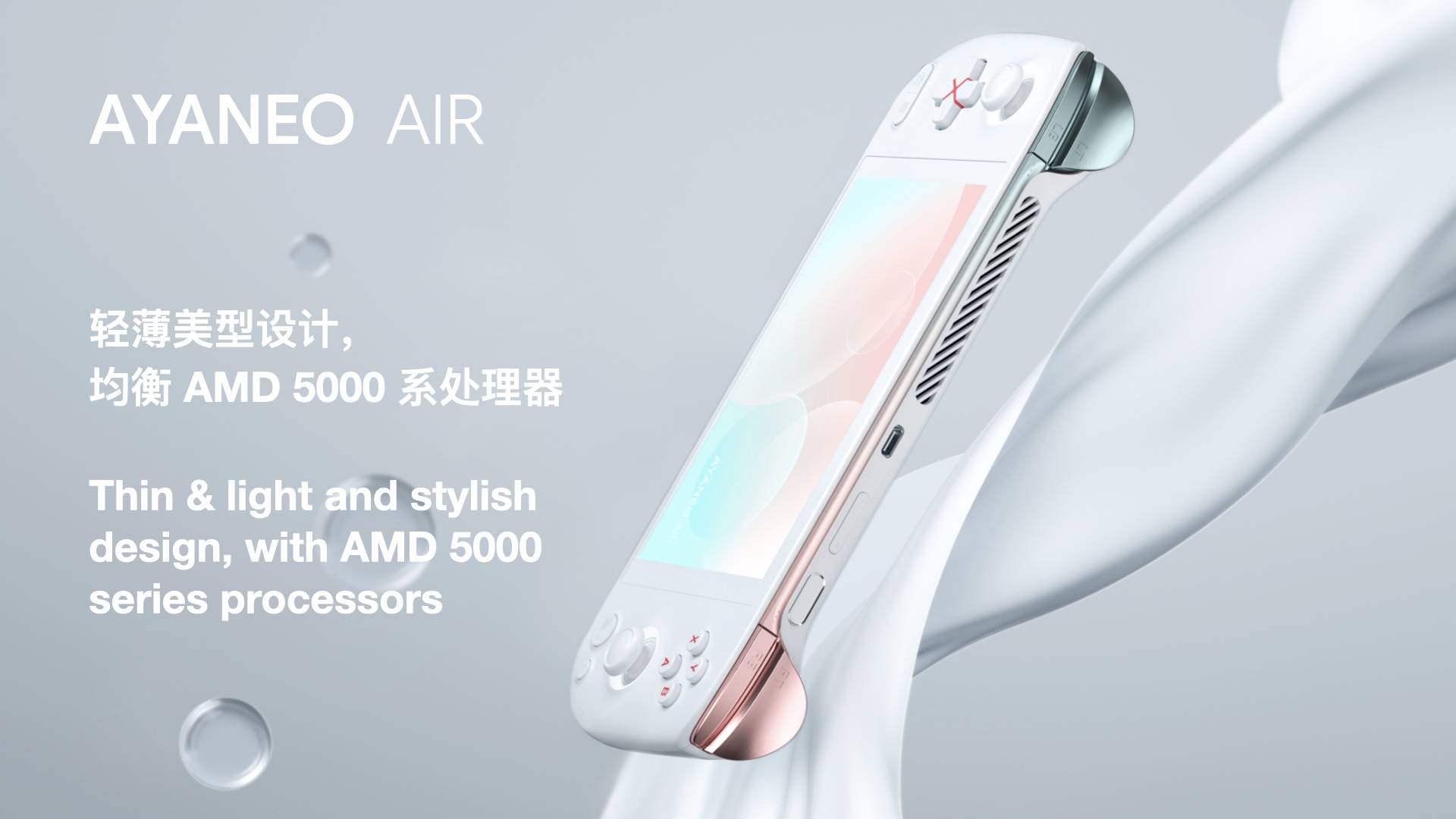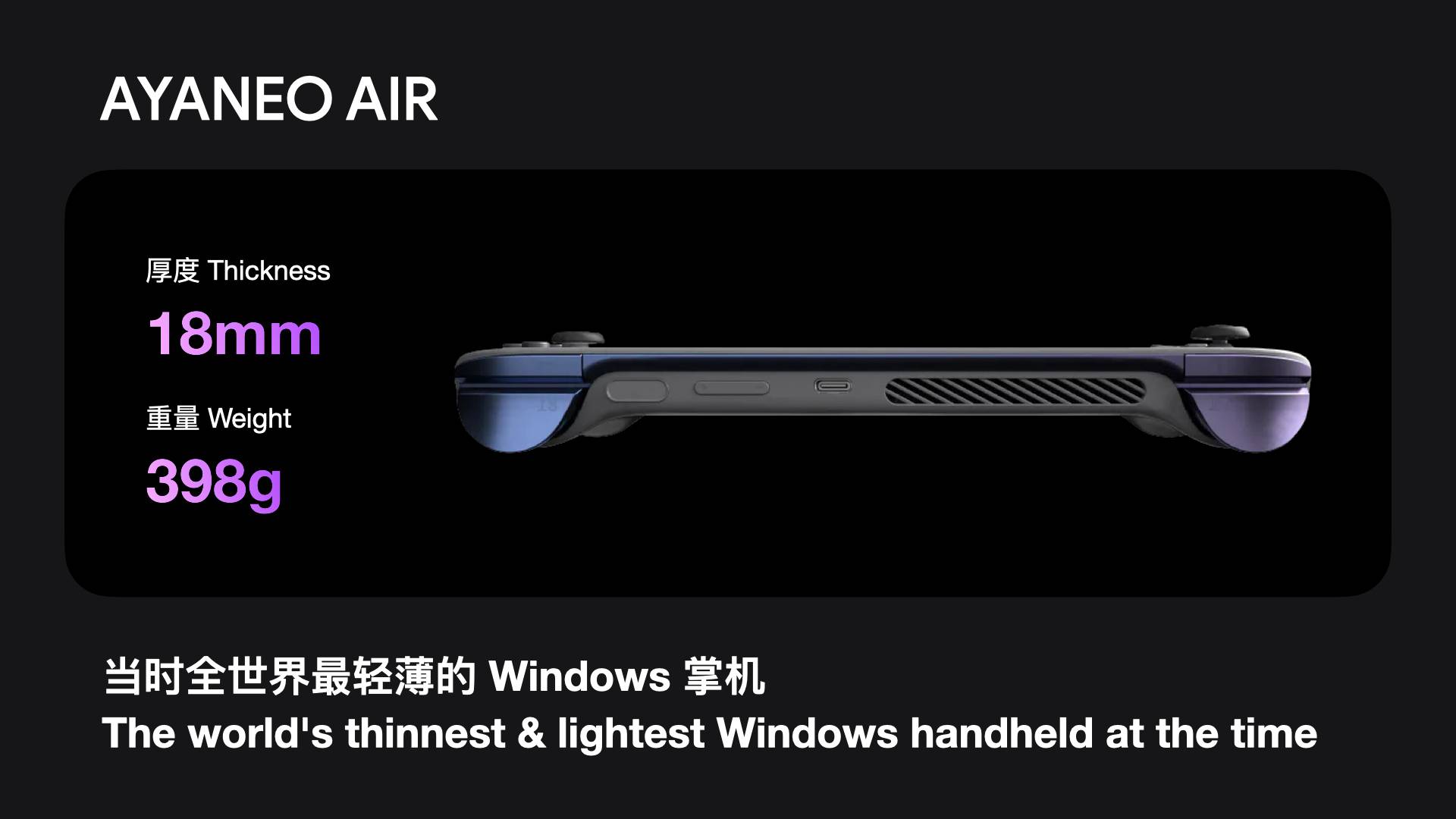 Now, the successor of the AIR generation, AYANEO AIR 1S, is truly returning to the origin of handhelds, creating a thin & light, portable, and powerful Windows handheld. This is the origin of "Real Handheld, Ultra Powerful".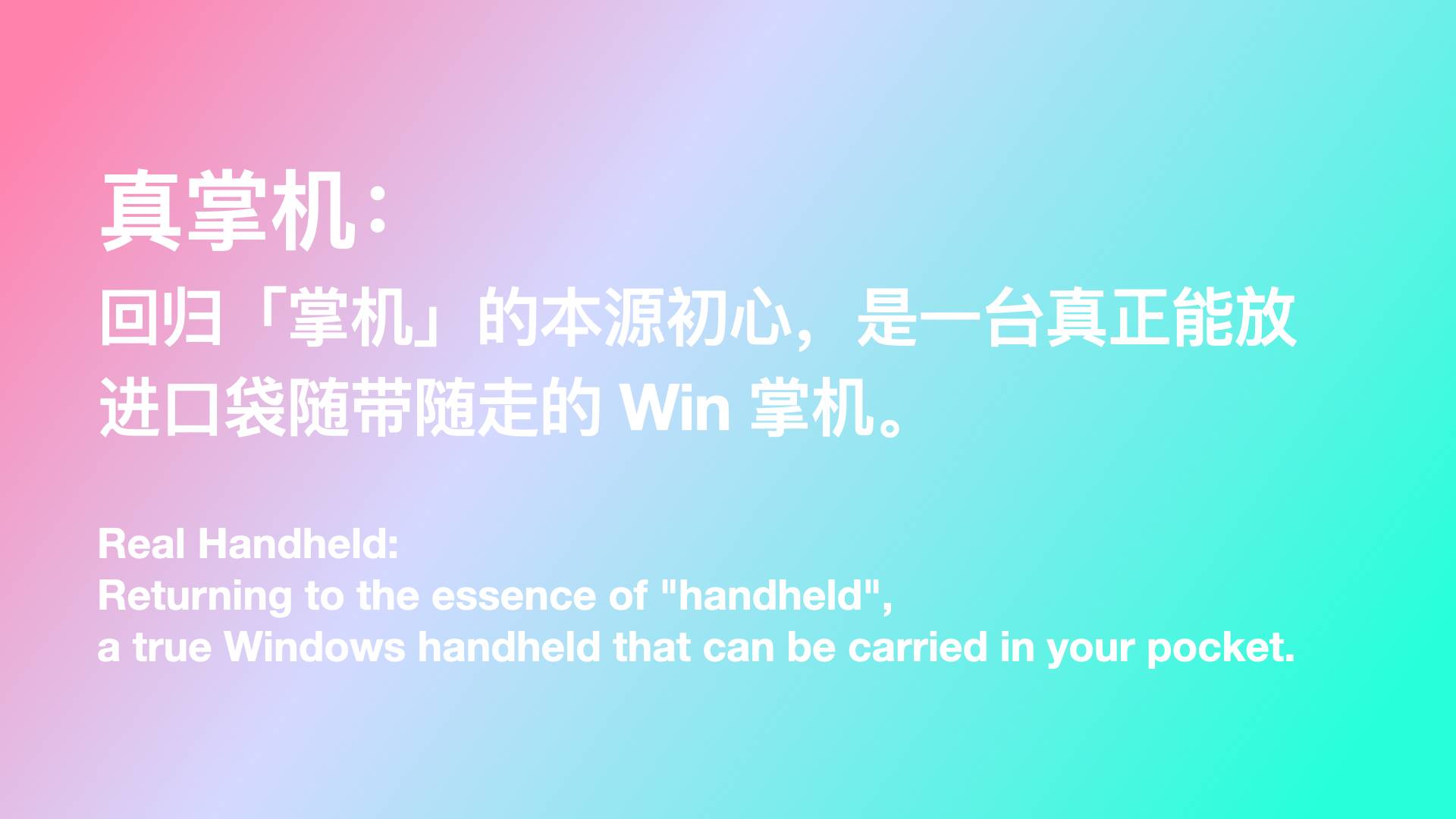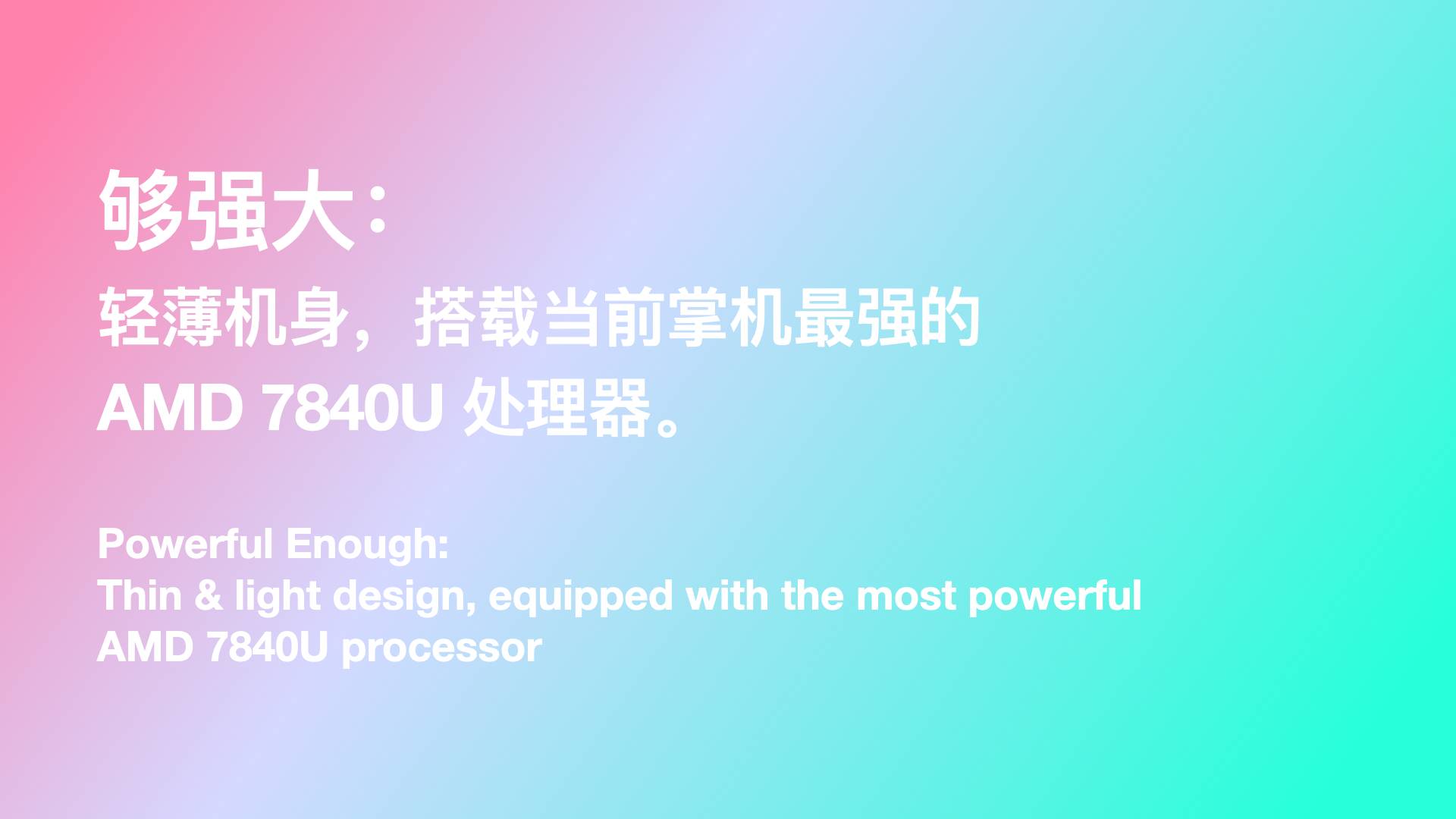 The world's thinnest & lightest AMD 7840U handheld
The new AYANEO AIR 1S Standard Edition continues the thin & light and beautiful design of AIR, with a thin body of 21.6mm and a light weight of 450g, it is still a Windows handheld that can easily fit in your pocket.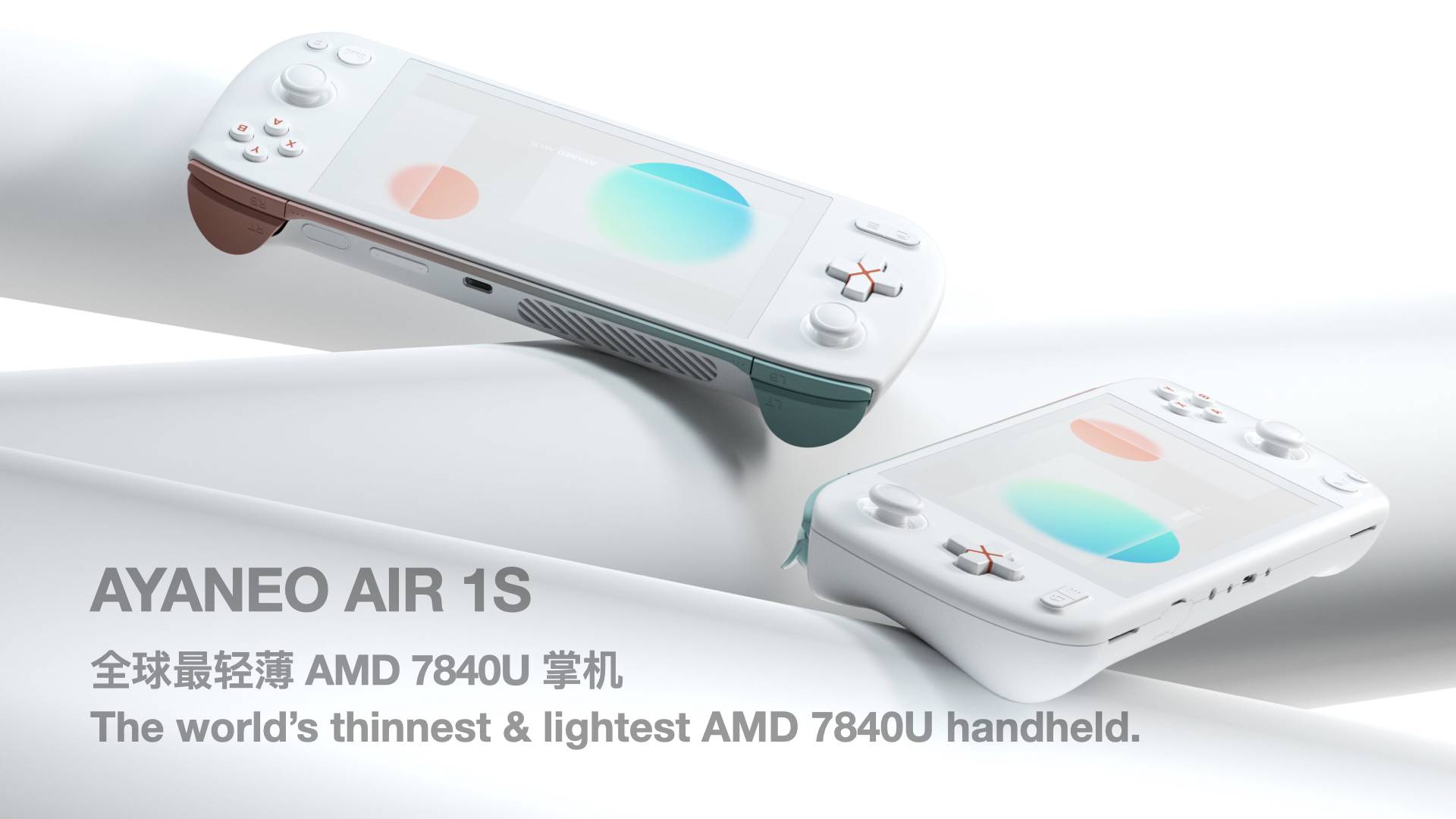 Compared with the mainstream 7" handheld, AYANEO AIR 1S has a clear advantage in size and weight, the whole device is exquisite and compact, even if it is carried around without any extra burden of travel.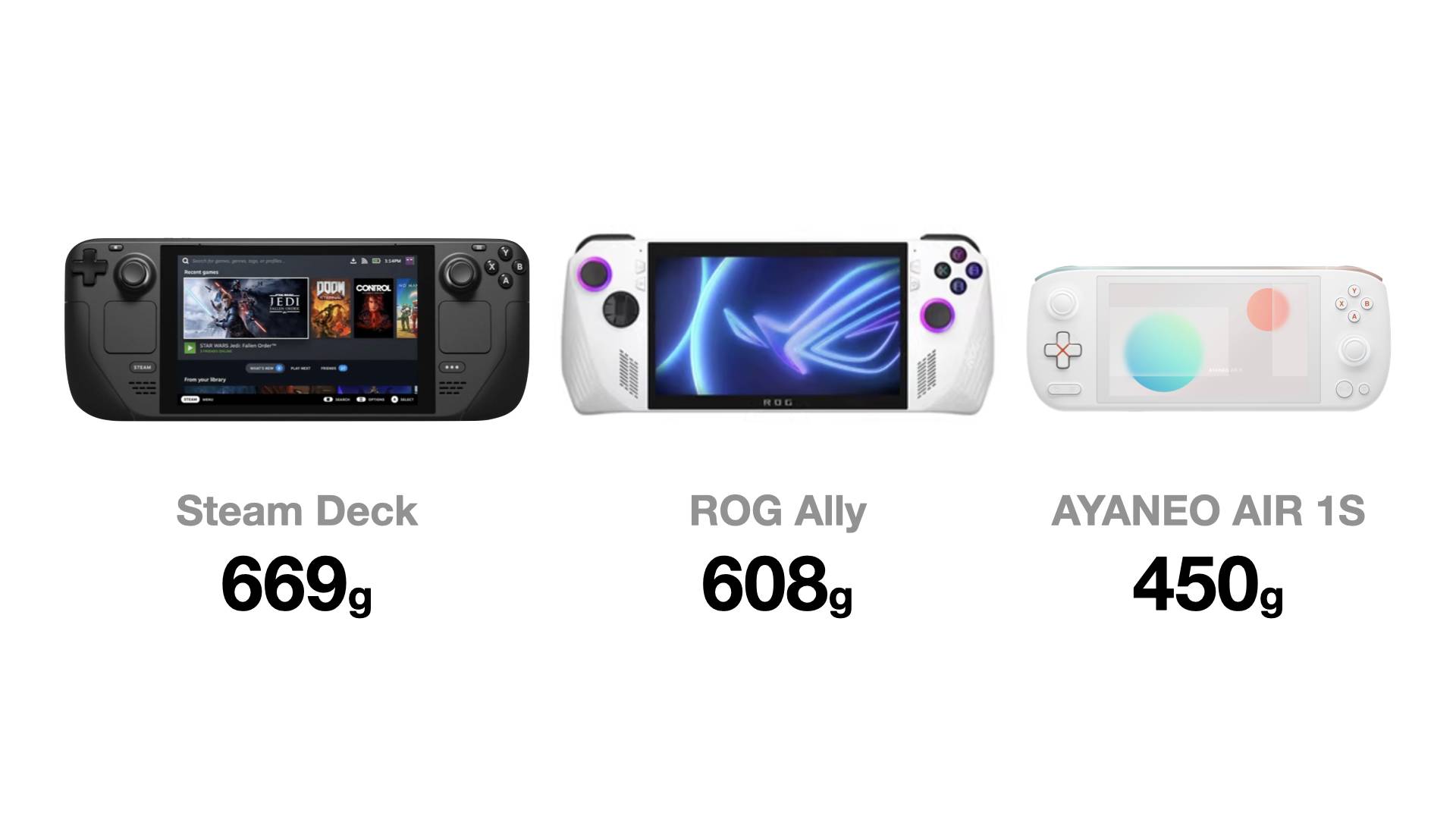 AYANEO AIR 1S features three classic color options: "Aurora White", "Polar Black", and "Retro Power". The artistic color scheme, combined with the meticulously crafted "AIRTouch" ergonomic grip, delivers a top-notch visual and tactile experience for players.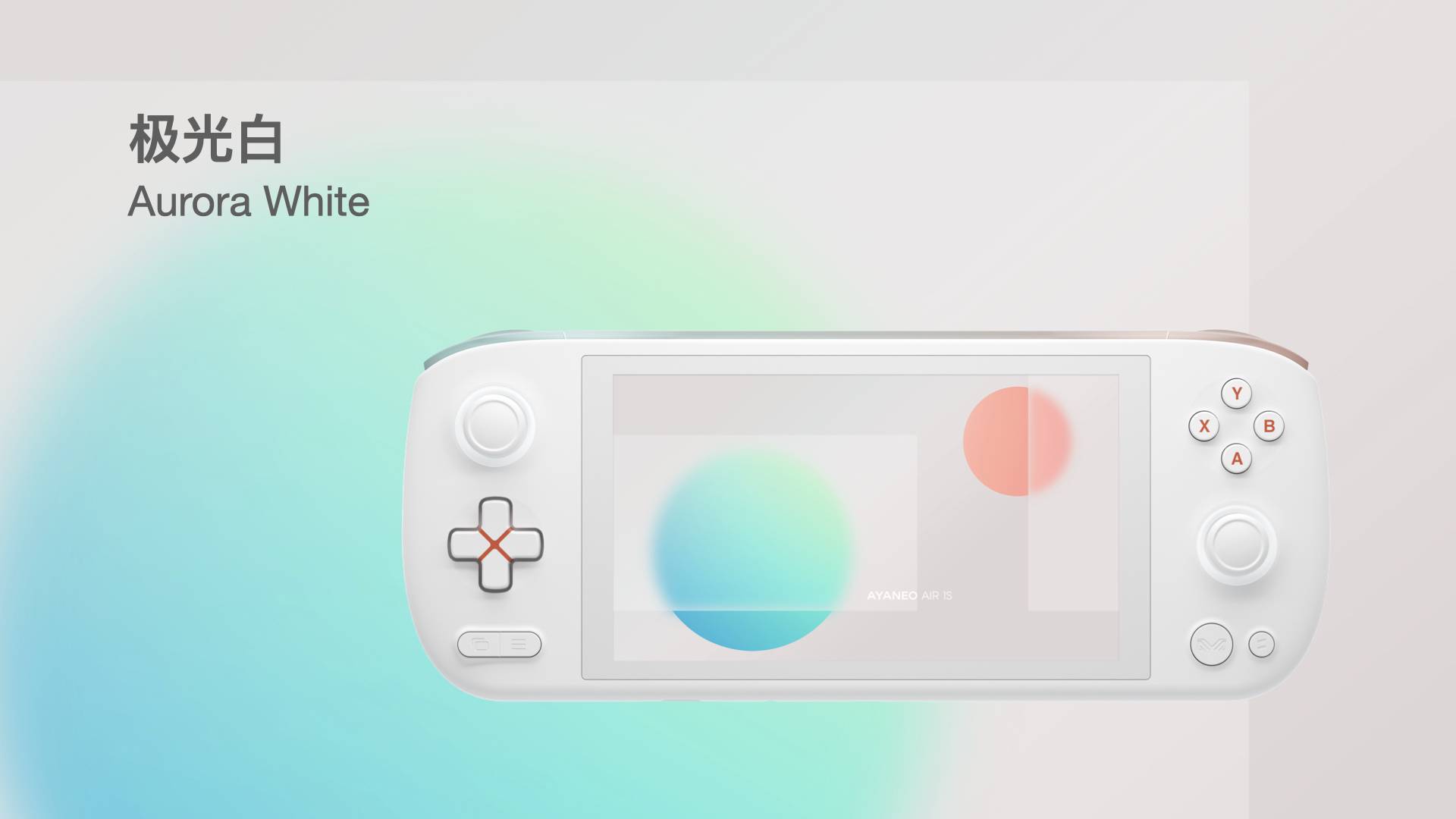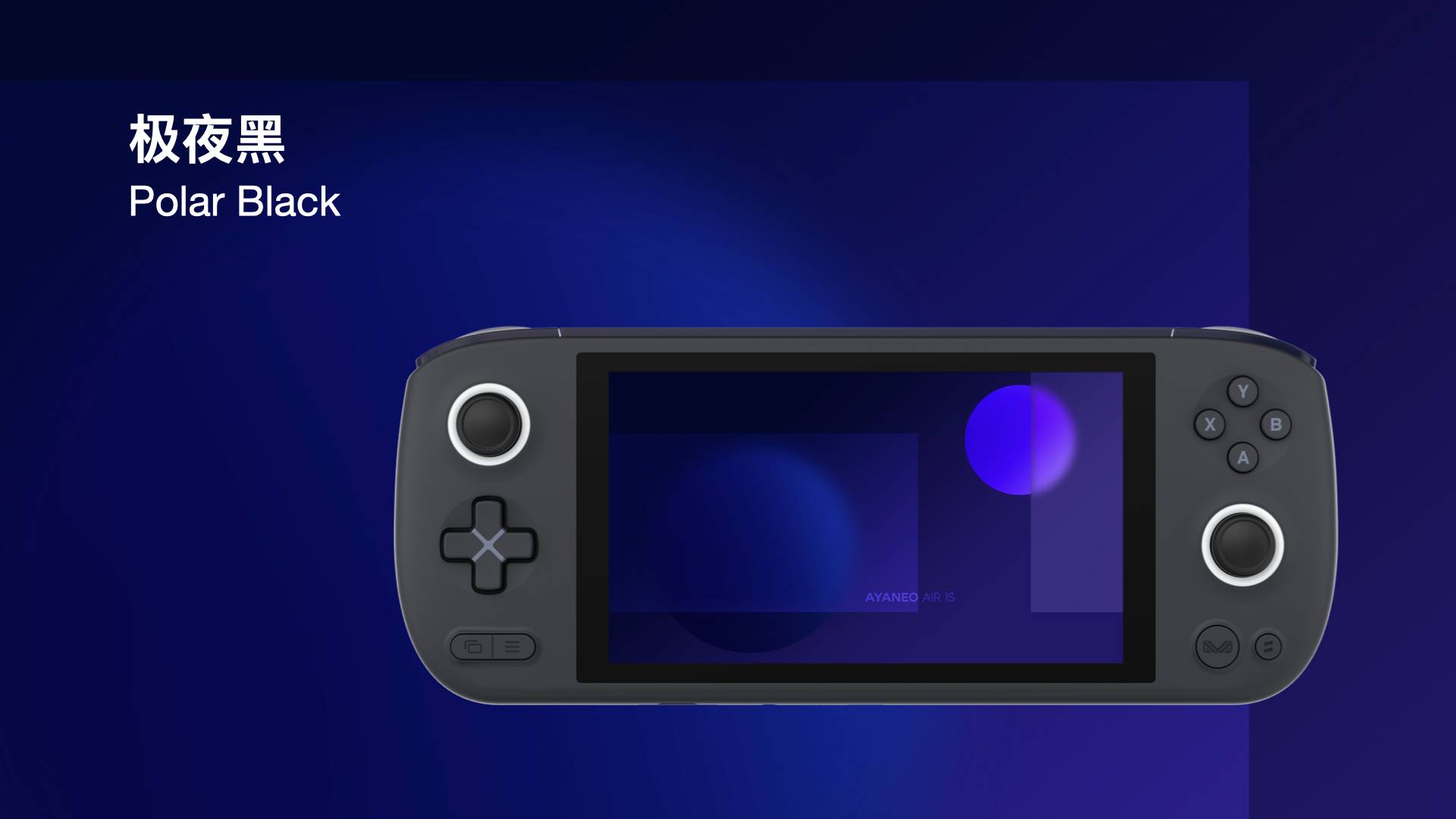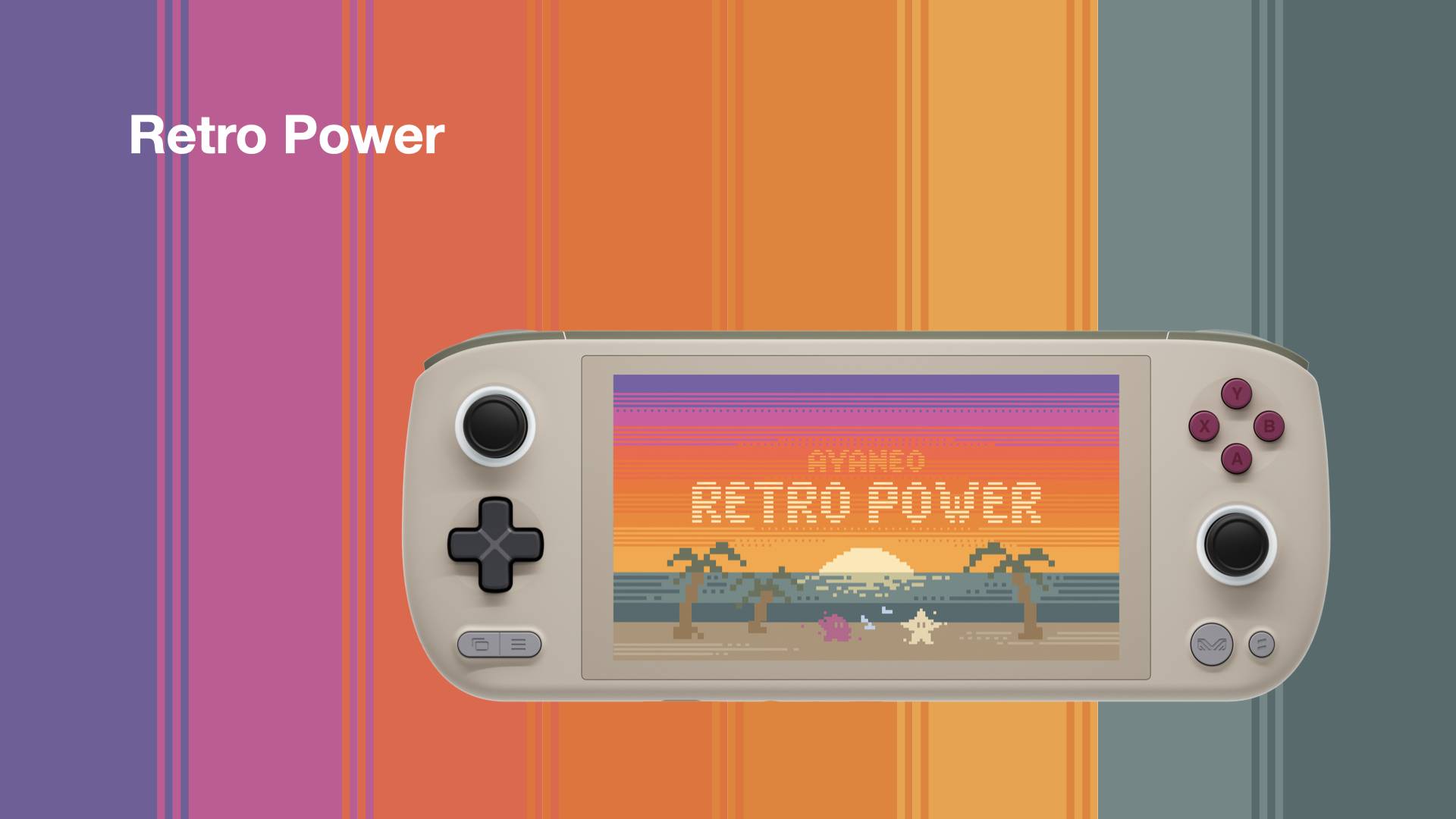 Enjoy the freedom of AAA gaming with exceptional performance
AYANEO AIR 1S is AYANEO's second Windows handheld powered by the AMD Ryzen™ 7 7840U flagship processor, the most powerful flagship CPU for a thin & light handheld to date.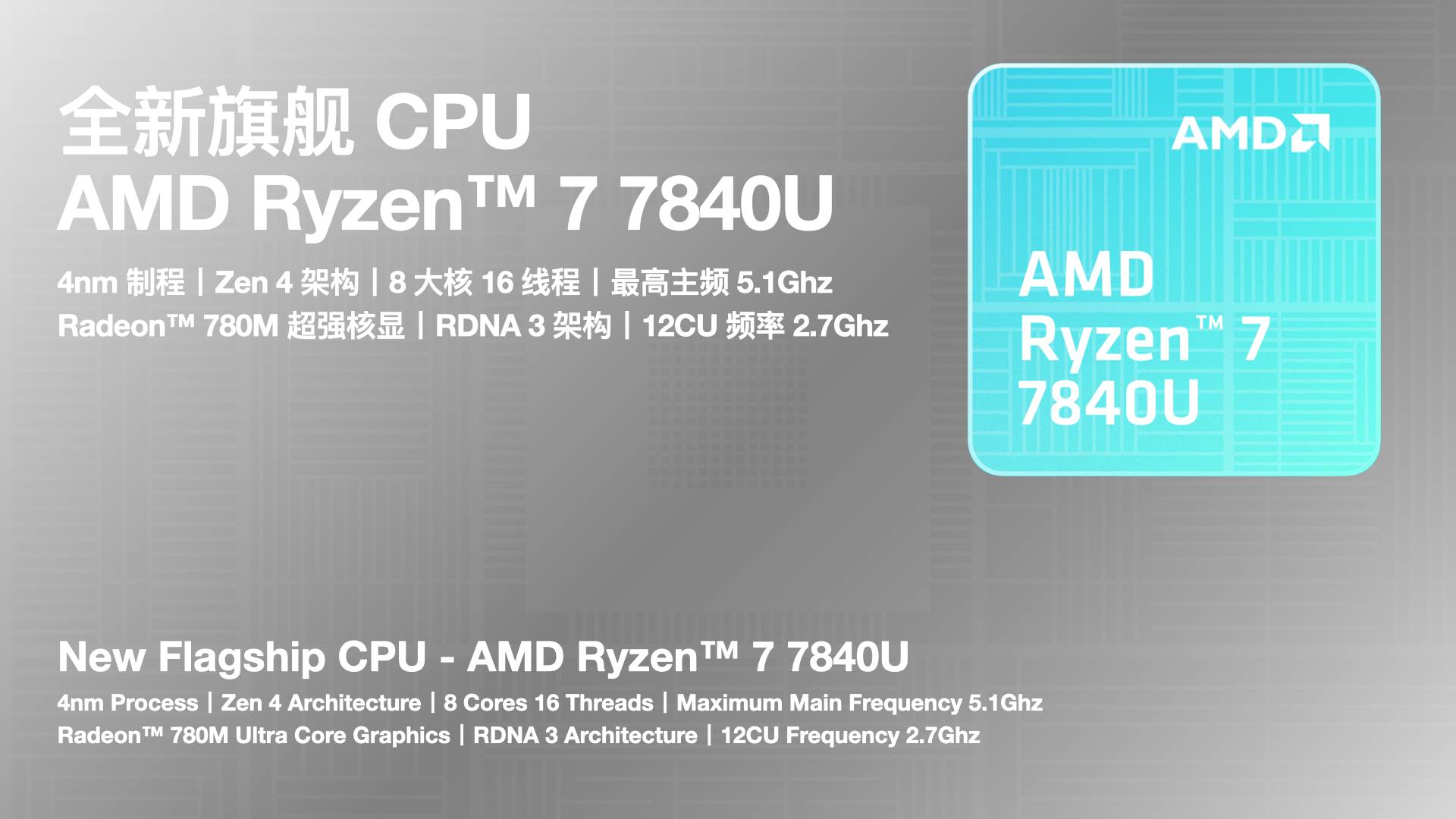 AYANEO team has optimized the internal structure stack of AIR 1S to provide 25W TDP limit in plug-in state and 20W TDP limit in off-power state, making it the thinnest & lightnest Windows handheld with the most powerful performance release ever.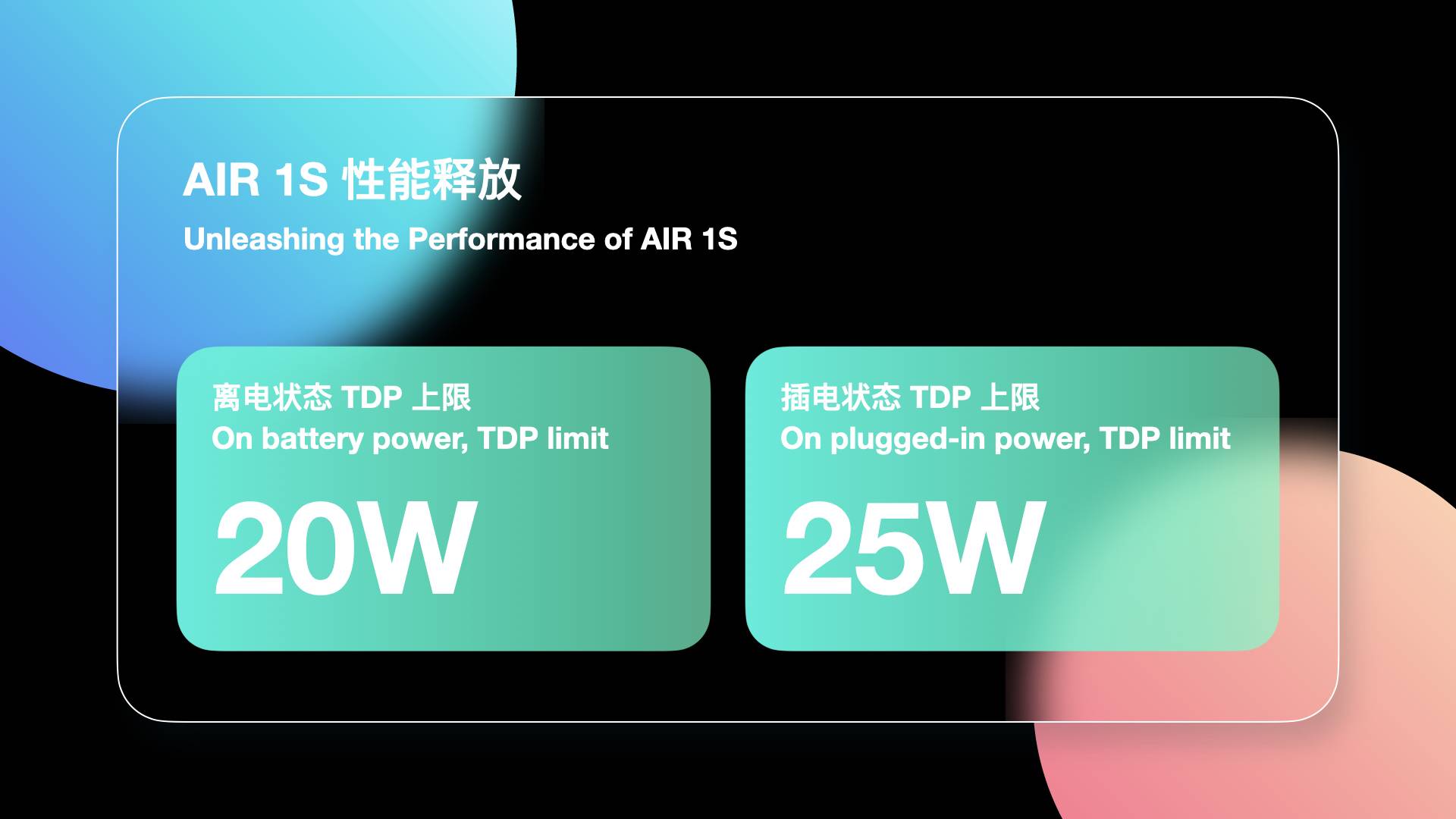 After testing, AYANEO AIR 1S can run AAA games at 1080P resolution and high quality settings with stable high frame performance. And the actual gaming performance is excellent, breaking the stereotype of many gamers for thin & light handhelds, and also announcing the freedom of AAA gaming for thin & light Windows handhelds.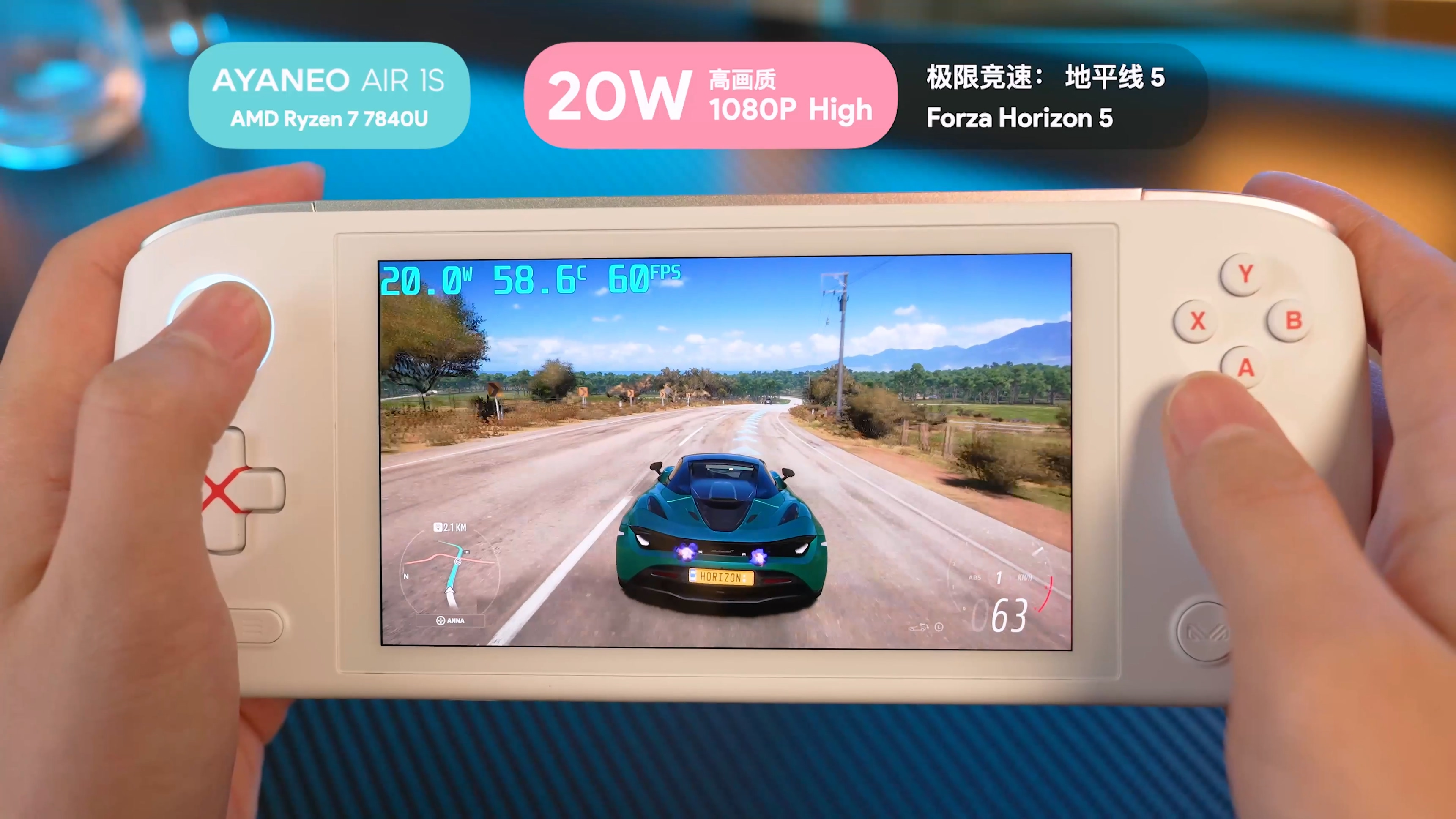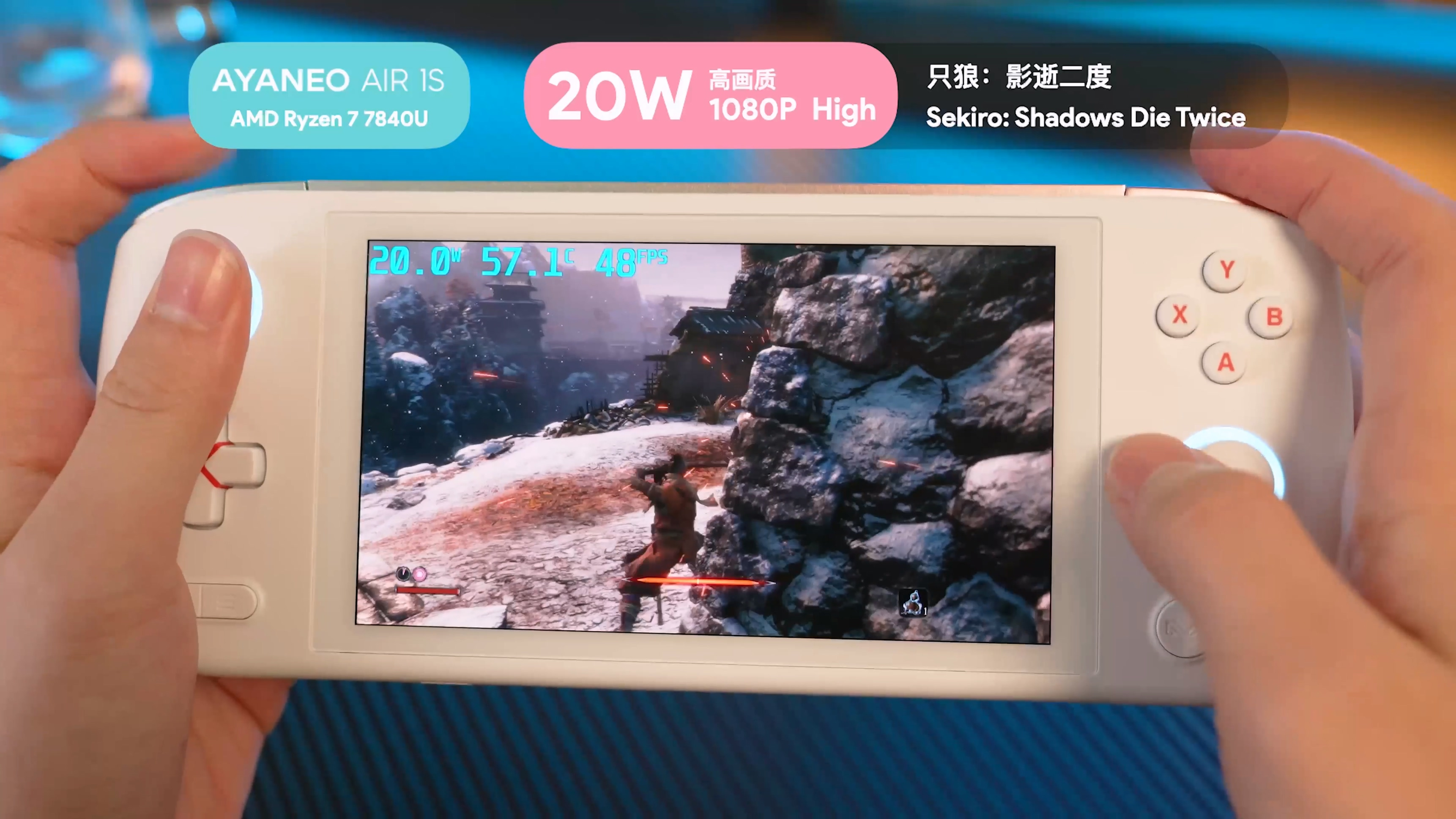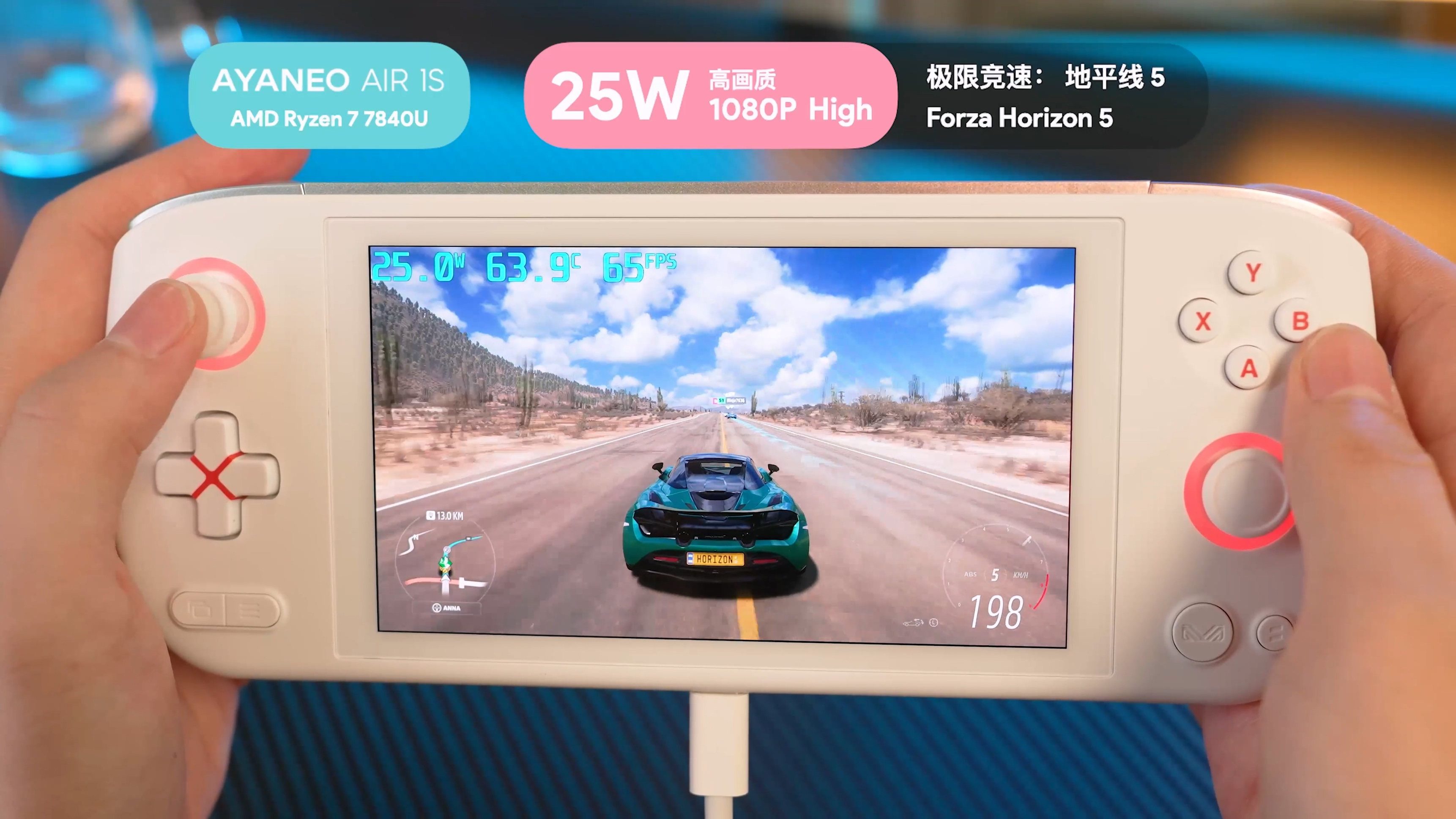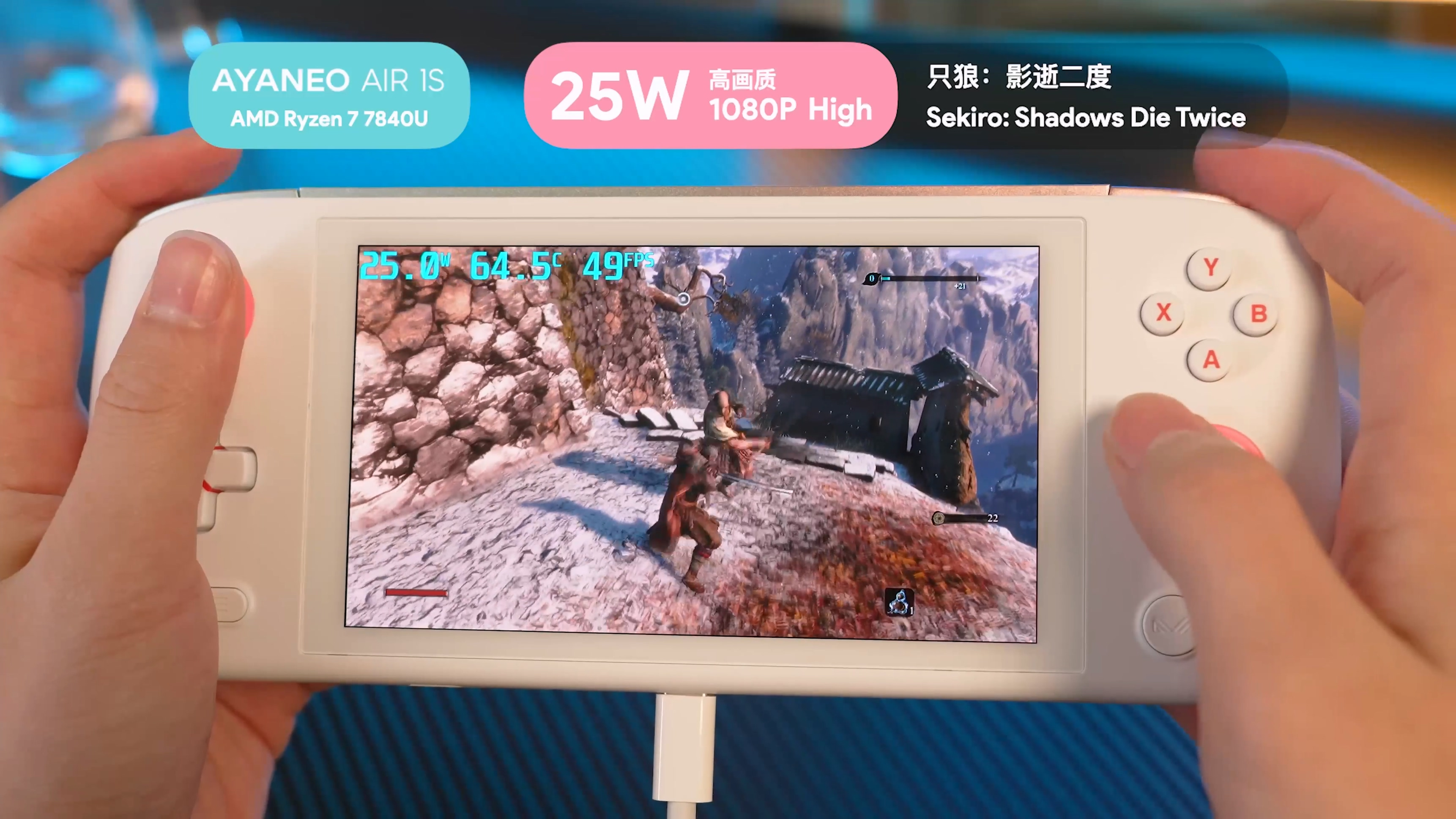 Thin & light with powerful heat dissipation comparable to 7" handheld
The outstanding performance of the AYANEO AIR 1S comes from the newly designed powerful heat dissipation system, the AYANEO team equipped the thin & light AYANEO AIR 1S with a tailor-made dual copper tube heat dissipation module and a PC-class high-pressure turbo fan with airflow up to 4.9CFM, which greatly improves the heat exchange efficiency.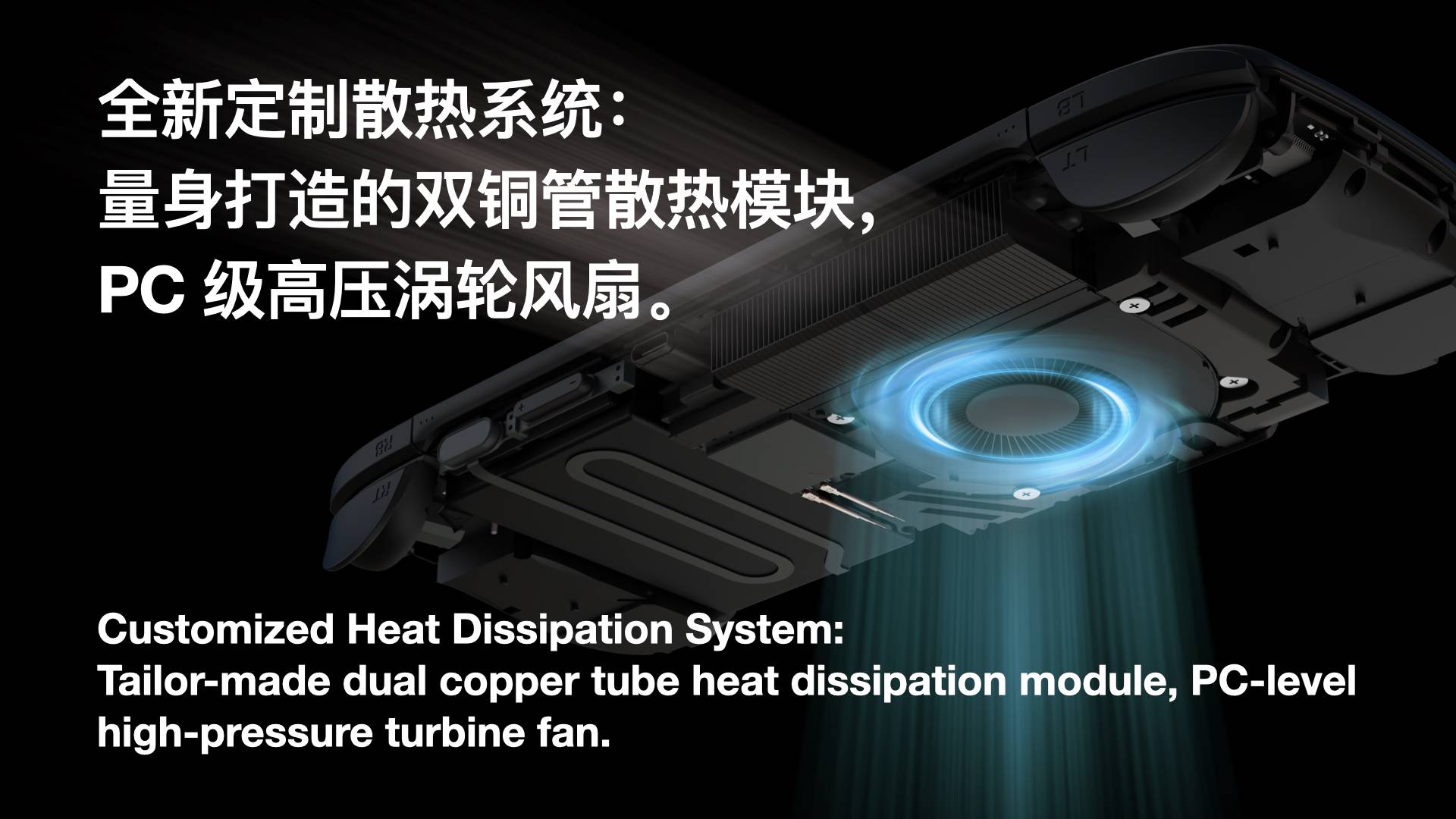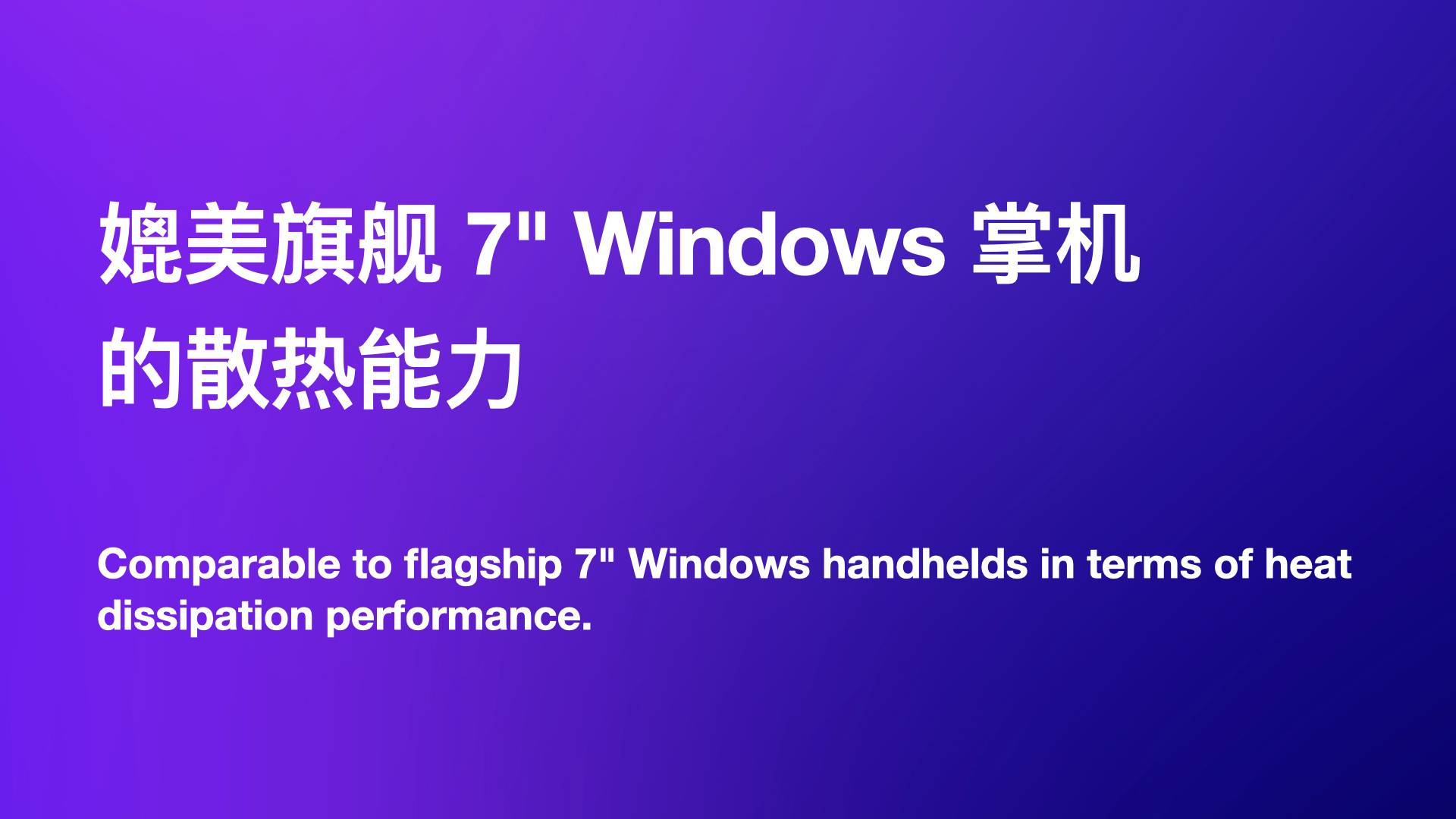 With the heat dissipation area of 18232mm², the AYANEO AIR 1S is comparable to the heat dissipation structure of a 7" handheld. At a room temperature of 25°C, the CPU temperature remains within a stable and reasonable range for both single FPU stress test and long time running AAA games.
With AYASpace 2's built-in "Smart Fan" function, gamers can freely adjust the fan speed strategy according to their needs, whether it's aggressive scheduling with full power or completely silent operation.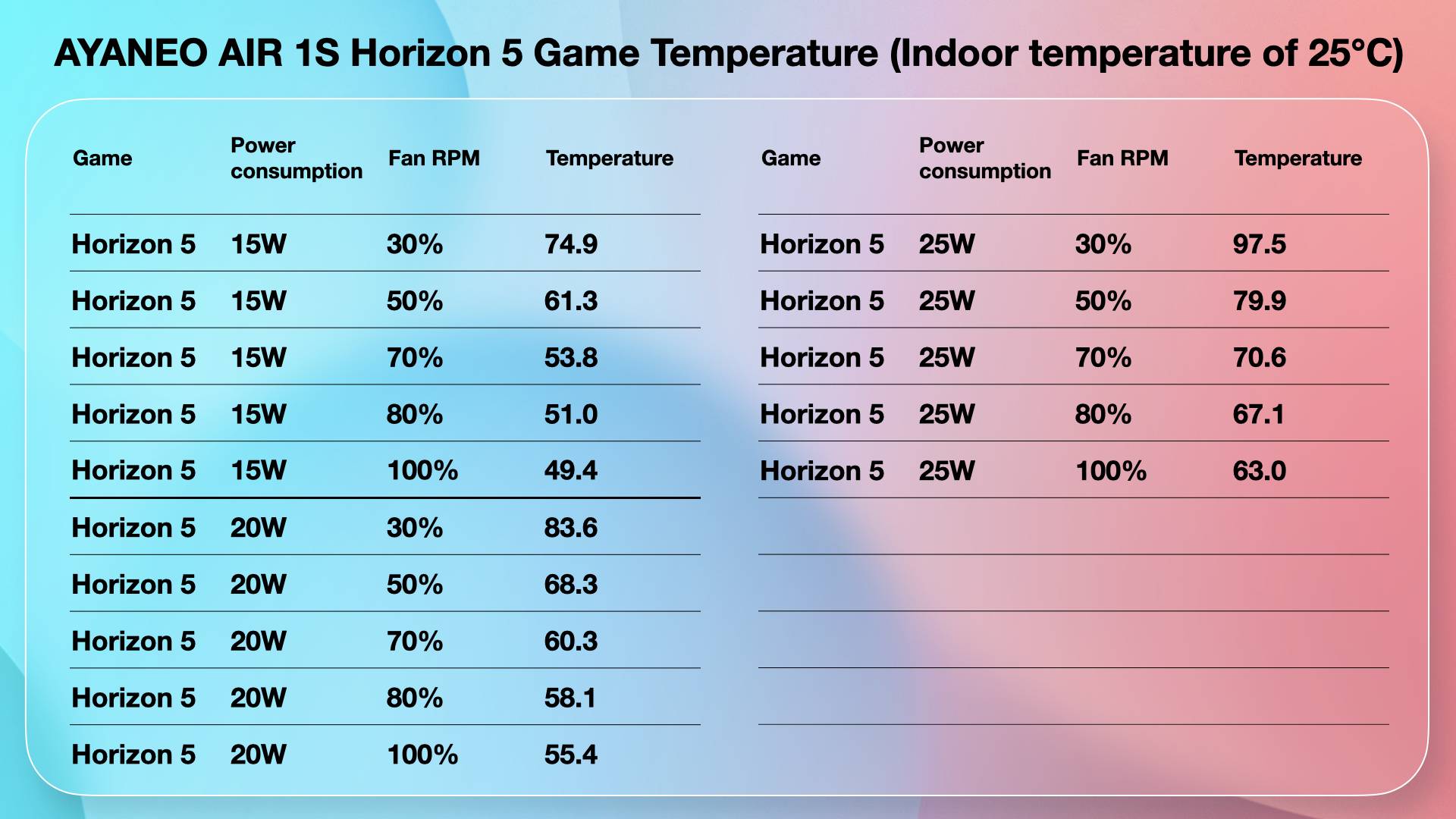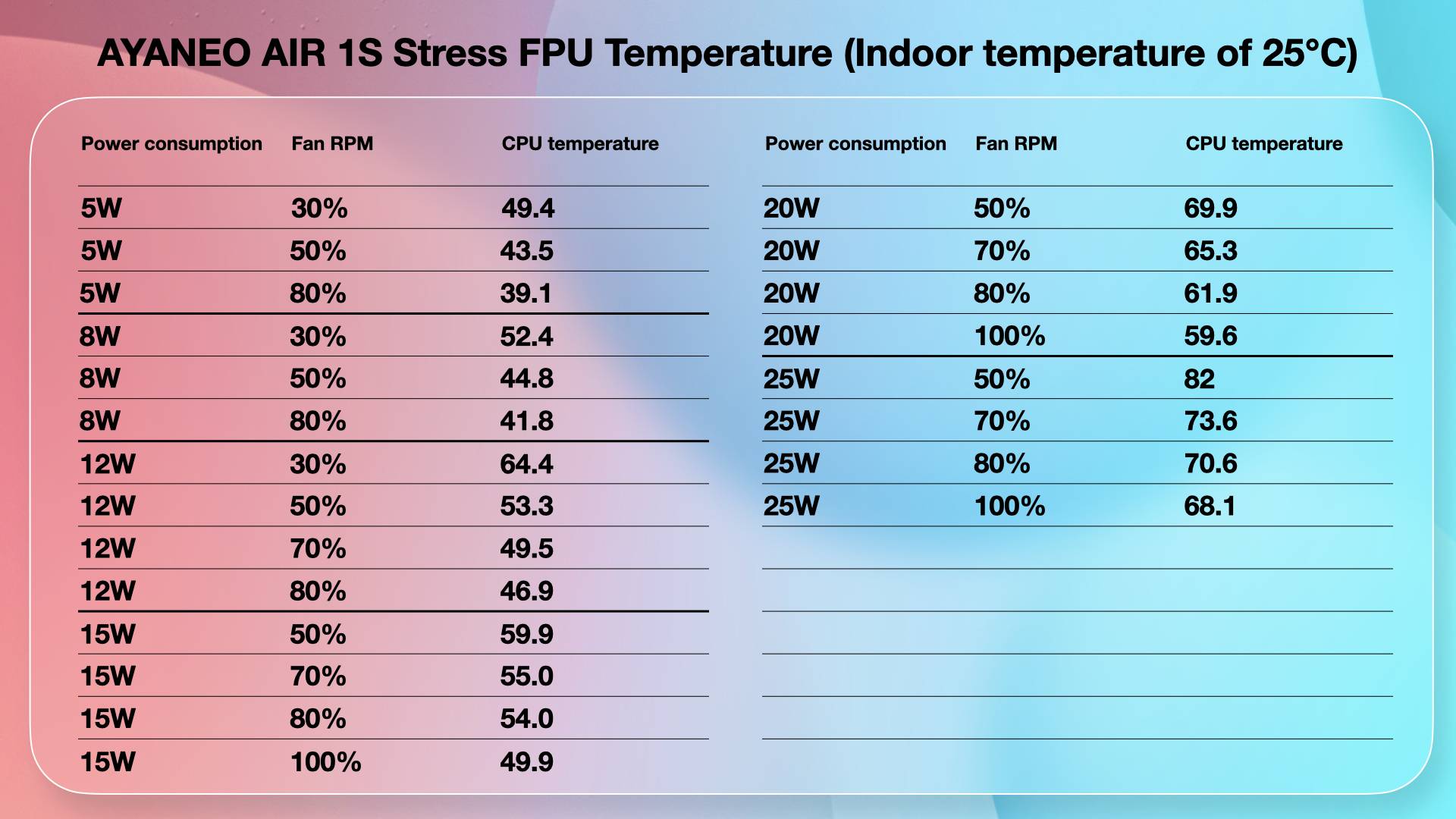 In addition, the internal structure of AYANEO AIR 1S is still well organized and optimized to control the heat generation in all parts of the device, which makes it comfortable to hold and play games for a long time.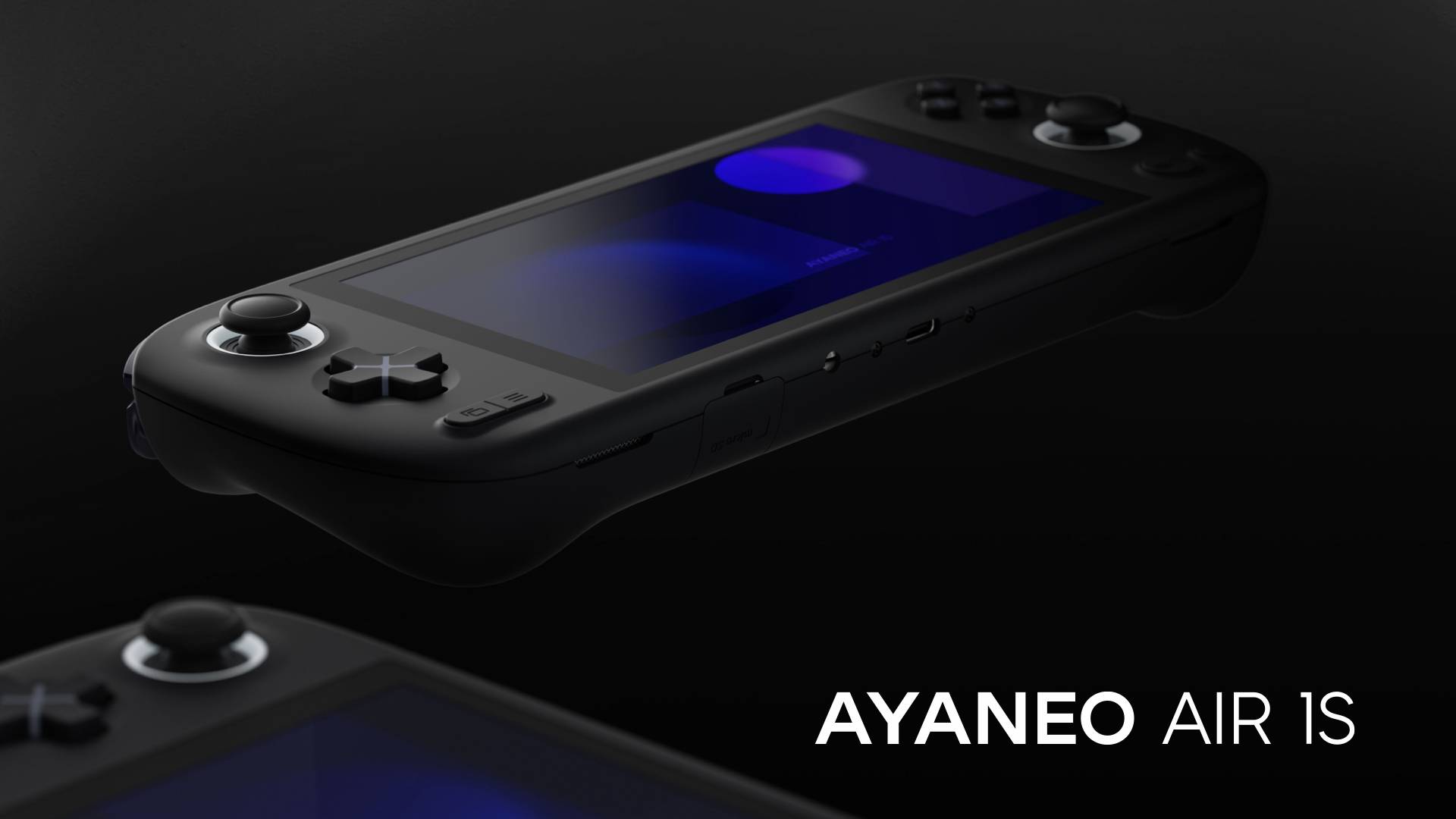 With the AMD Ryzen™ 7 7840U flagship processor and powerful heat dissipation system, gamers can enjoy high frame rate gaming experience on the thin & light & portable AYANEO AIR 1S.
No worries about battery life
The AYANEO AIR 1S is a compact 5.5" Windows handheld with a 38Wh (10,050mAh) battery, a balanced choice made by the AYANEO team after considering the size, weight and battery life of the device.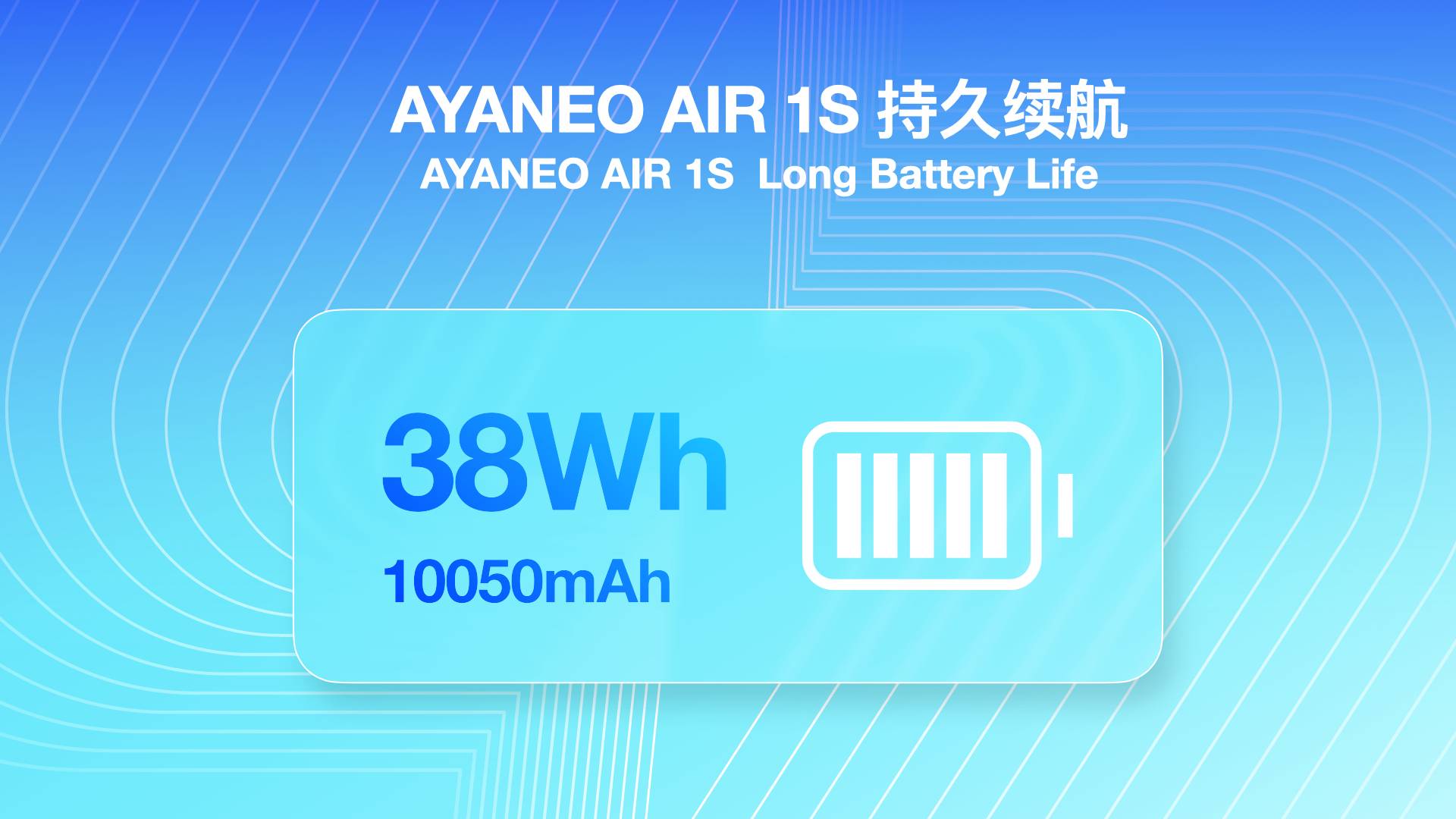 Thanks to the AMD Ryzen™ 7 7840U flagship processor and the AYANEO team's continuous tuning of peripheral power consumption, the overall battery life of the AYANEO AIR 1S has been optimized, making it a true all-around Windows handheld with a balanced blend of thinness & lightness, performance and battery life.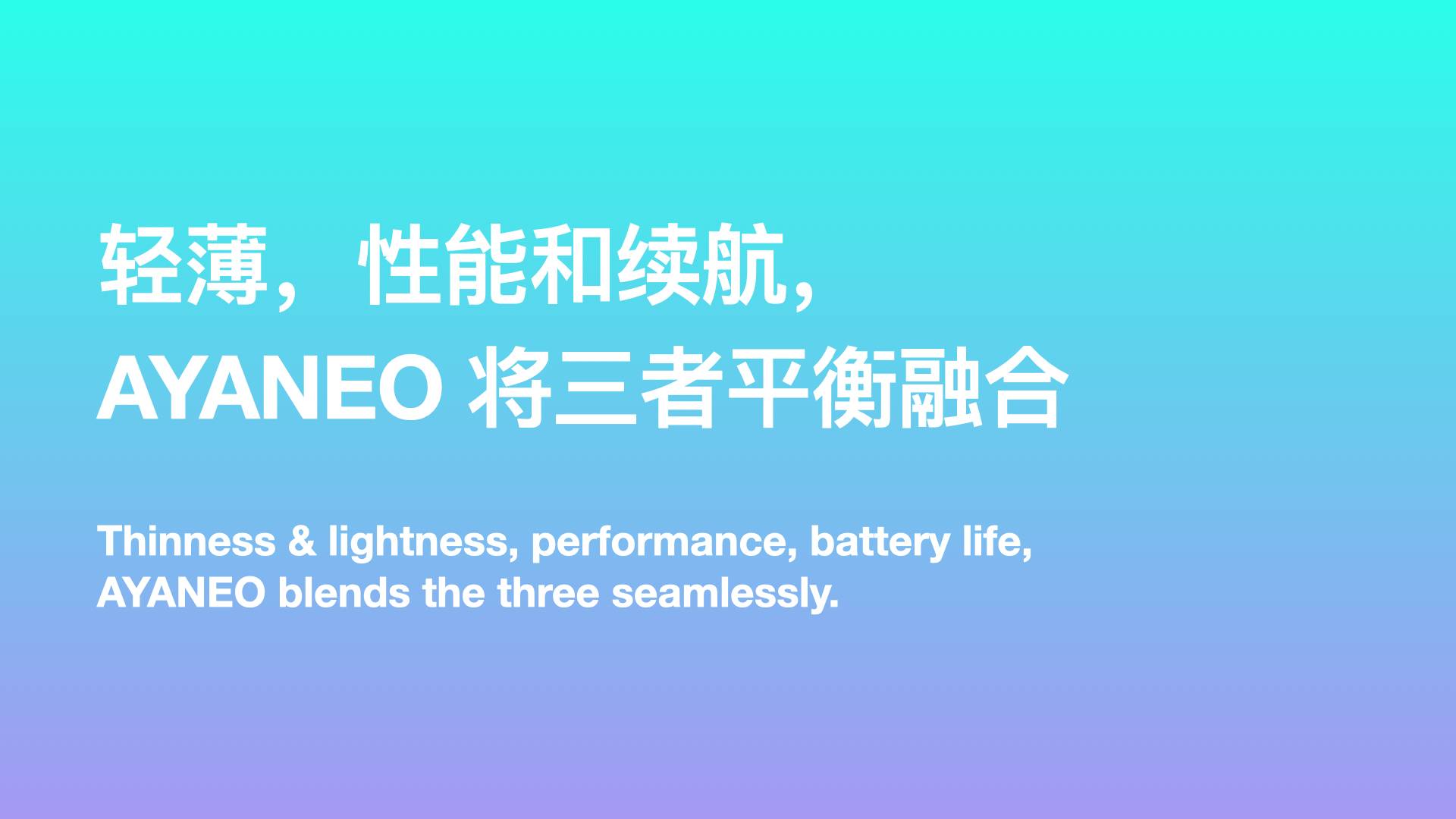 Still the unique AMOLED screen in the Windows handheld
AYANEO AIR was the world's first Windows handheld with an AMOLED screen, and the AYANEO AIR 1S continues to use the same high quality 5.5" 1080P AMOLED screen, With a pixel density of 404 PPI, it delivers exquisite visual clarity. The advanced characteristics of the AMOLED screen provide natural advantages such as close to 180° wide viewing angles, no backlight leakage, high contrast, and low latency, enhancing the overall visual experience.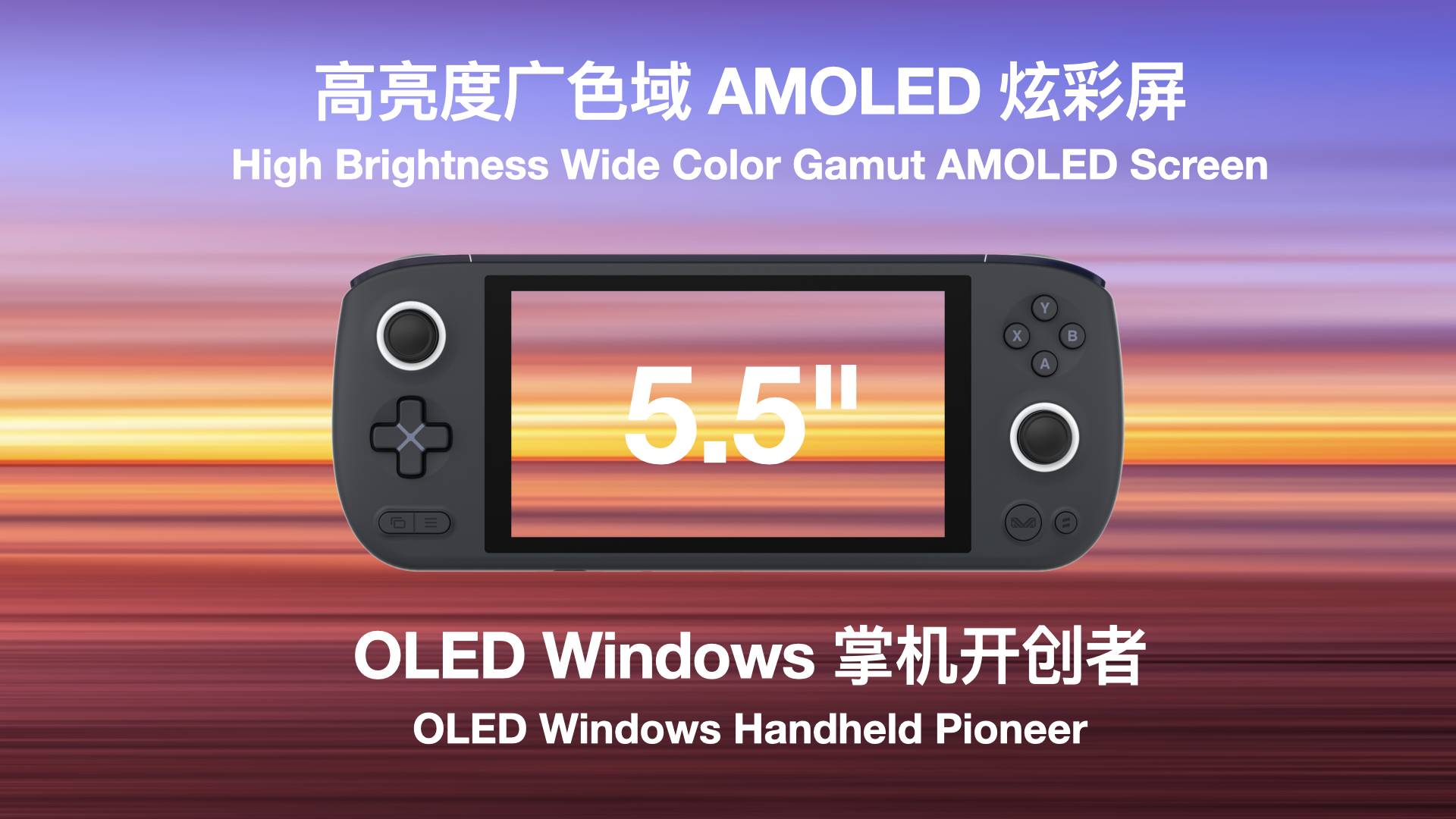 Indeed, the AYANEO AIR 1S fully leverages the advantages of the AMOLED screen in terms of color reproduction. It has been tested to meet industry-leading standards in terms of color gamut coverage and volume, surpassing mainstream benchmarks. Combined with its exceptionally high contrast ratio, it offers the most immersive and vibrant screen color performance among Windows handheld consoles currently available.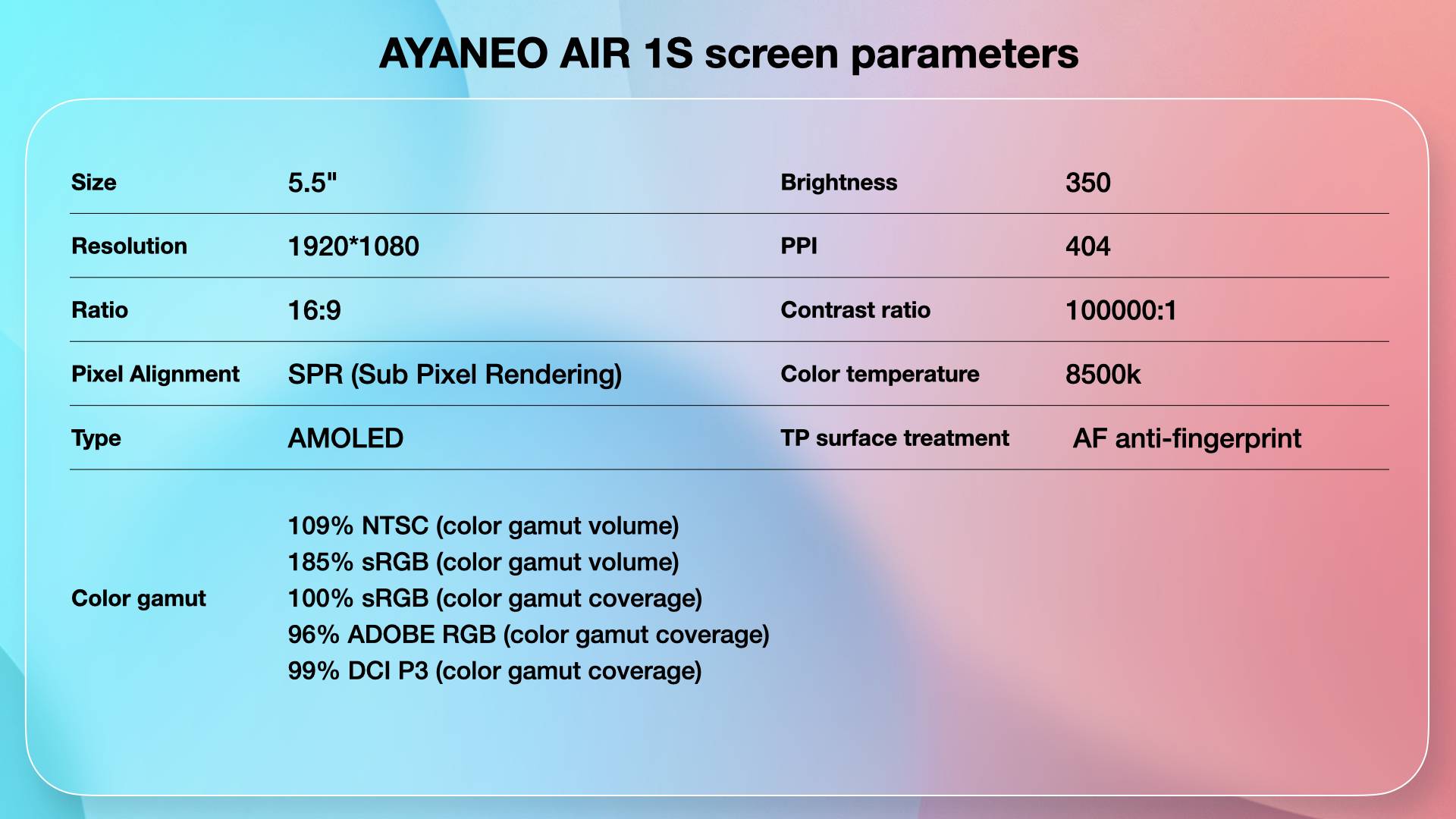 AYANEO has always been committed to using high-quality screens and carefully fine-tuning them to deliver a first-class visual experience, creating stunning and captivating game visuals.
Immersive AYANEO Hyper Sound
In addition to the stunning visual screen, the new AYANEO AIR 1S is equipped with a large high-powered dual-channel cavity in a compact 5.5" body, with the newly developed AYANEO intelligent amplifier technology to create the new "AYANEO Hyper Sound" stereo dual-speakers, even in a small and lightweight body, it can also have a more shocking sound quality and sound. Release the surging sound wave.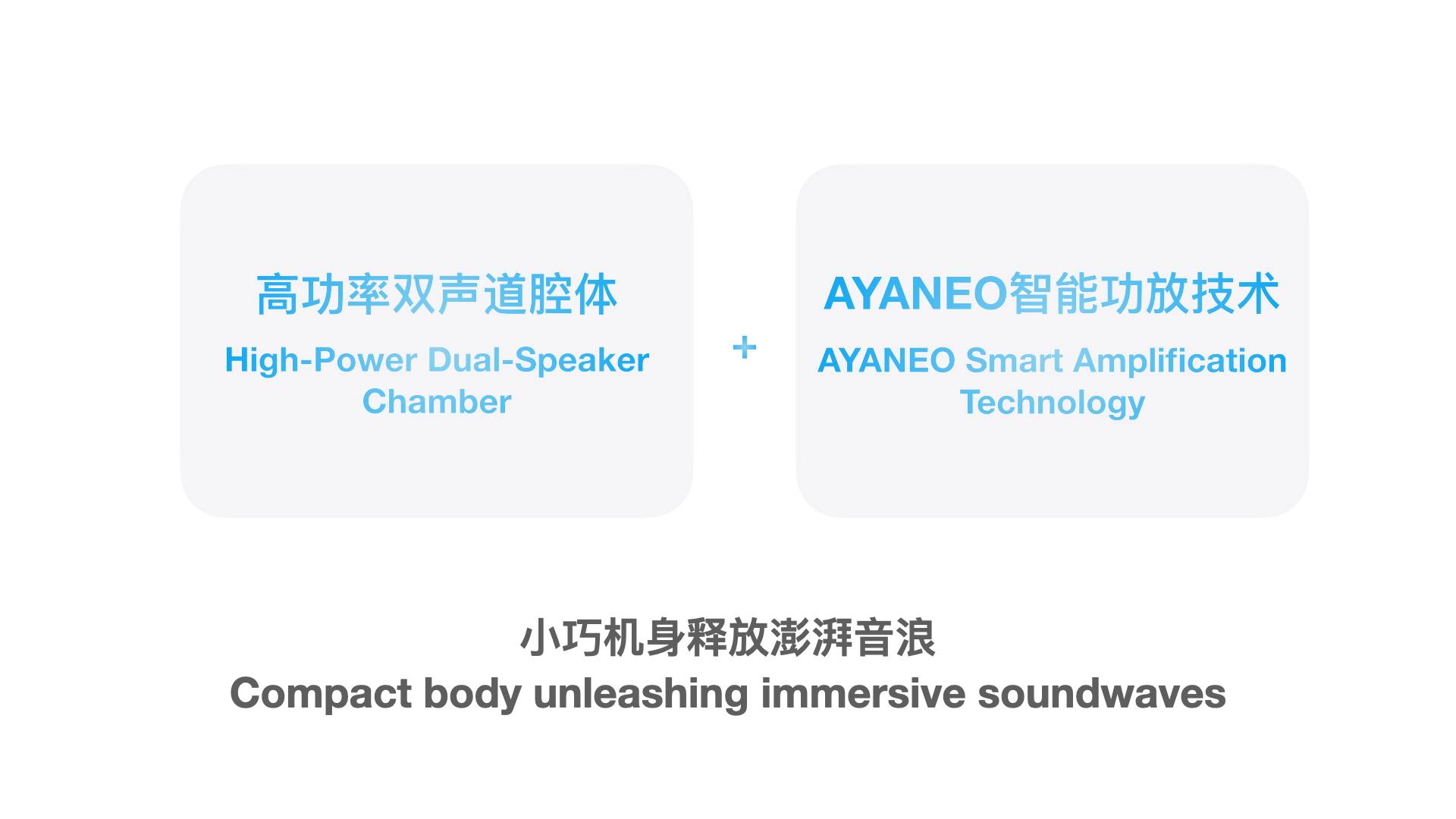 Through meticulous software and hardware calibration, the AYANEO AIR 1S achieves a truly immersive and awe-inspiring sound experience. With its powerful audio output, it can faithfully reproduce even the most subtle and complex sound details, enhancing both the audiovisual experience and the overall gaming experience, immersing players in a new level of audio realism.
Flexible expandability
AYANEO AIR 1S offers impressive expandability despite its thin & light design. It features two versatile USB Type-C ports that support high-speed data transfer, charging, and even 4K 60Hz video output. With its capabilities, it is even possible to connect an external graphics card dock, unlocking high-performance discrete graphics for an enhanced gaming experience.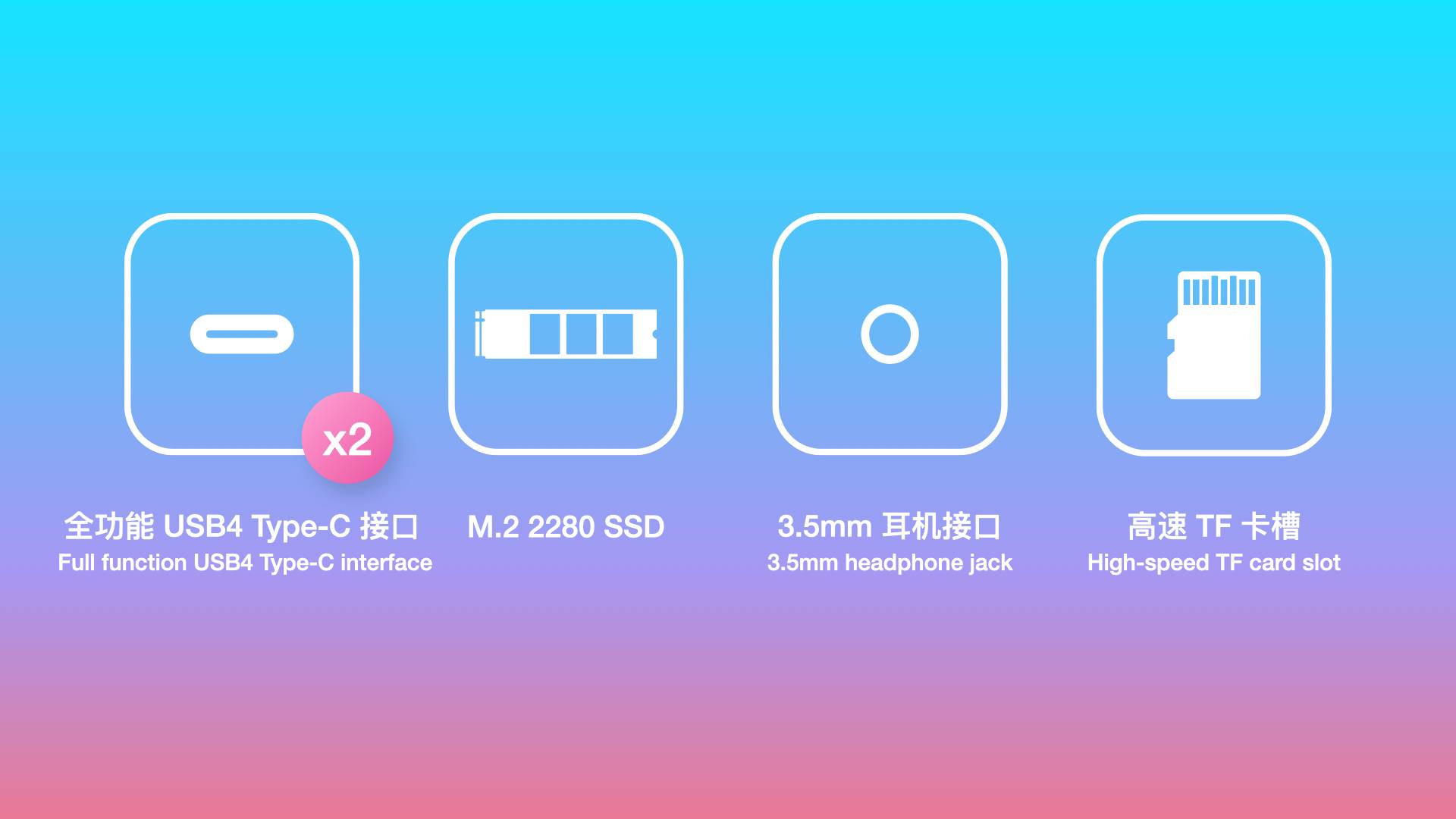 In addition, the AYANEO AIR 1S features a mainstream M.2 2280 PCIe SSD interface, allowing for high-capacity expansion of up to 4TB, offers a cost-effective solution for storage expansion. It also supports a high-speed TF card slot that complies with the UHS-I standard, as well as a 3.5mm headphone jack. With these versatile expansion options, the AIR 1S becomes one of the most expandable and capable thin & light handheld available, rivaling or even surpassing some mainstream 7" handhelds in terms of expansion capabilities.
Unparalleled control experience that is hard to go back from
Uncompromising control experience even as a thin & light handheld. The AYANEO AIR 1S still features the Master controller with eight functions and six patents, along with meticulously tuned hall sensing joystick and hall trigger, providing a more precise and responsive control feel.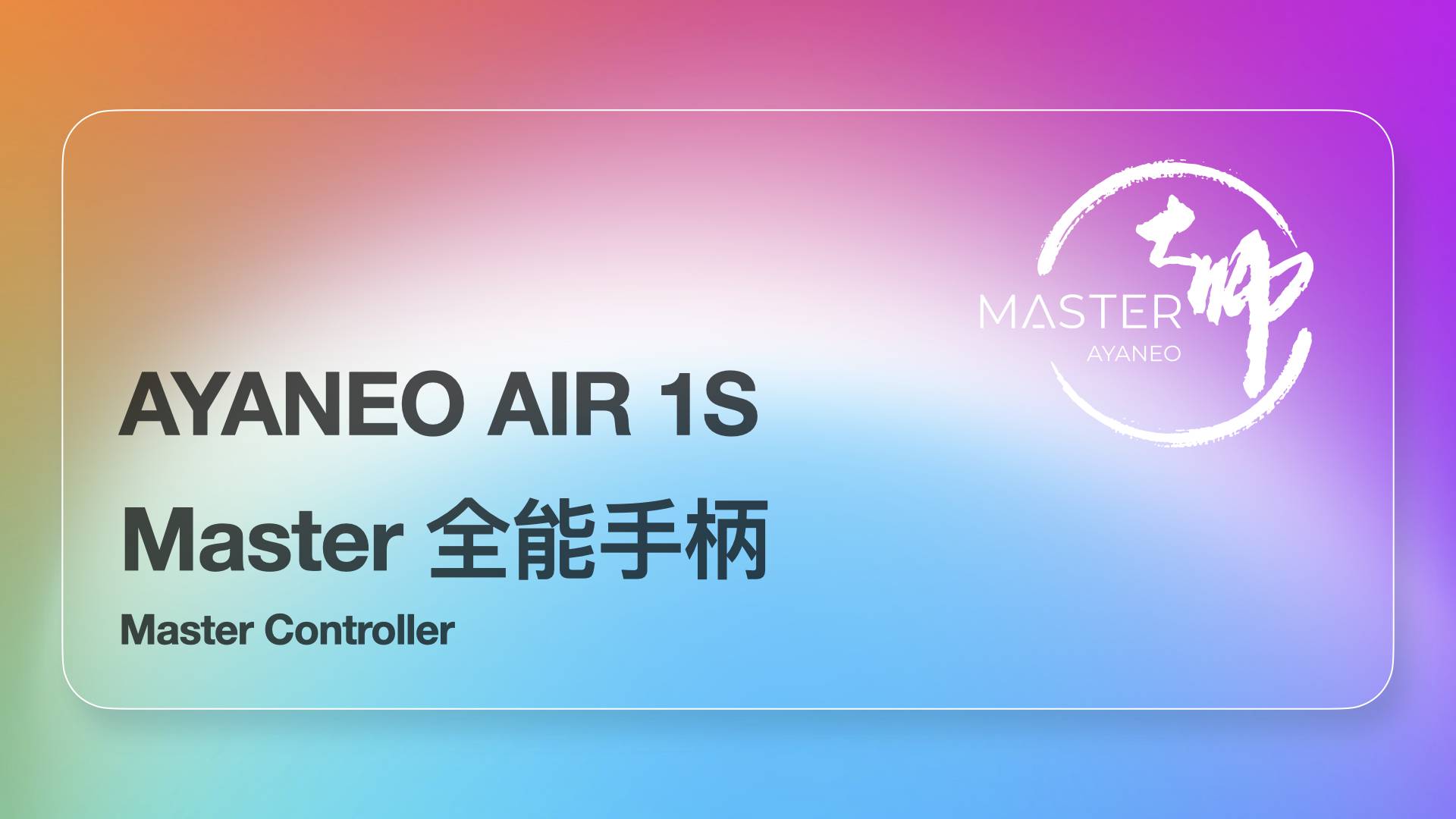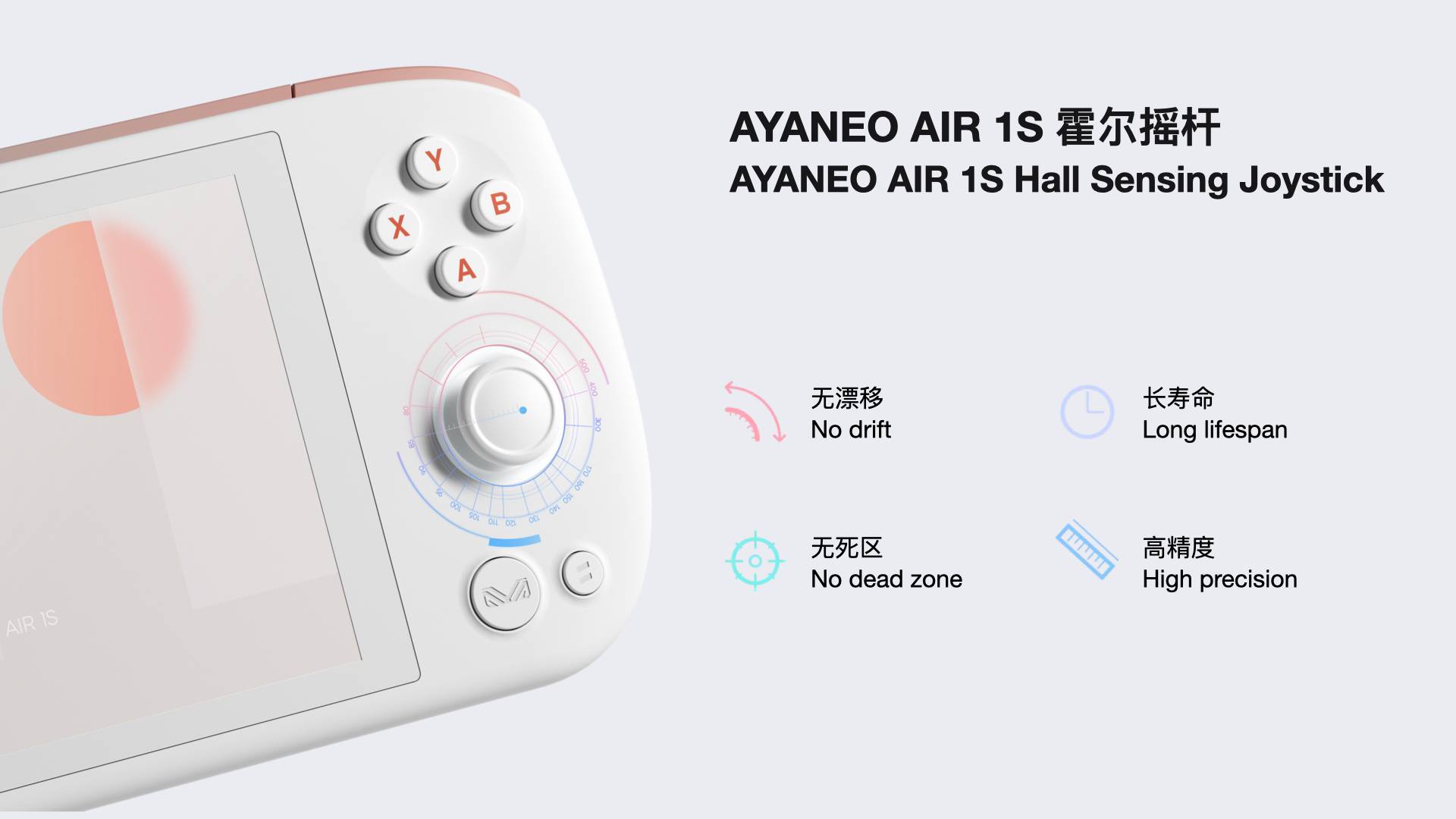 The buttons of the AYANEO AIR 1S have been made with a softer material, optimizing the button feel to be softer and easier to trigger. This not only enhances the gaming experience but also reduces fatigue during prolonged use. It's great news for players who require frequent skill activations.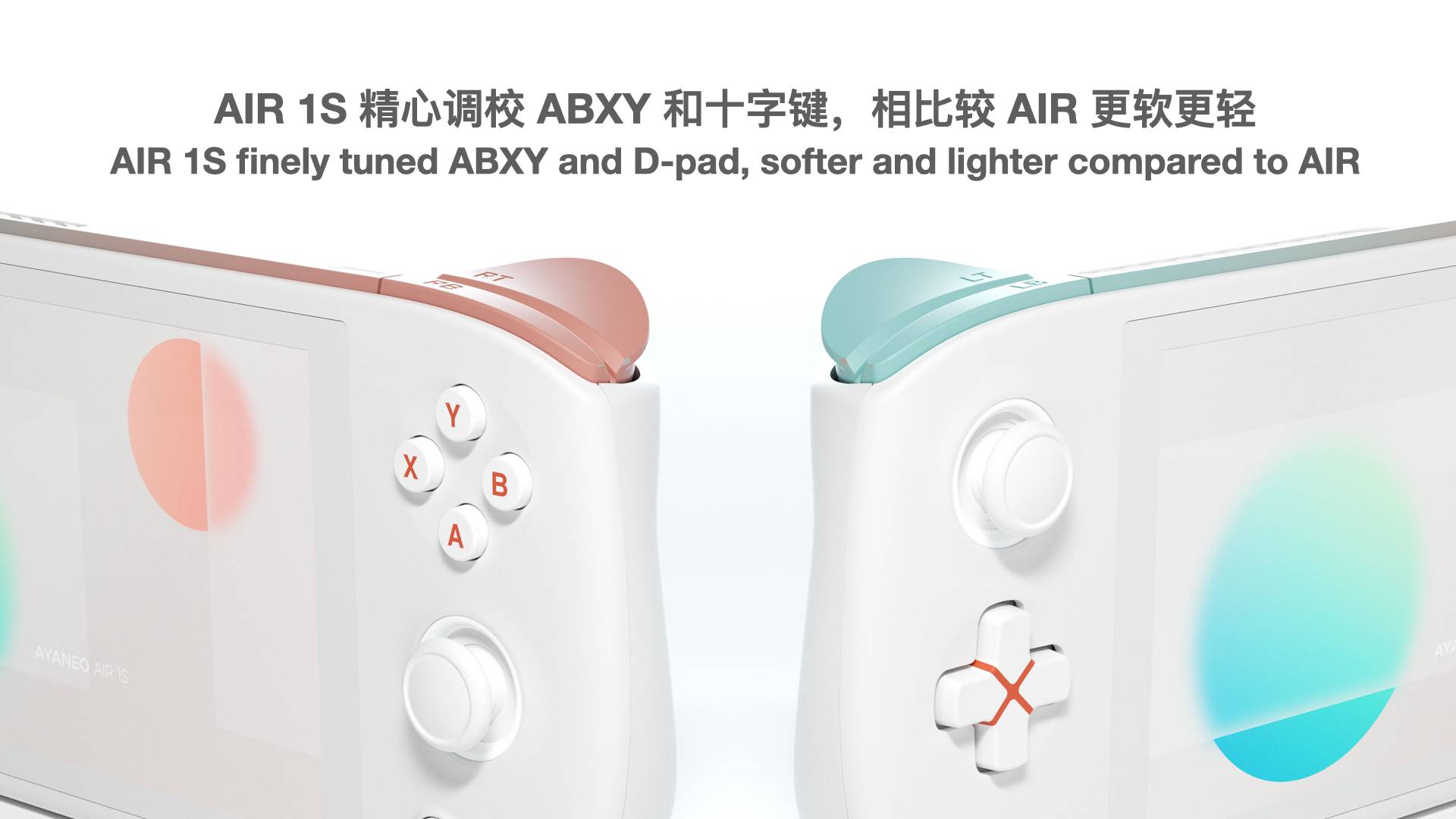 AYANEO is committed to delivering a customizable and continuously improved handheld gaming experience, "Only AYANEO can do".
First handheld to come pre-installed with AYASpace 2
As the pioneer of Windows handheld management software, AYASpace 2 is a comprehensive upgrade of visual and interactive experience, with modern UI design, light and agile interactive animations and the thin & light AIR 1S is a natural match.
The new "Quick Tool" 2.0 and the innovative "Performance Scenario" mode are more usable and easy to use, unleashing the powerful performance of AIR 1S with just a few simple swipe clicks.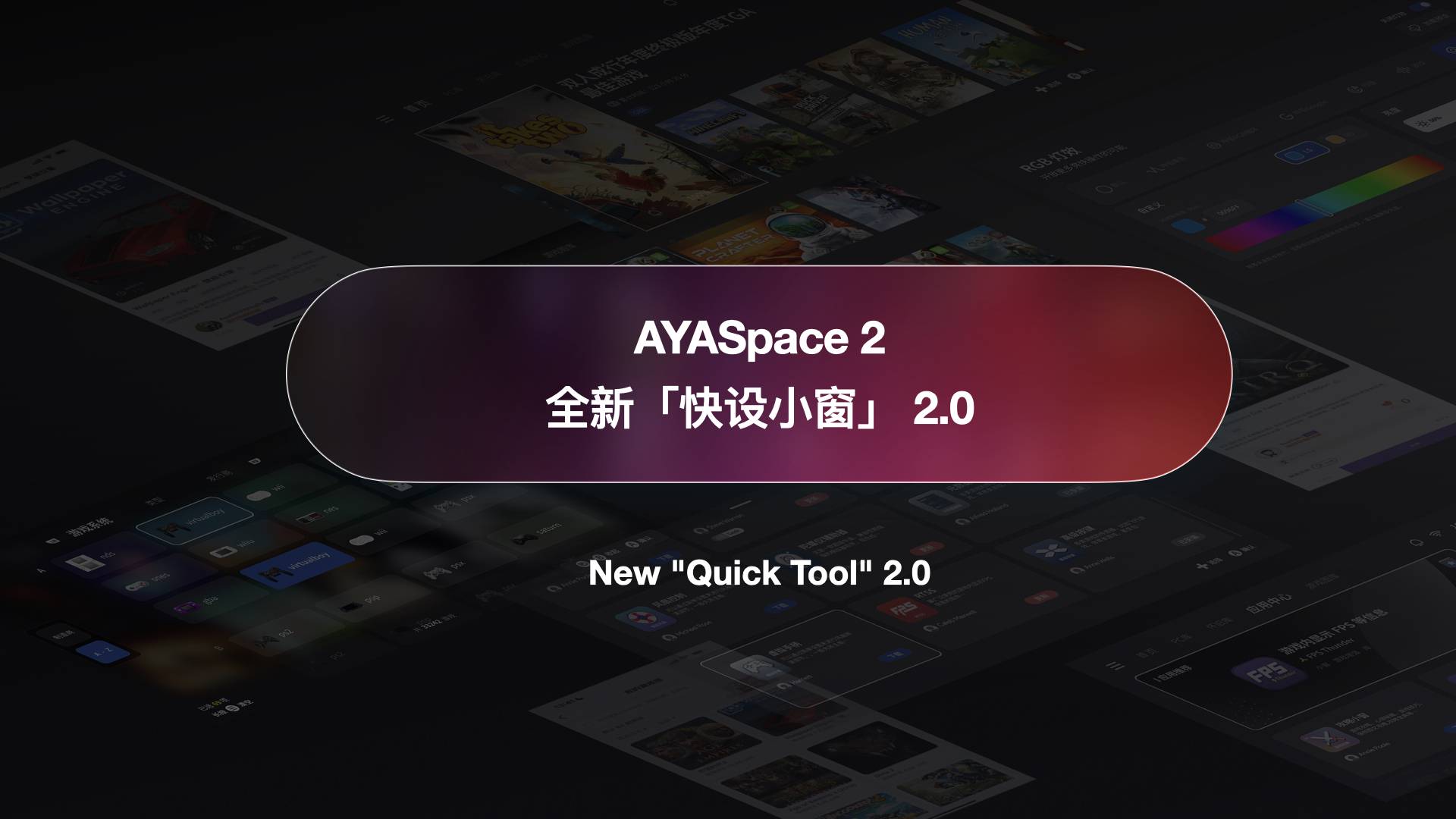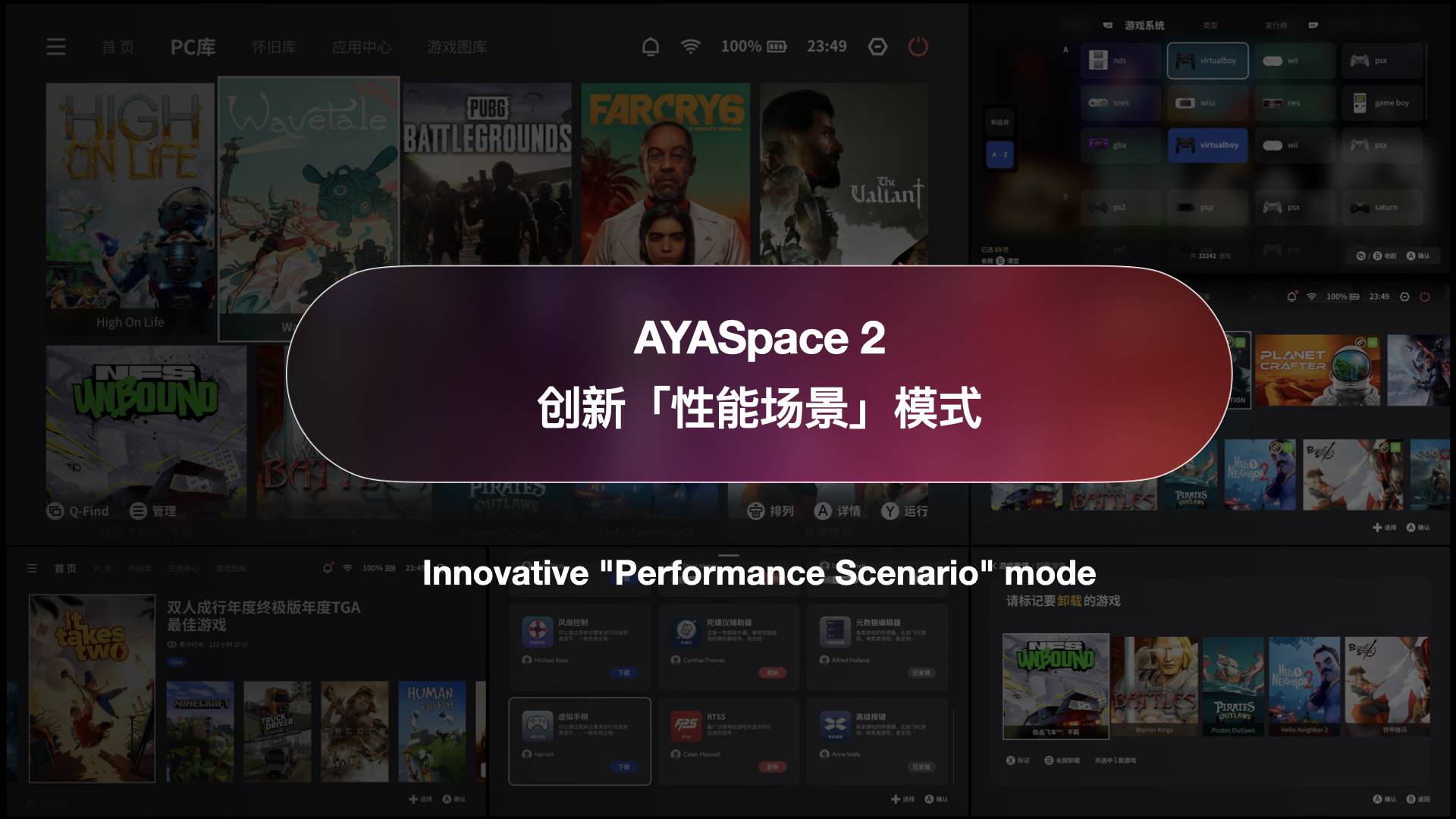 AYANEO AIR 1S will be the first AYANEO handheld coming with AYASpace 2. In addition, AYASpace 2 is expected to launch a full public test in July, and AYANEO players will experience the convenient management experience brought by AYASpace 2.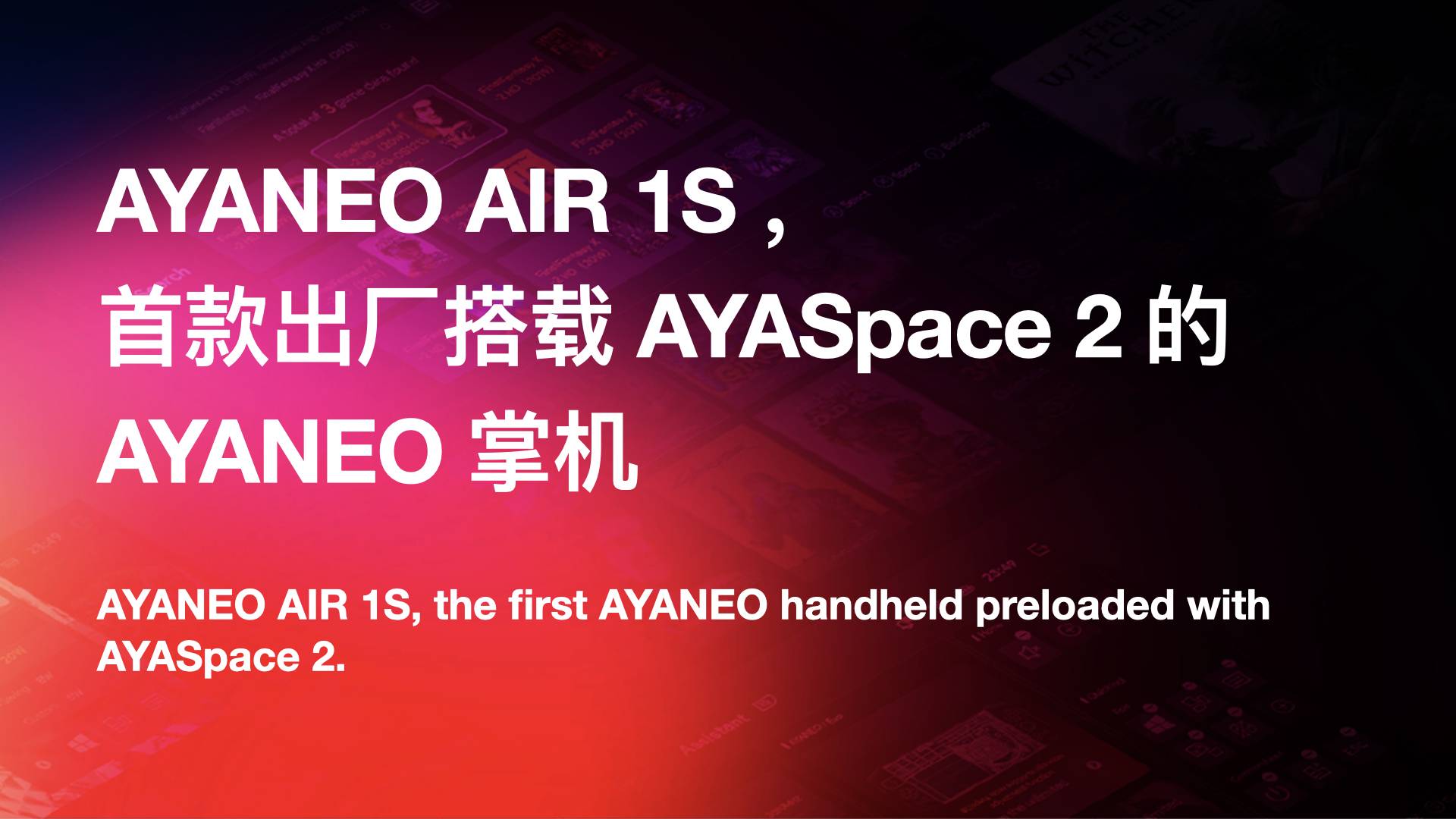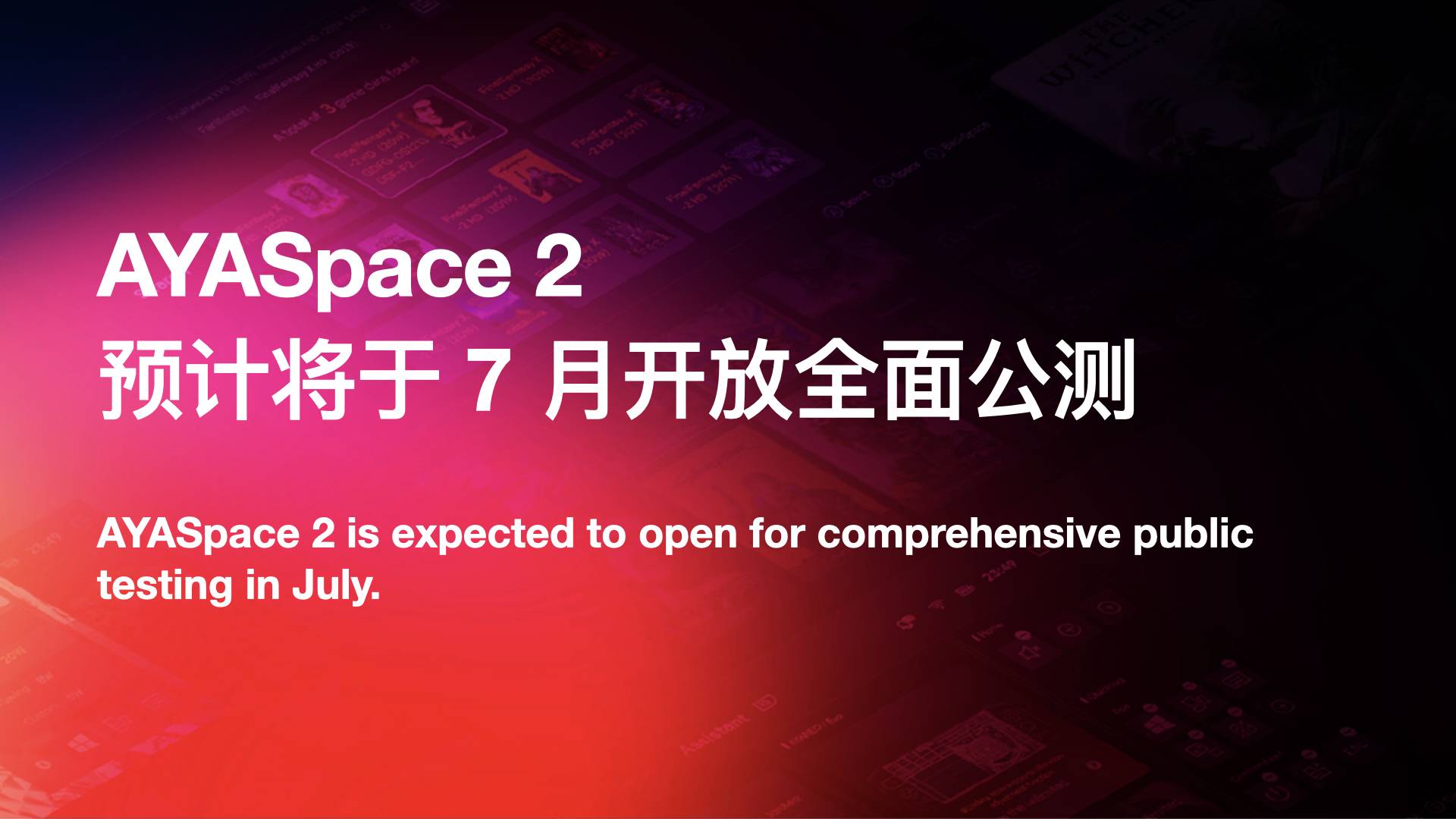 The ultimate choice beyond imagination - AYANEO AIR 1S Ultra-Thin Limited Edition
With the continuous efforts of AYANEO team, the thickness and weight of AYANEO AIR 1S are controlled at 21.6mm and 450g respectively, which is theoretically already the world's thinnest & lightnest AMD 7840U handheld.
However, AYANEO is always pushing the limits, challenging more difficult industrial design and structural stacking at any cost. Thus, an even bigger super surprise was born, and it is the AYANEO AIR 1S Ultra Thin Limited Edition.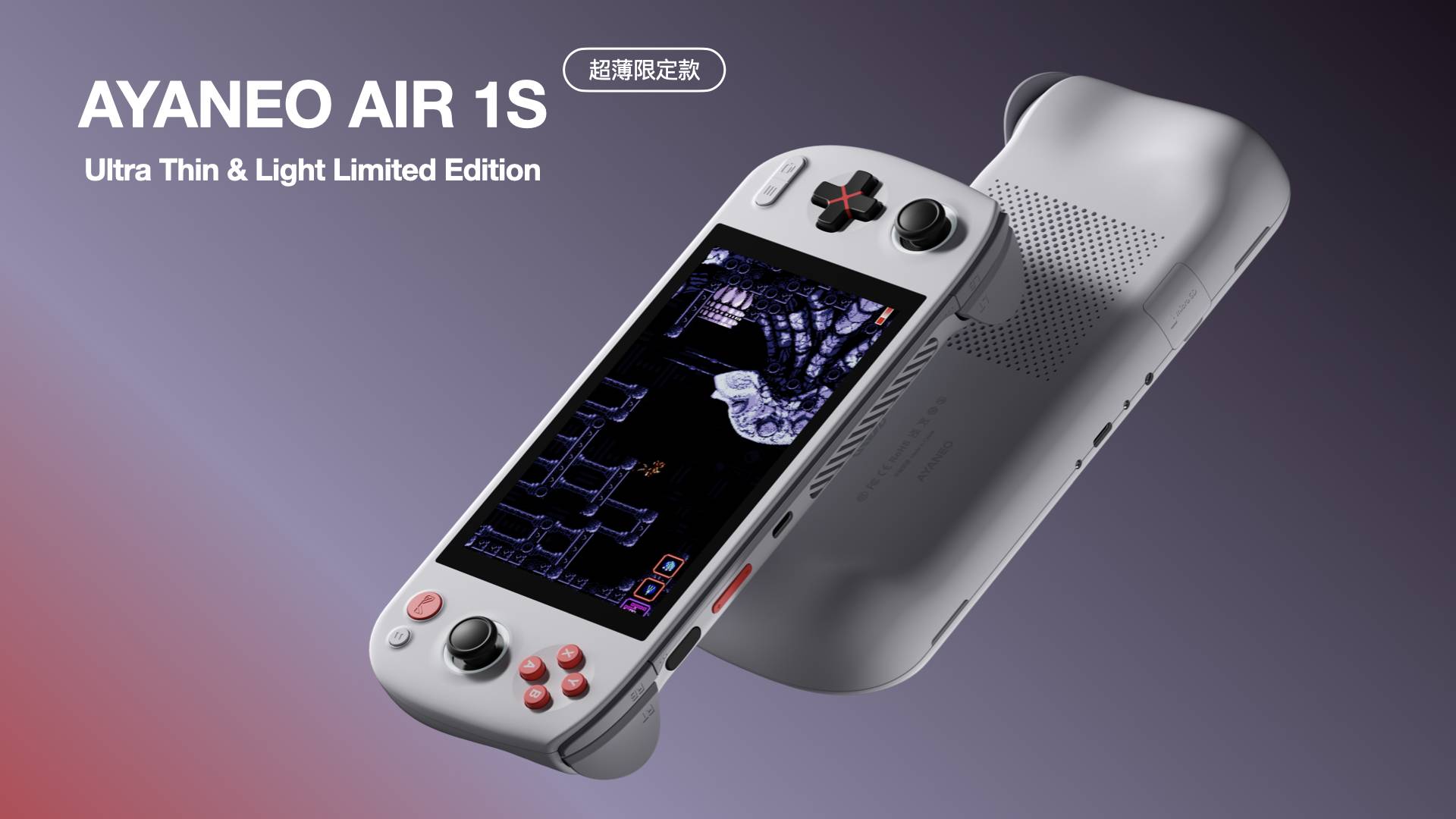 The ultimate thin and light AYANEO AIR 1S is only 18mm thick and 405g lighter, which is no easy task for a Windows handheld.Demonstrating AYANEO's exceptional R&D capabilities once again.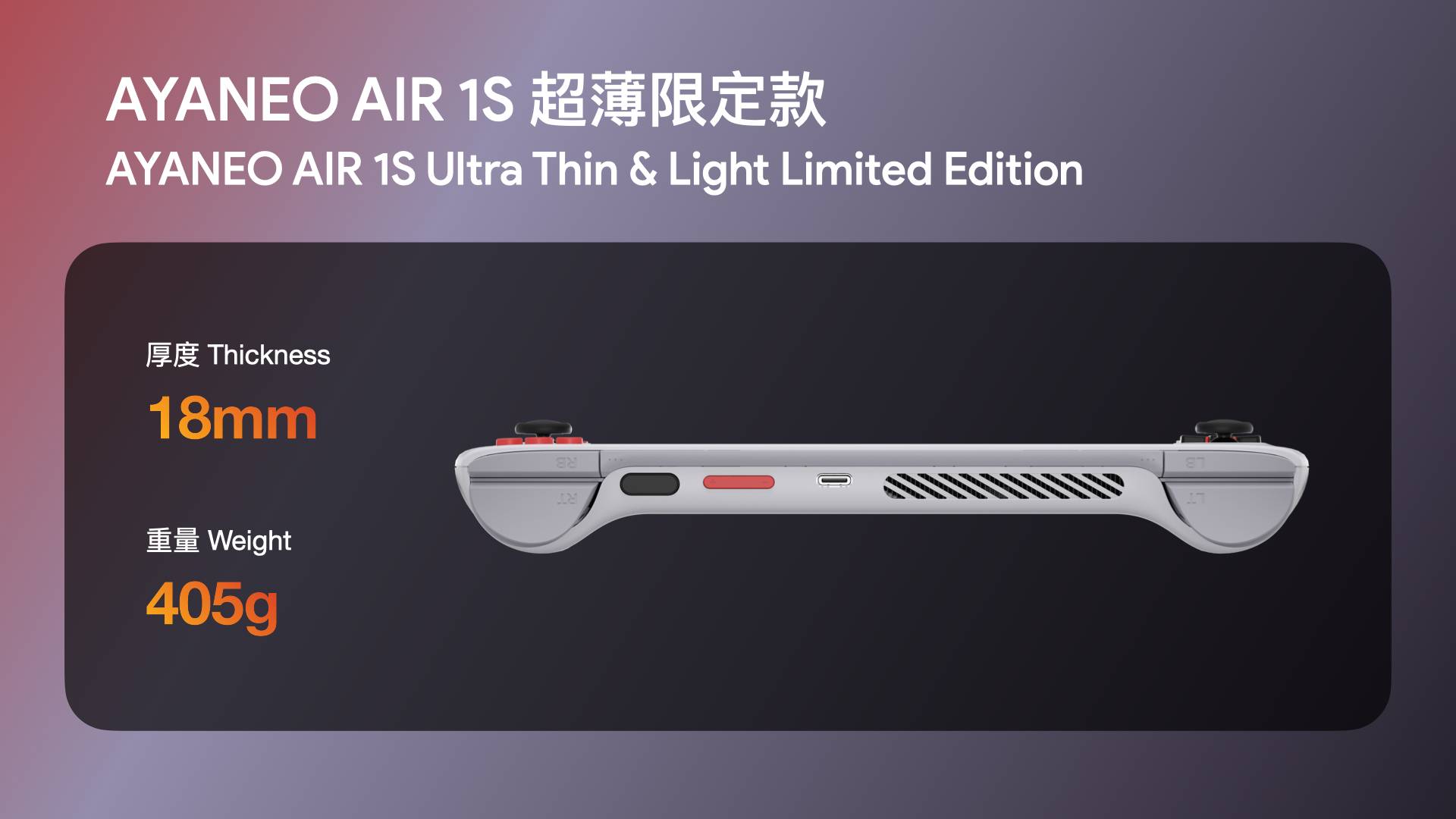 What's even more astonishing is that the AYANEO AIR 1S Ultra Thin & Light Limited Edition is powered by the AMD Ryzen™ 7 7840U flagship processor, making it the world's thinnest & lightest AMD 7840U handheld in existence.
In the ultimate ultra thin & light body, the AYANEO AIR 1S Ultra Thin & Light Limited Edition offers 18W plug-in TDP limit and 15W off-power TDP limit.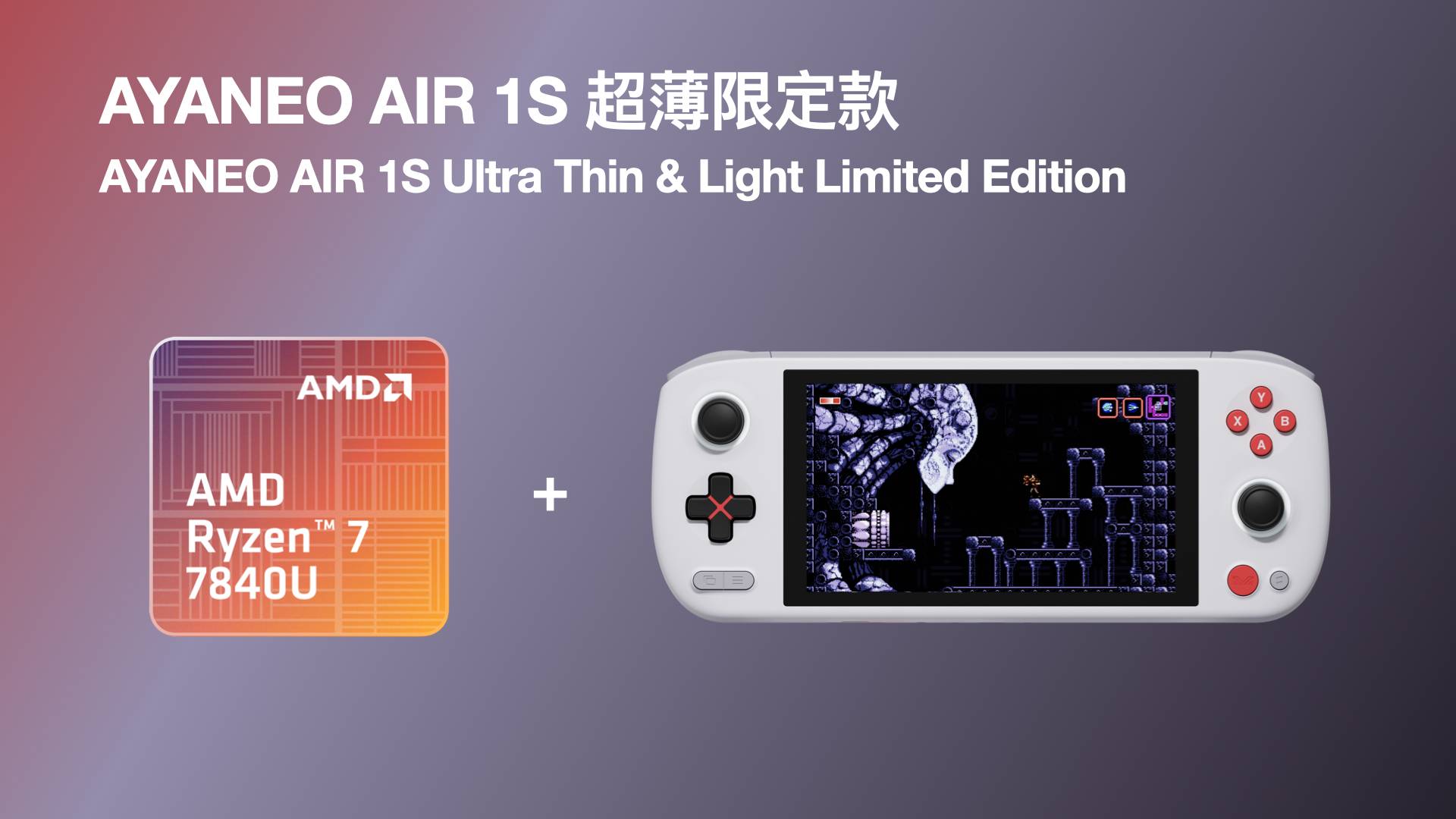 Compared to the standard edition, the AYANEO AIR 1S Ultra Thin & Light Limited Edition features a battery capacity of 28Wh (7350mAh) and comes in an exclusive retro color scheme, reviving the vibrant colors of classic gaming consoles on a modern Windows handheld device.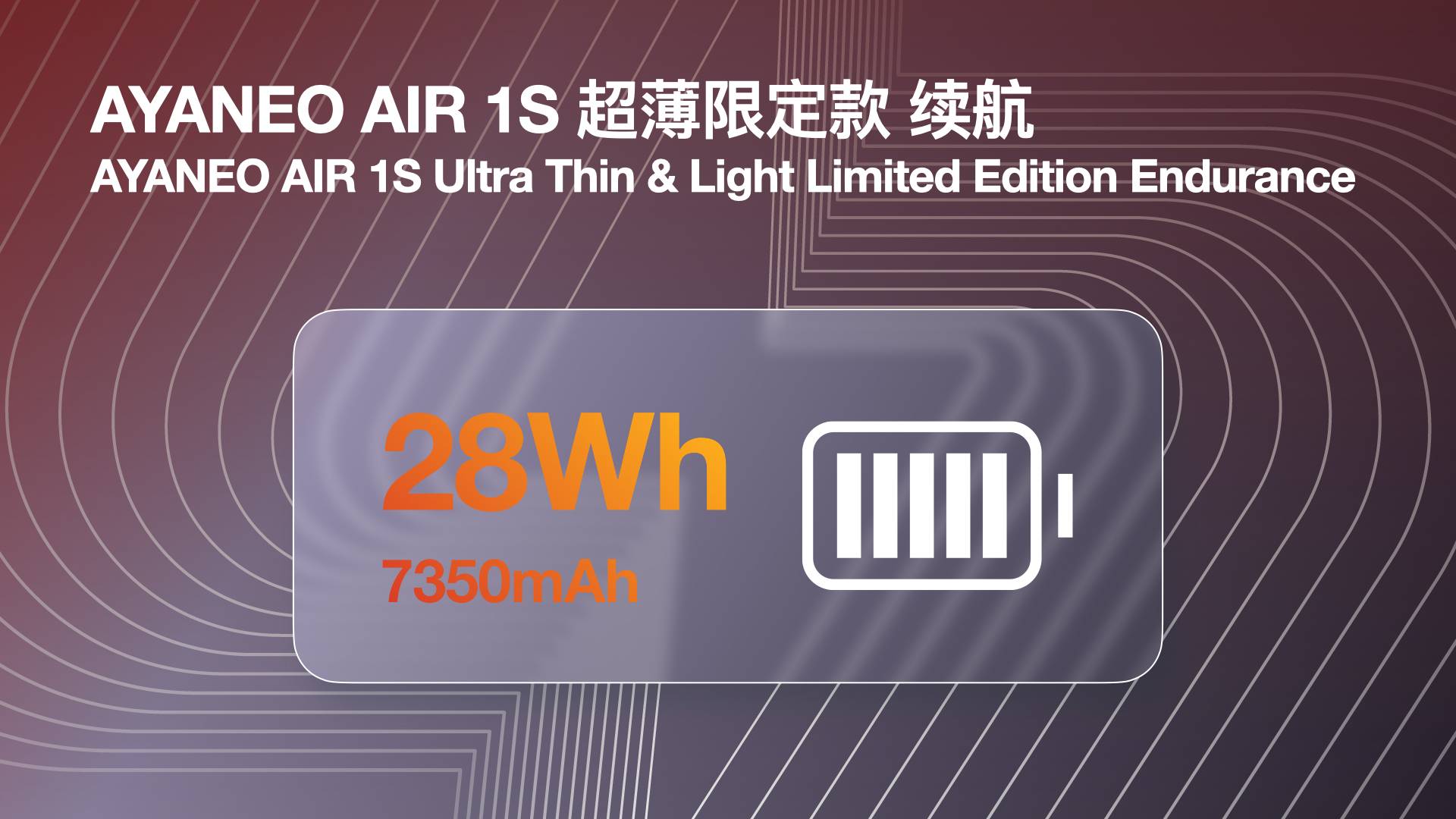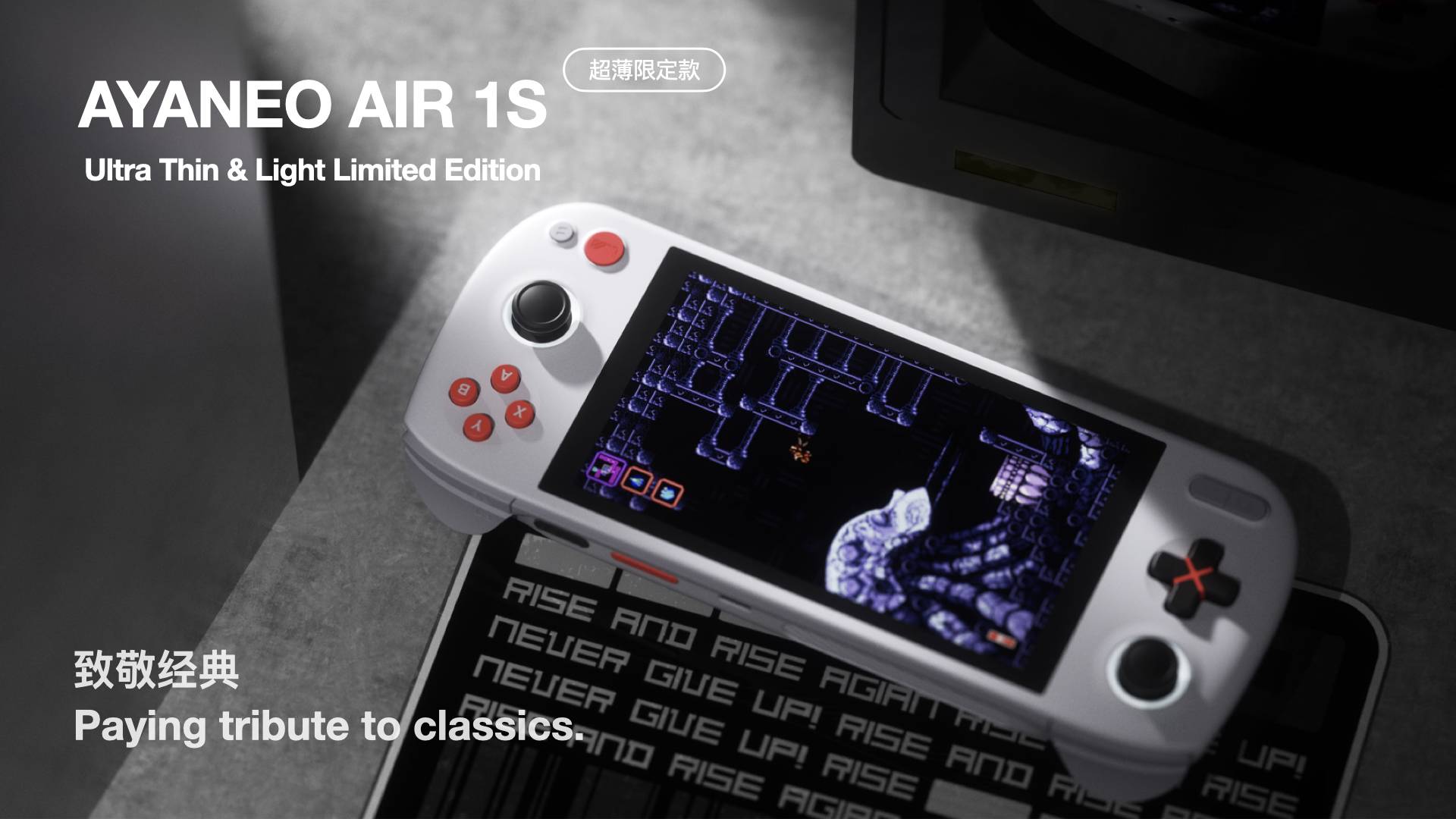 In addition to the battery capacity, color scheme and extreme heat dissipation capability, other hardware specifications of AYANEO AIR 1S Ultra Thin & Light Limited Edition remain the same as the standard version, which is not only extremely thin & light, but also has the right amount of heat dissipation and battery life, which is also powerful enough for a real handheld.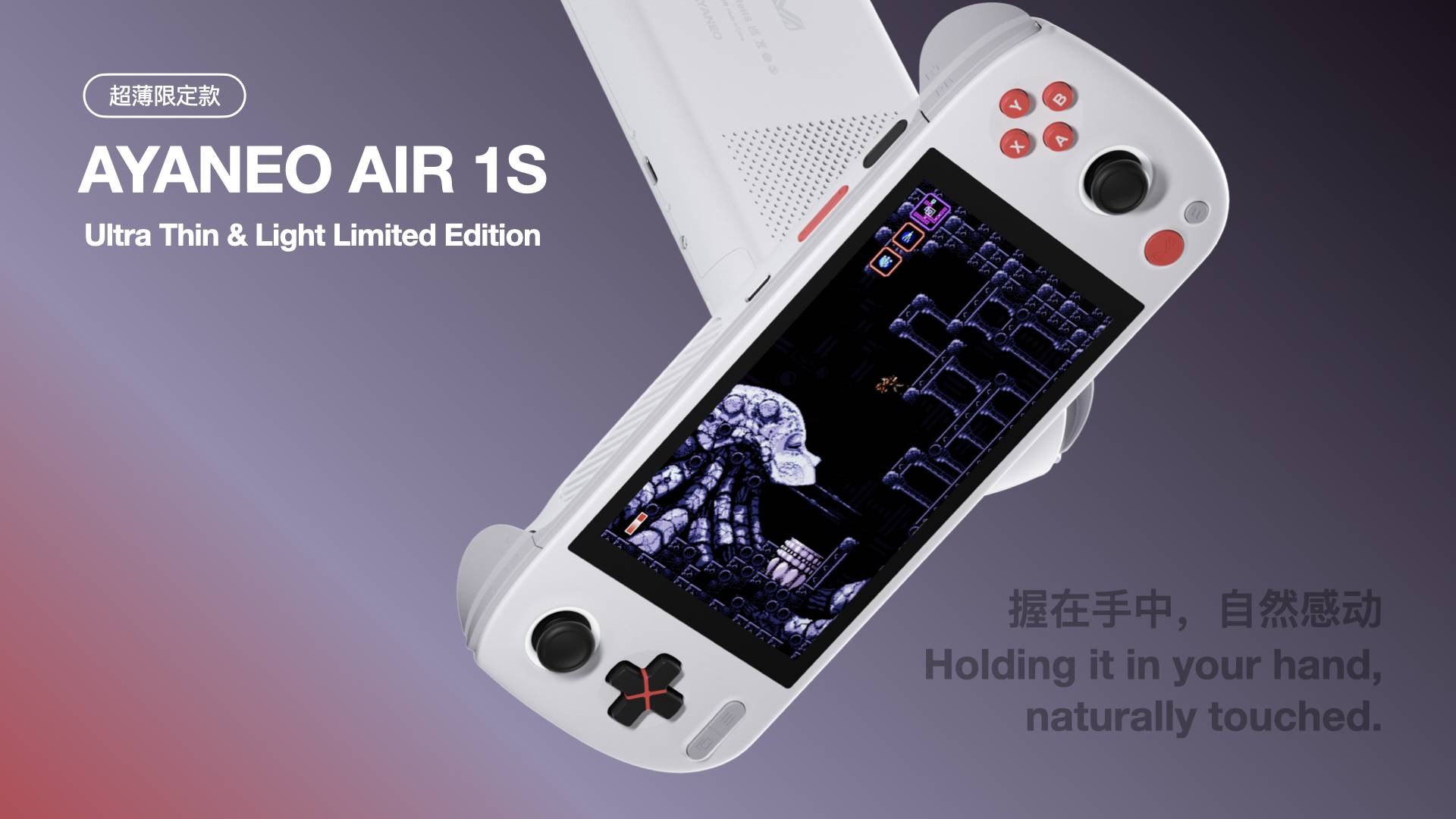 AYANEO AIR 1S Specifications Comparison
AYANEO AIR 1S is a true "hexagonal warrior" that returns to the origins of handhelds. It is not only thin & light, but also powerful and comprehensive, breaking through the traditional perception of Windows handhelds.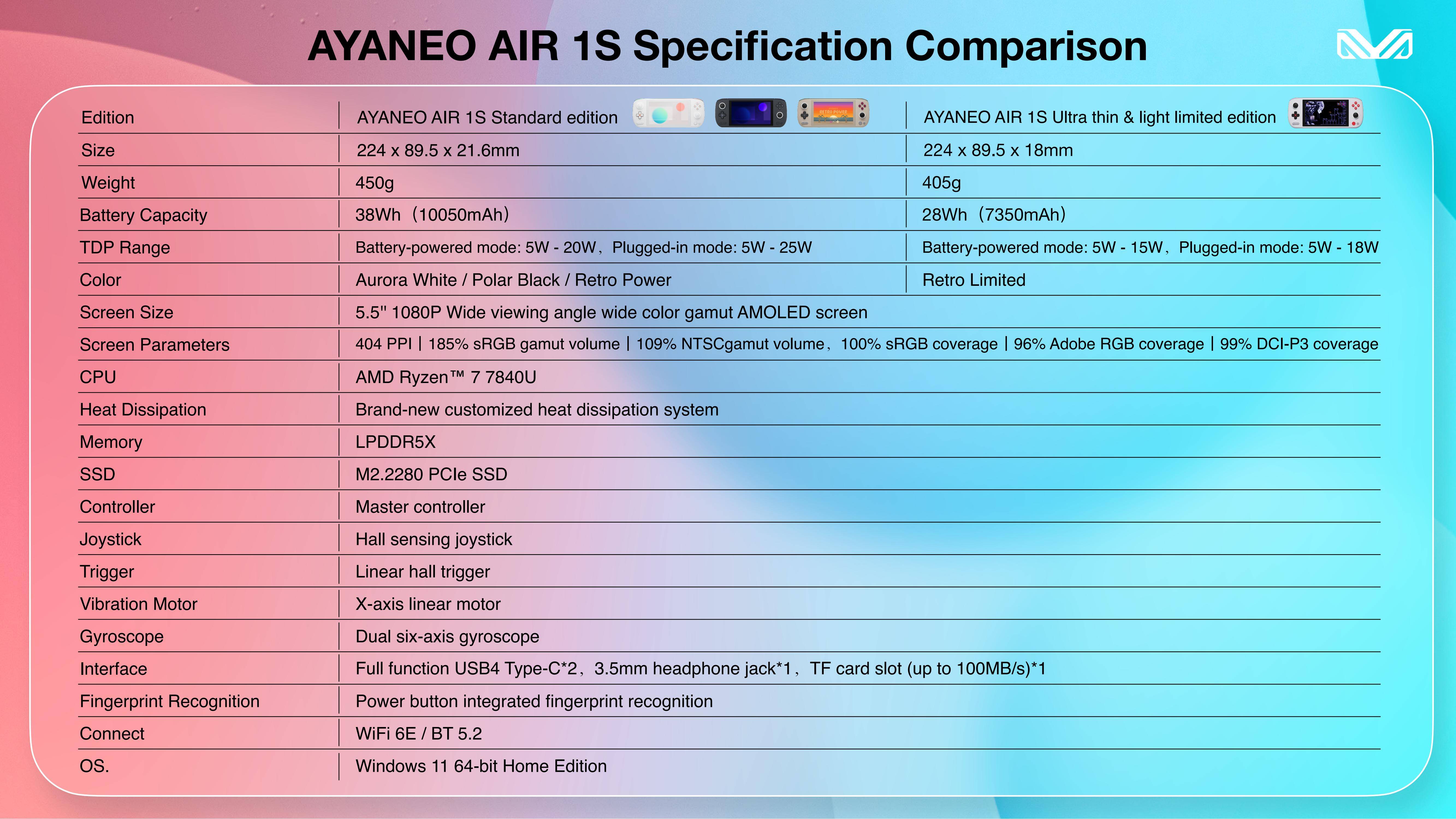 AYANEO AIR 1S Standard Edition is the most balanced choice with better battery life and heat dissipation capability. AIR 1S Ultra Thin & Light Limited Edition challenges the limits and is the ultimate choice for those who are devoted to the "thinnest & lightest" concept.
AYANEO AIR 1S Configuration and Price
The thin & light & powerful OLED 7840U handheld AYANEO AIR 1S is still priced with sincerity and is a great value for gamers who want both a compact and portable gaming experience.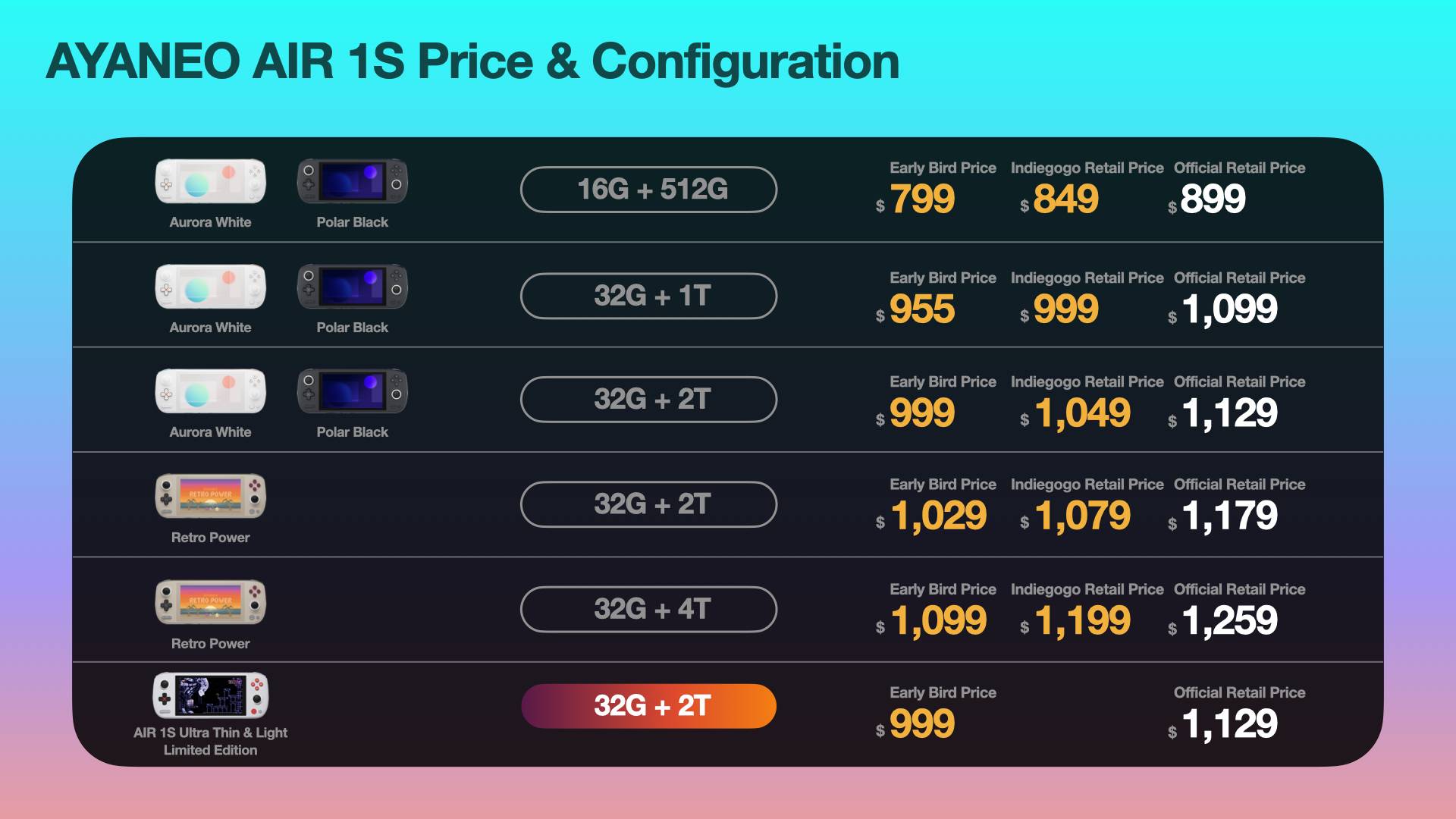 According to the plan, AYANEO AIR 1S will start shipping to players in early August, following the order of their orders. The shipping order for each edition is as shown below.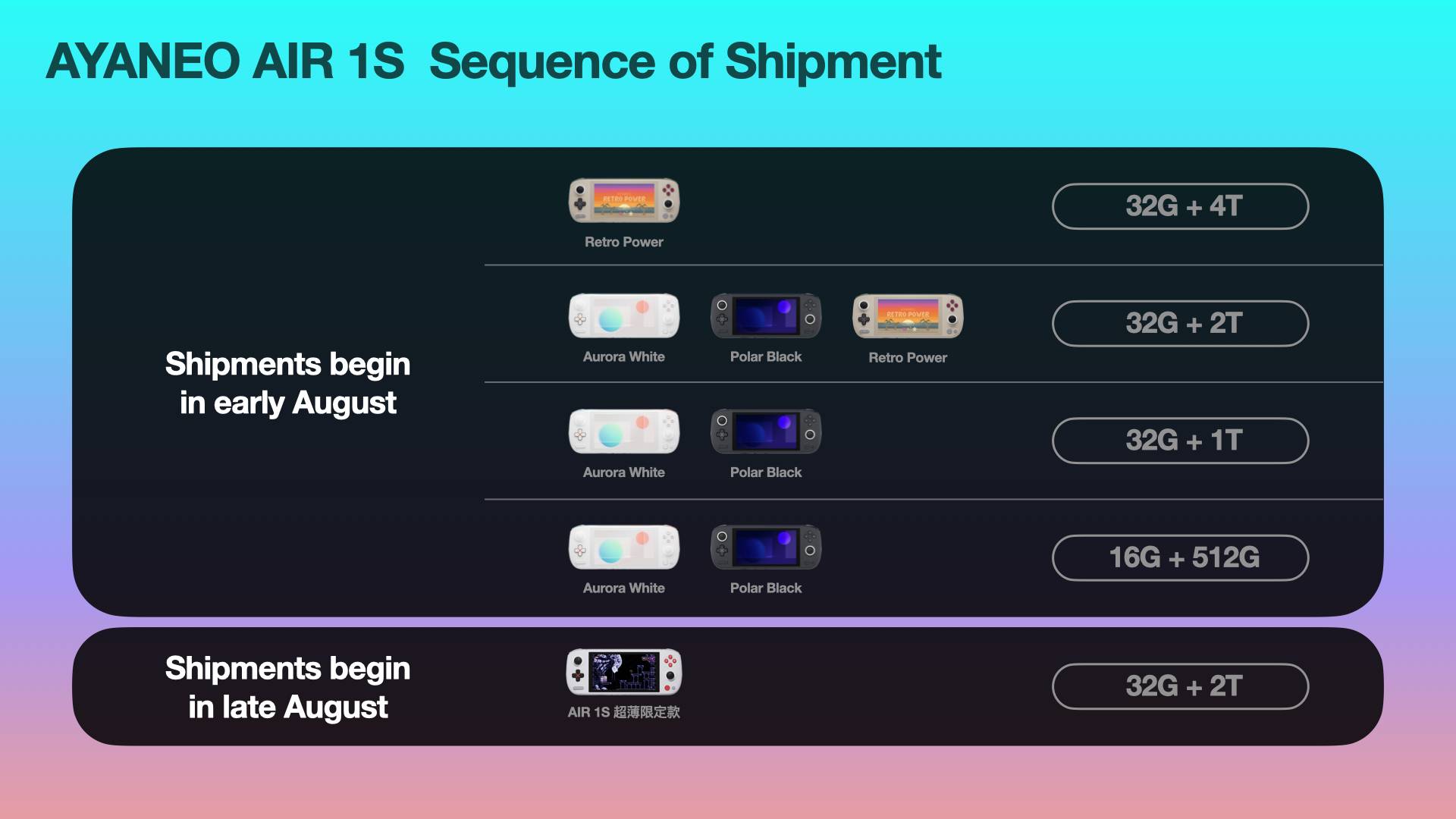 More surprises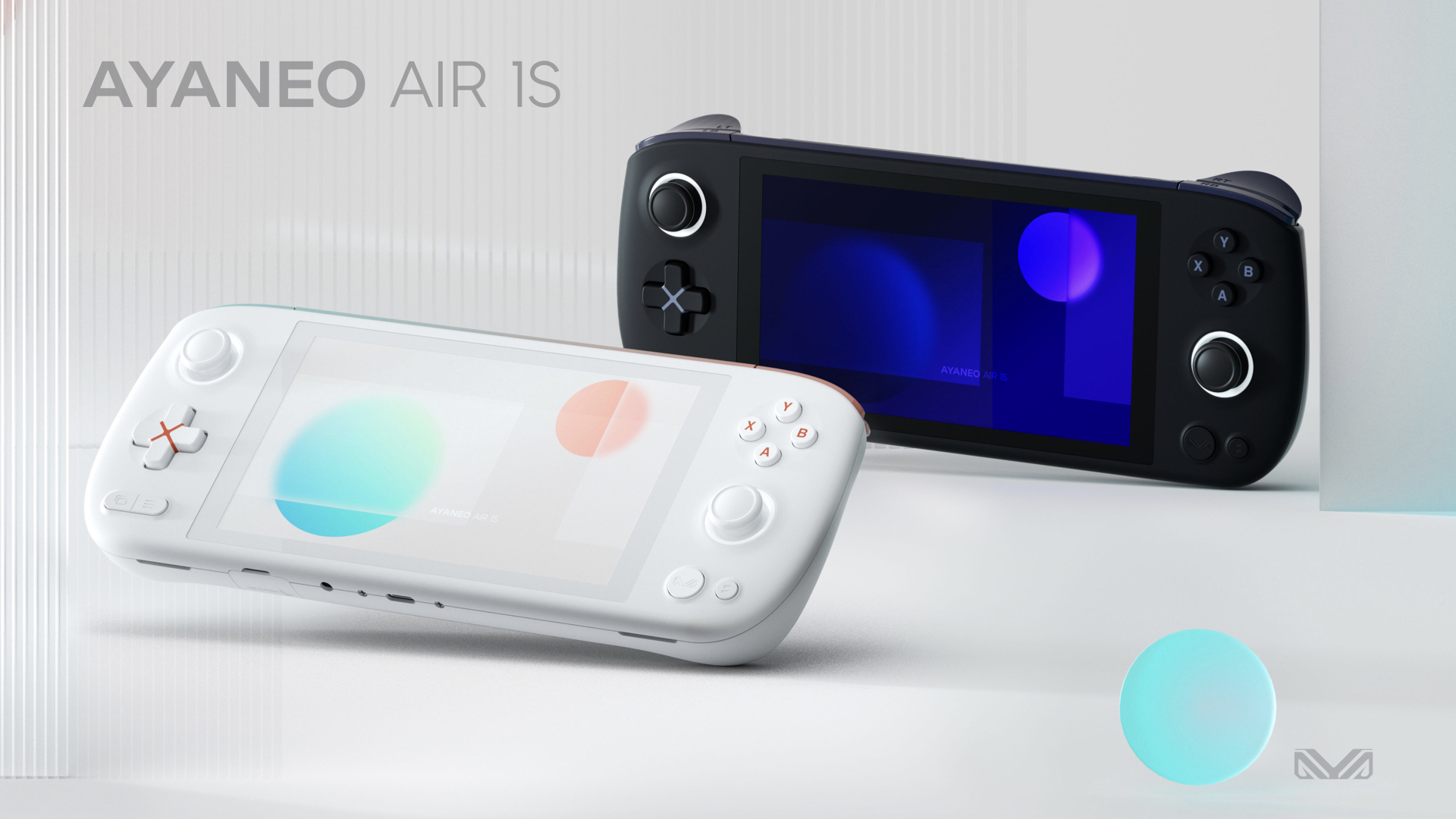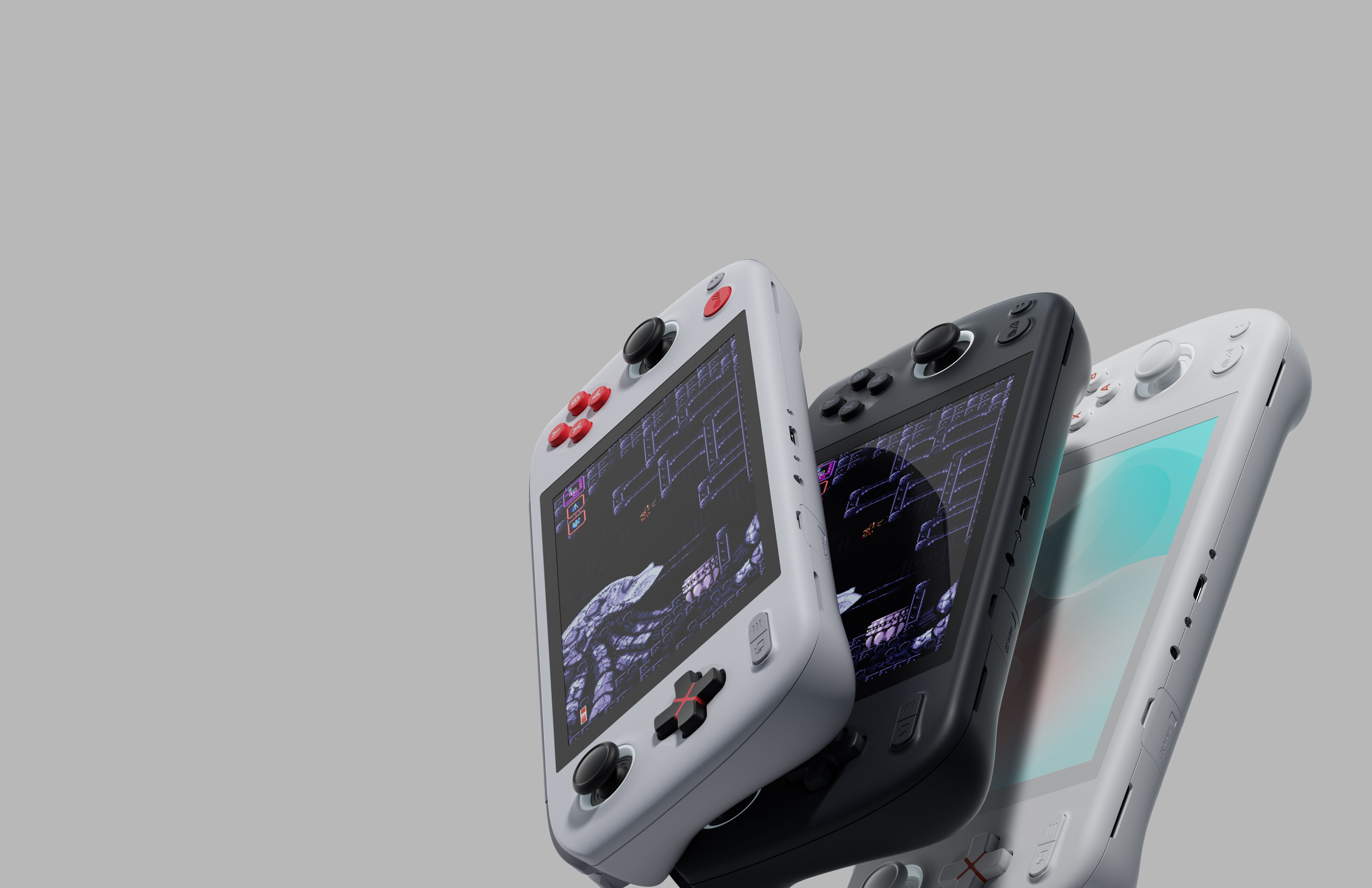 AYANEO AIR 1S is a dreamlike masterpiece that combines the essence of classic handhelds with modern Windows handheld gaming. It represents our relentless pursuit of the origins and fundamental spirit of handheld gaming. AYANEO never stops exploring, striving to present our players with more extraordinary "creations" and the endless joy that handheld gaming brings.
The philosophy of "Real Gamers, For Gamers" serves as our guiding compass as we set sail. We not only trace back to the origins of handheld gaming but also continue to innovate and break free from the confines of traditional handheld concepts. We strive to deliver incredible breakthroughs and mind-blowing experiences, creating a variety of new handheld species to cater to different needs and providing gamers with the most enjoyable handheld gaming experiences.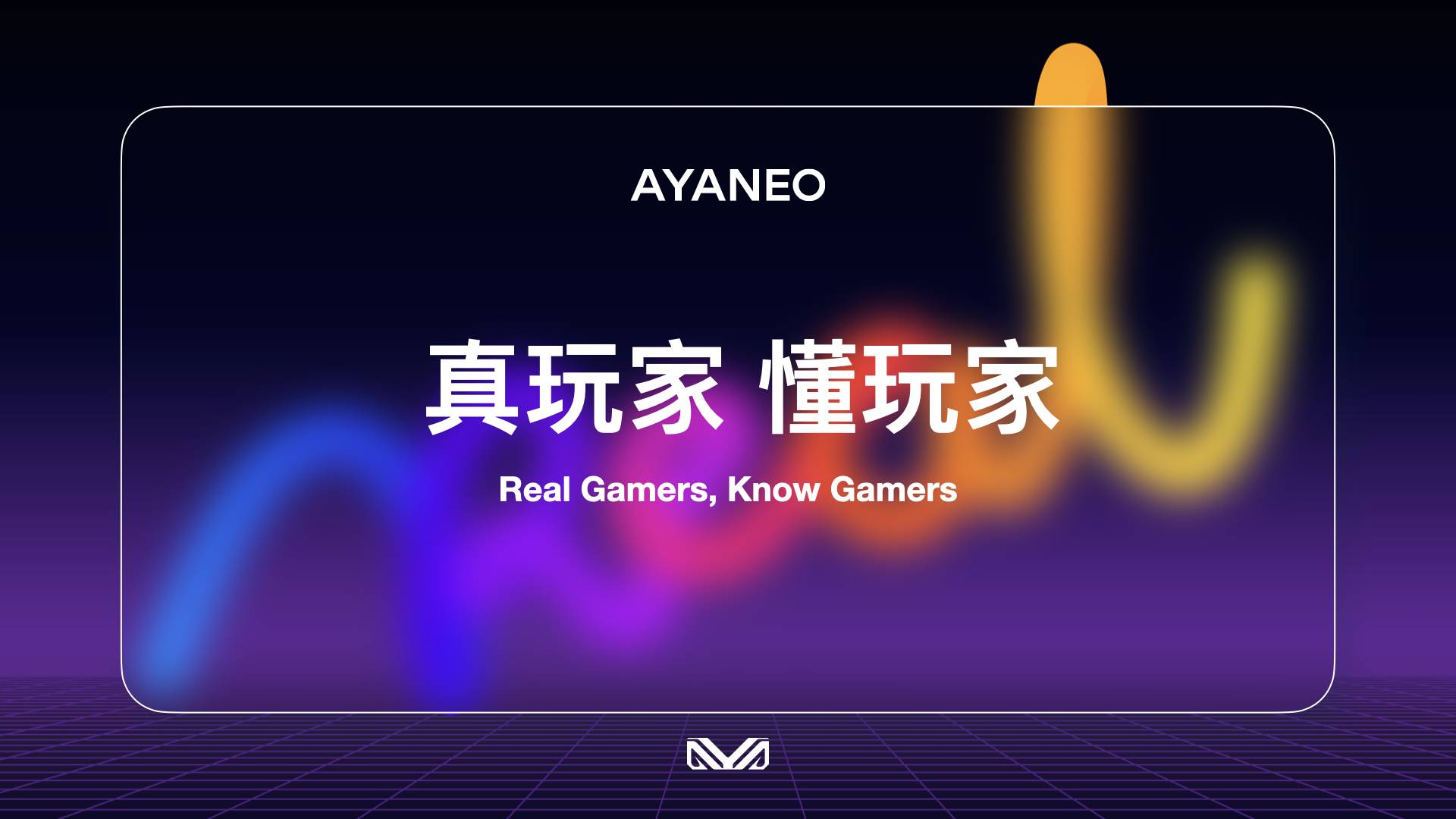 AYANEO will see you all again soon, so stay tuned.
IGG Pre-launch: https://www.ayaneo.com/igg/AIR1S
Discord: https://discord.gg/JbBhjbz9SM
Website: https://ayaneo.com/product/AYANEOAIR1S.html