On July 23, AYANEO CEO Arthur held a live stream to share product information about the long-awaited AYANEO KUN for gamers!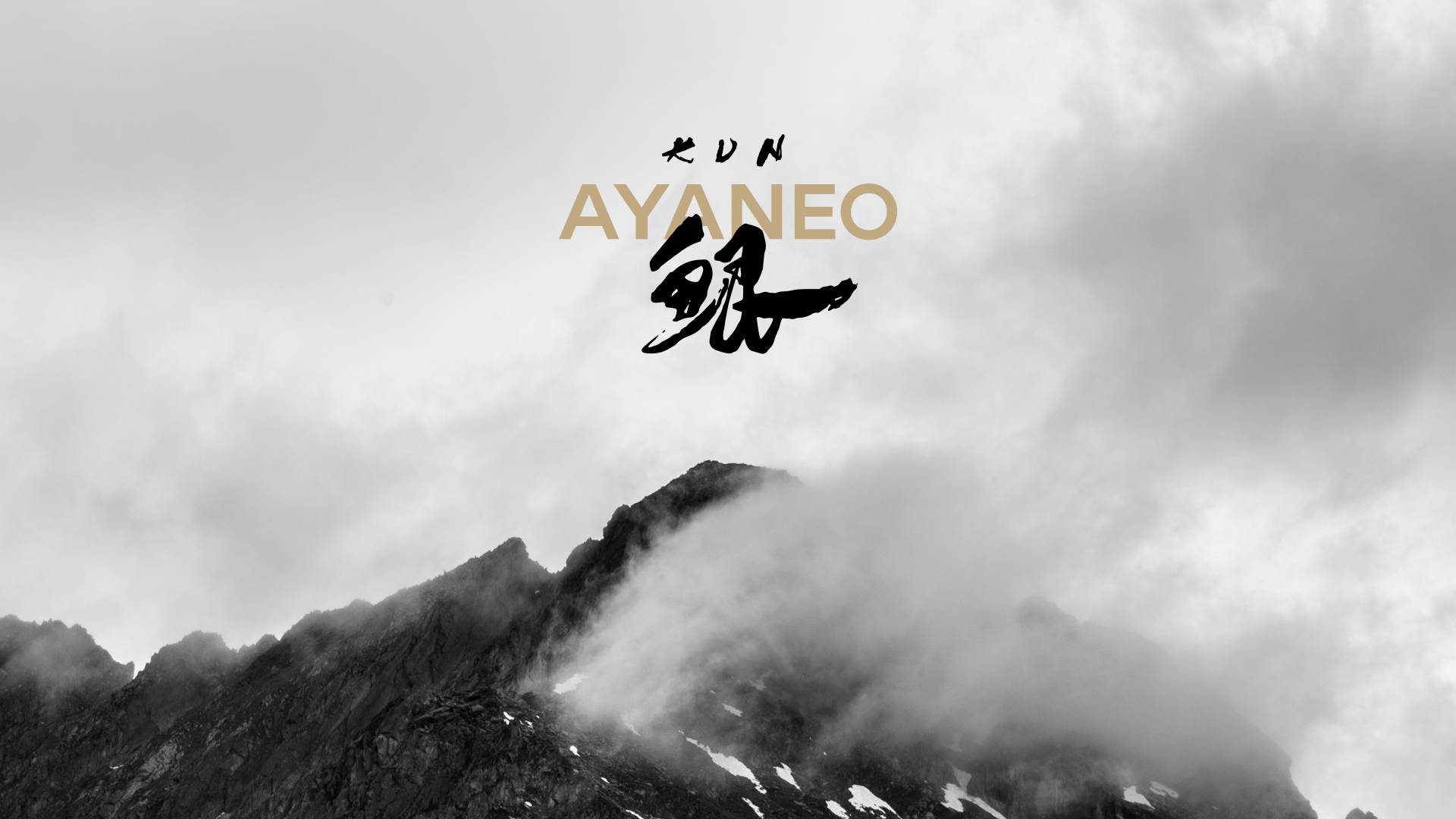 AYANEO KUN - perhaps the most powerful Windows handheld
Positioned as a top-tier flagship with a large screen, AYANEO KUN boasts cutting-edge features that have never been seen before in a flagship Windows handheld device. It combines the most advanced technology with state-of-the-art materials and craftsmanship, delivering an exceptional appearance, tactile experience, functionality, and craftsmanship that define it as a "high-end masterpiece." With its unmatched comprehensive cost, it stands as the most premium large-screen handheld device to date.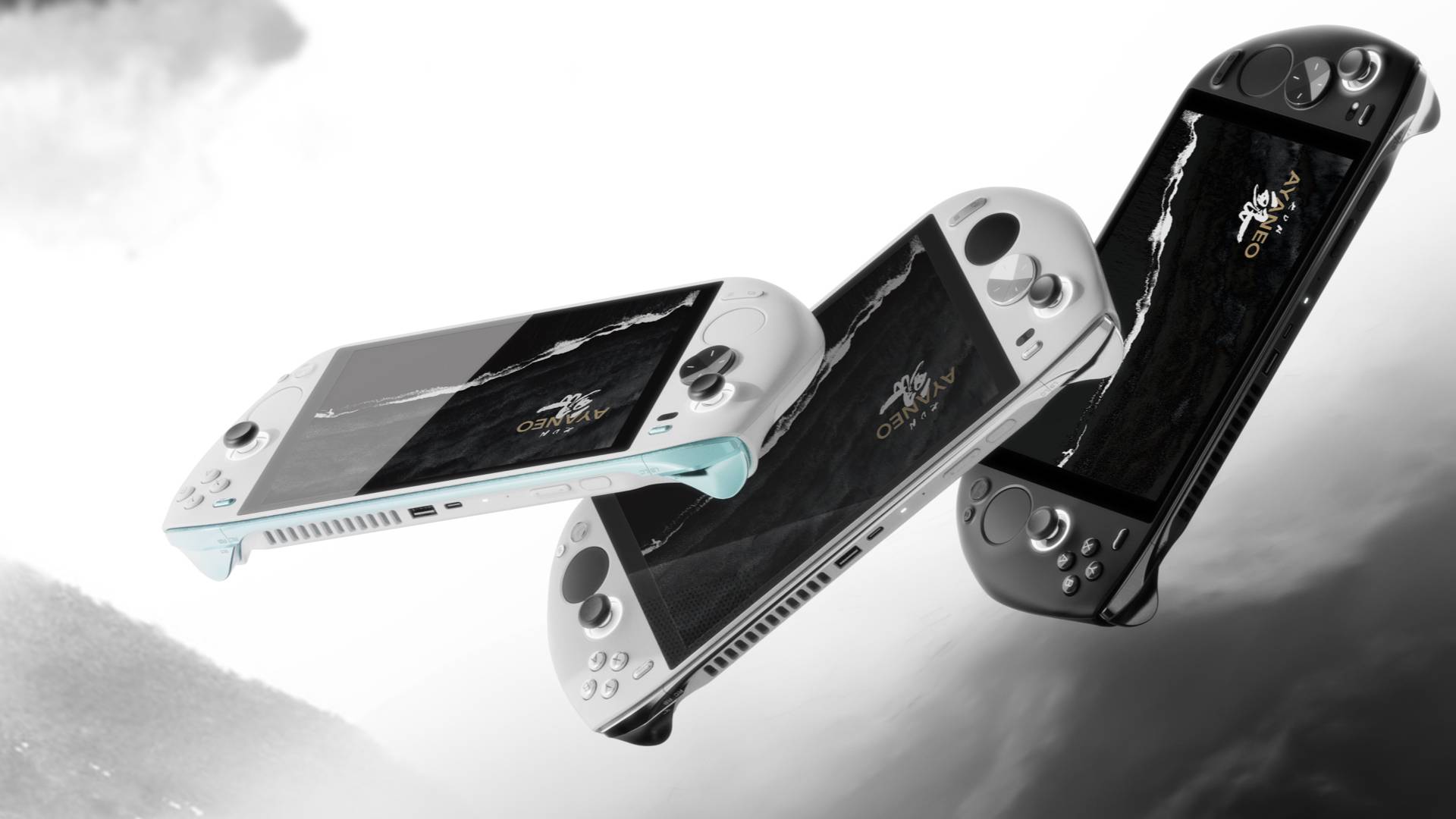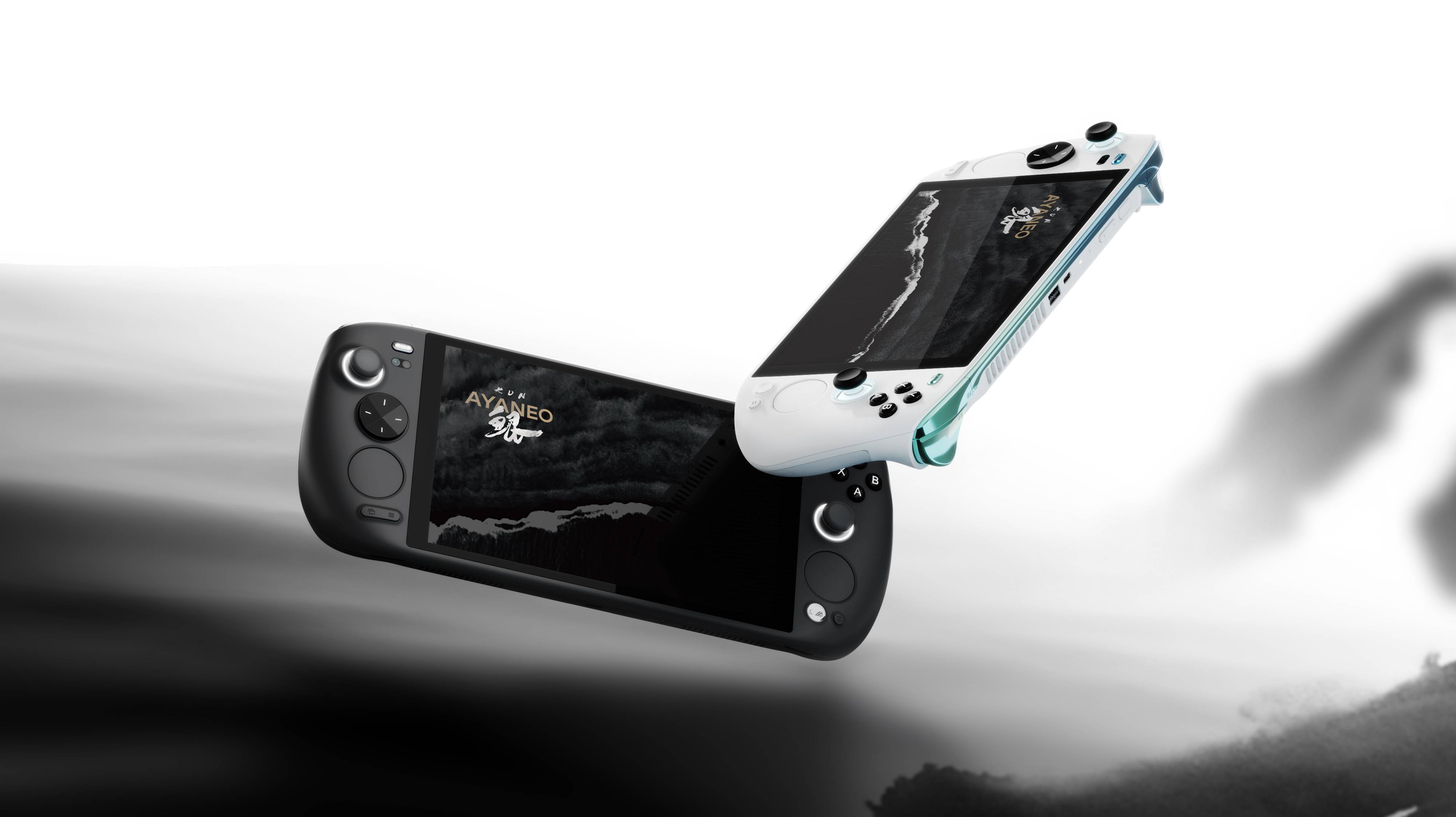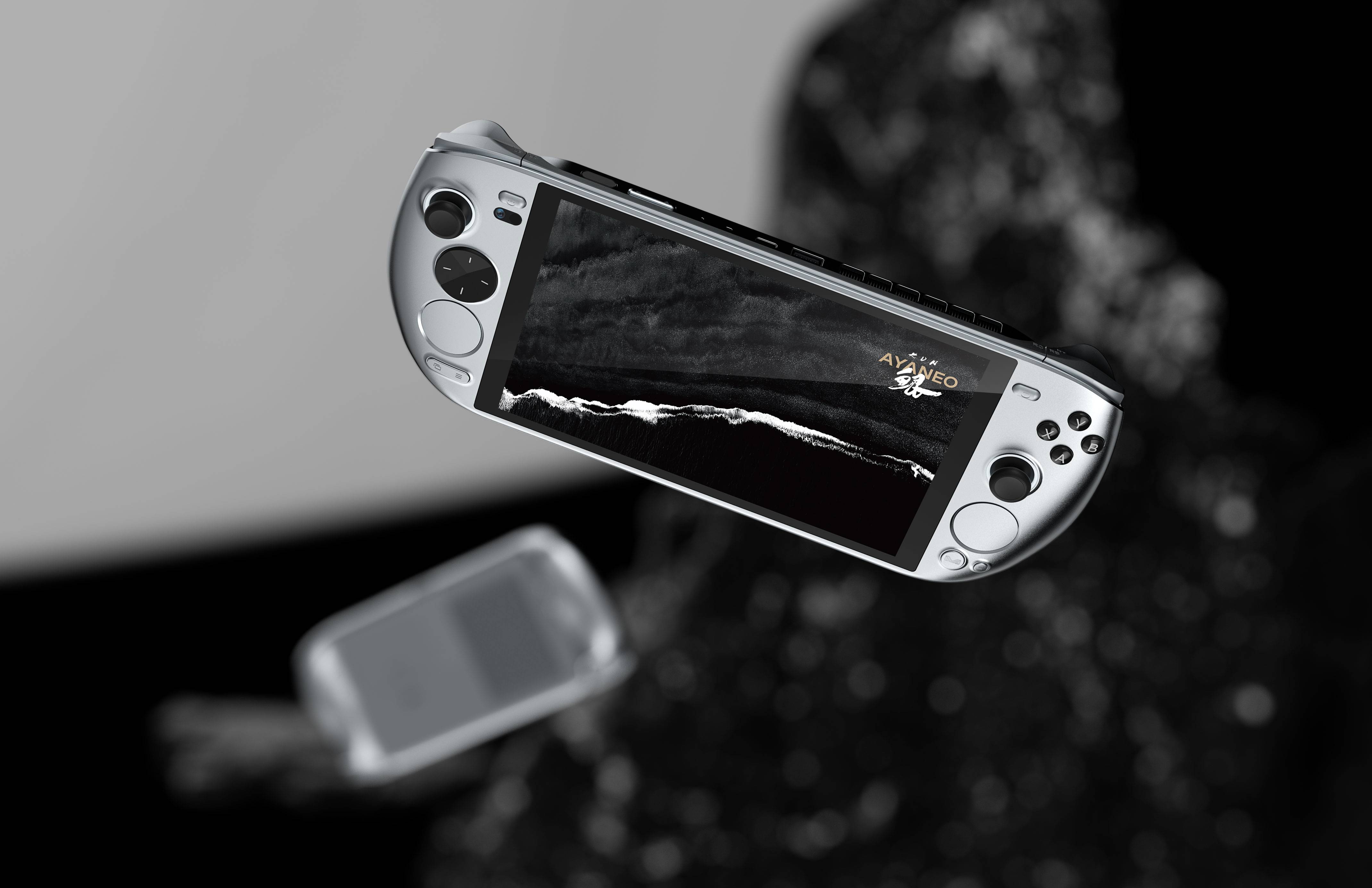 We've created the "Eight Frists" for AYANEO KUN, and it's definitely more powerful than you can imagine.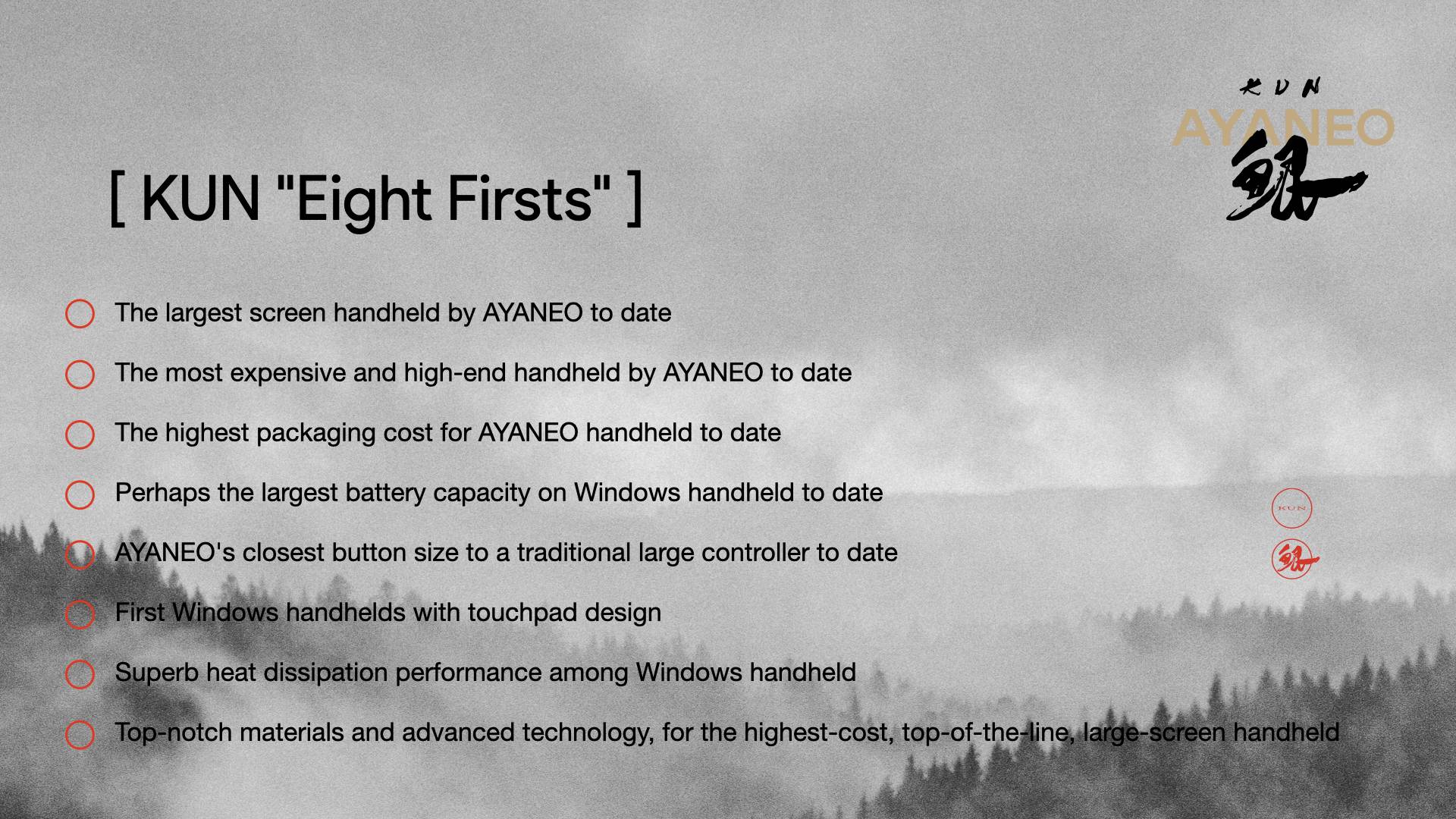 A first-class visual and tactile experience
Positioned as a large-screen handheld, the AYANEO KUN features an 8.4" 2.5K resolution IPS original color screen, which not only has the usual excellent color performance of AYANEO handhelds, but also boasts industry-leading high brightness, ensuring clear and bright screen visibility in a wide range of indoor and outdoor scenarios.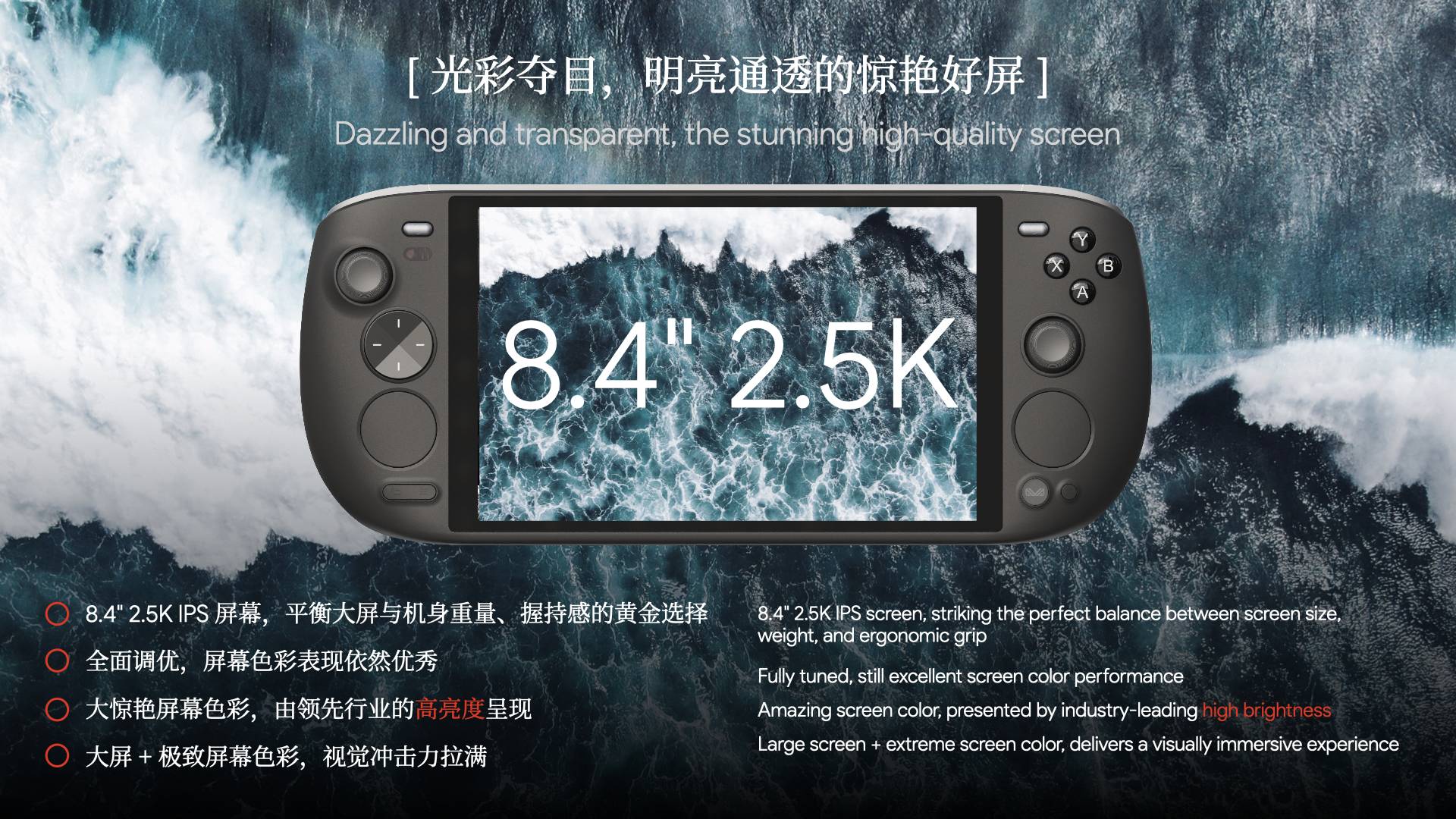 Additionally, the 8.4" screen is the golden choice for balancing size, weight, and grip, and the AYANEO KUN boasts a larger screen size than mainstream 7" handhelds at a similar size.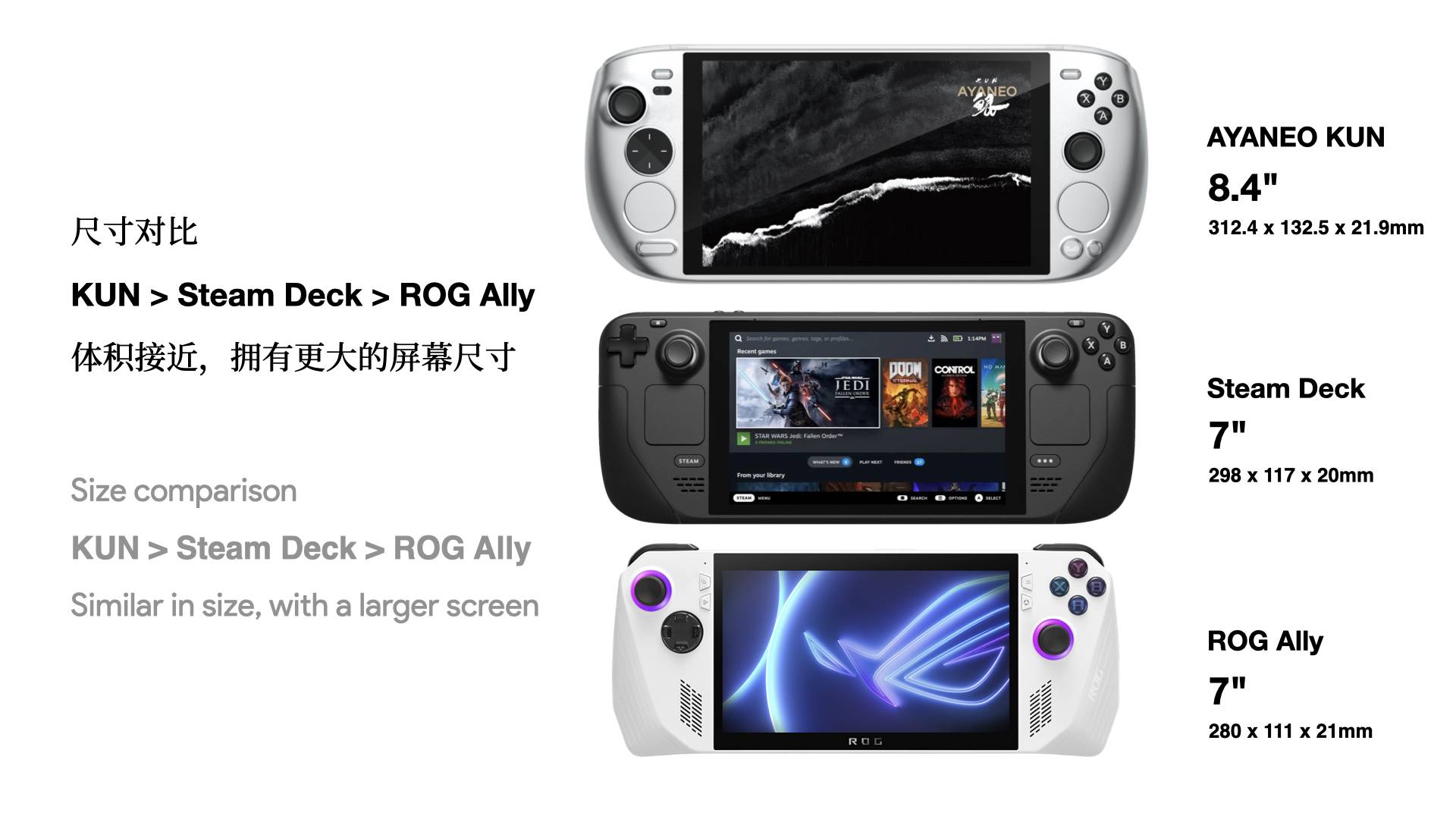 With its large screen, excellent color and industry-leading high brightness, the AYANEO KUN will provide gamers with a stunning visual impact.
Indeed, we have conducted comprehensive optimizations for the user experience of the large-screen handheld device. The weight of the device is evenly distributed, providing a comfortable and balanced grip. The newly designed ergonomic grip is tailored for the larger size of the device, offering a premium holding experience that rivals traditional large game controllers, delivering a first-class tactile feel.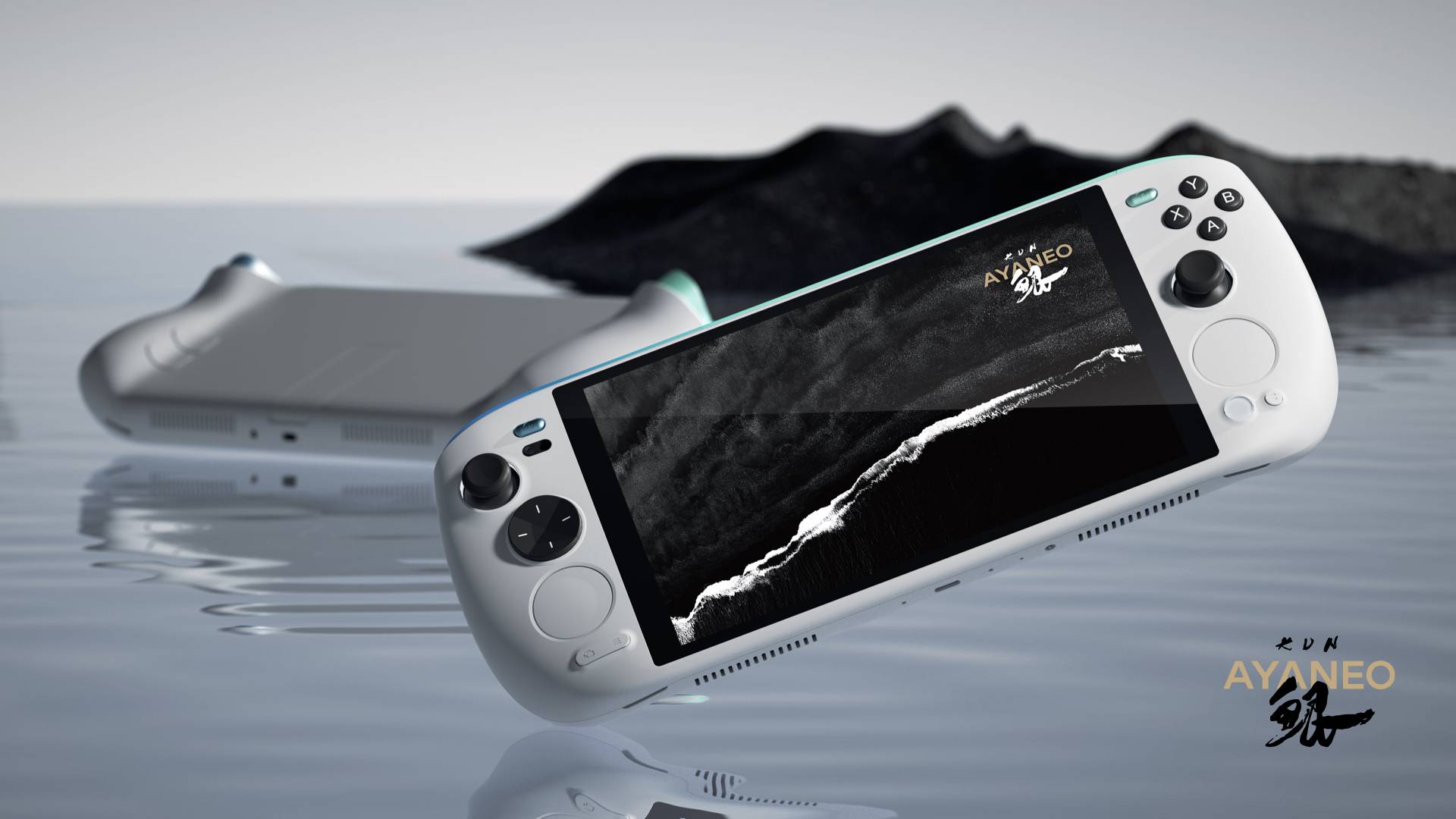 The inspiration for the AYANEO KUN design comes from traditional Chinese ink painting and colors. We have created three elegant color schemes named "Silver Wing", "Black Feather", and "White Silk", all of which go beyond the traditional designs of large-screen handheld devices. Despite its large size, KUN maintains a leading-edge exquisite appearance that defies the stereotype of large-screen handhelds, presenting a stunning aesthetic that sets it apart from others in the industry.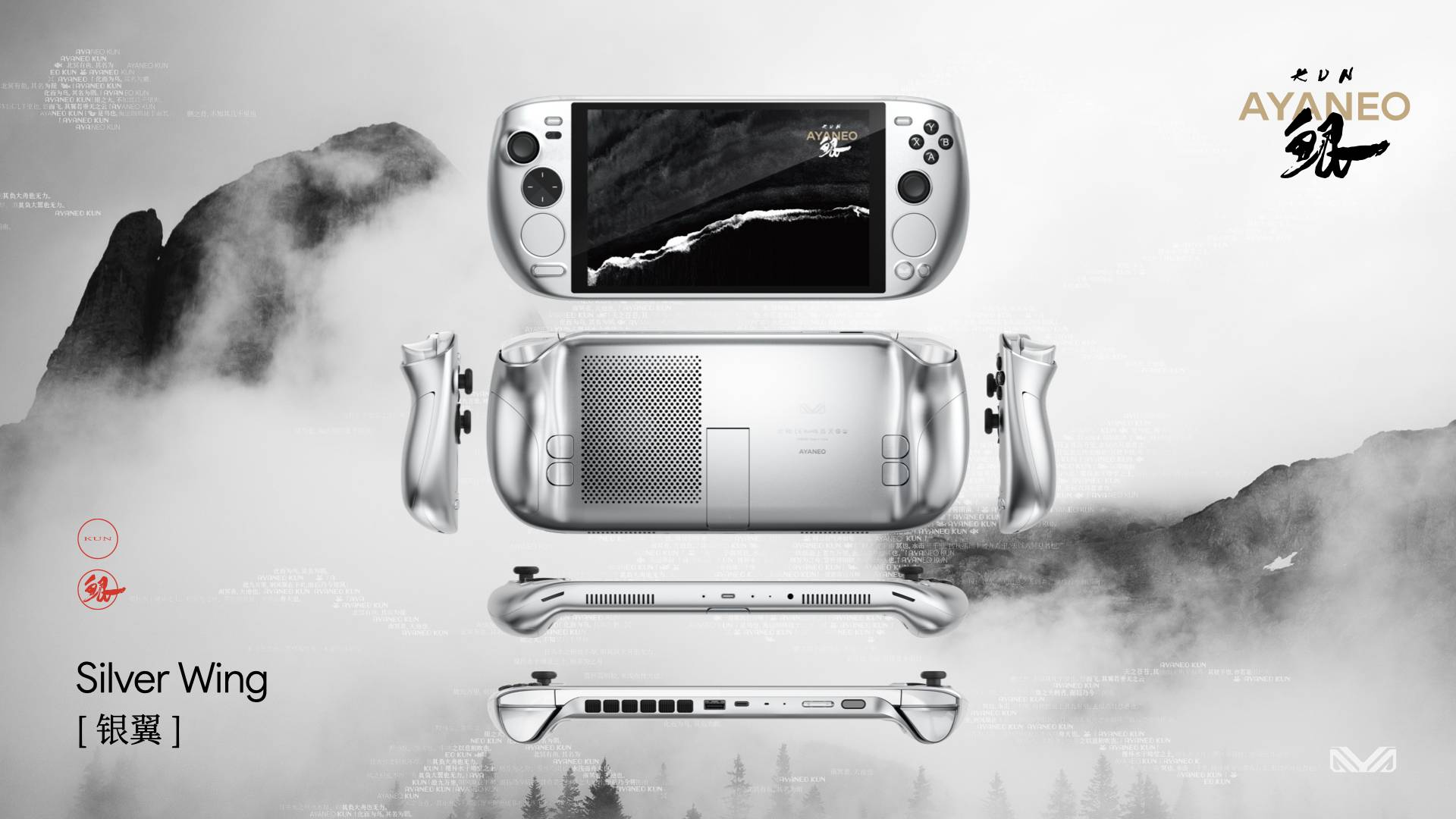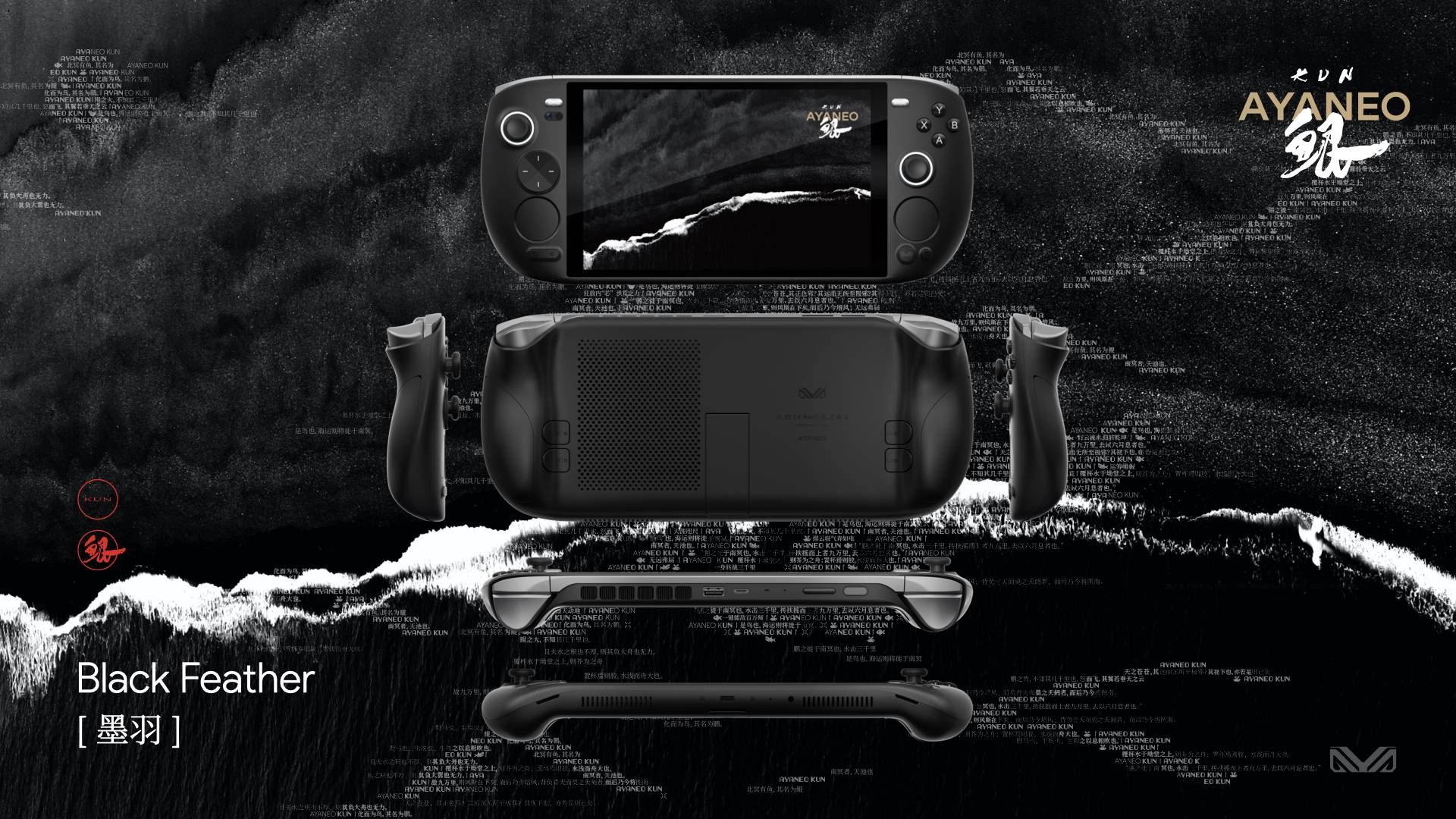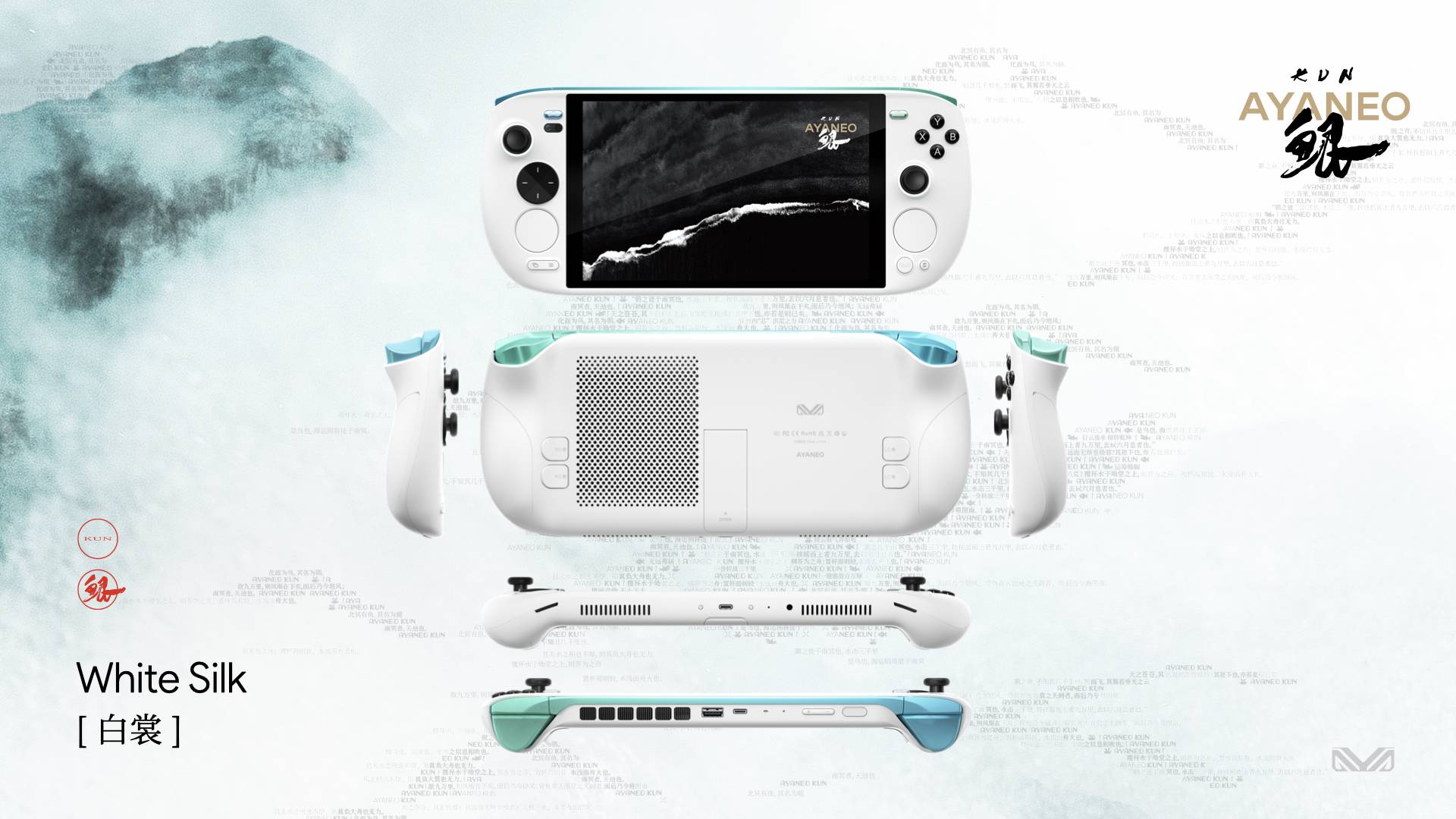 Incredible Performance Unleashed
As a top-of-the-line, large-screen flagship handheld, the AYANEO KUN will undoubtedly be equipped with new AMD Ryzen™ 7 7840U flagship processor, living up to its flagship name.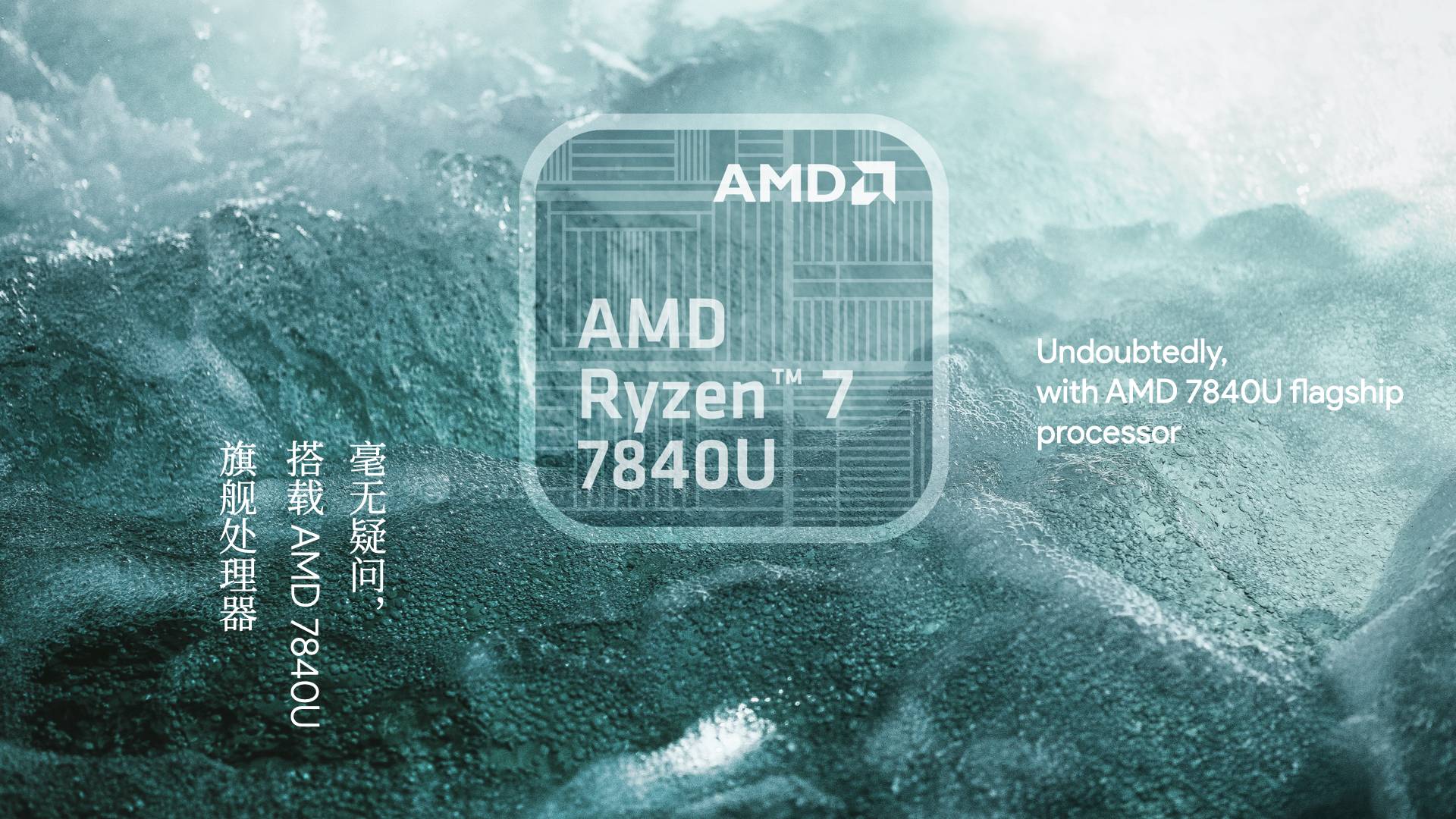 Through continuous optimization of hardware and software, AYANEO KUN is a true "handheld performance beast" with the performance of a handheld that even surpasses that of some PCs.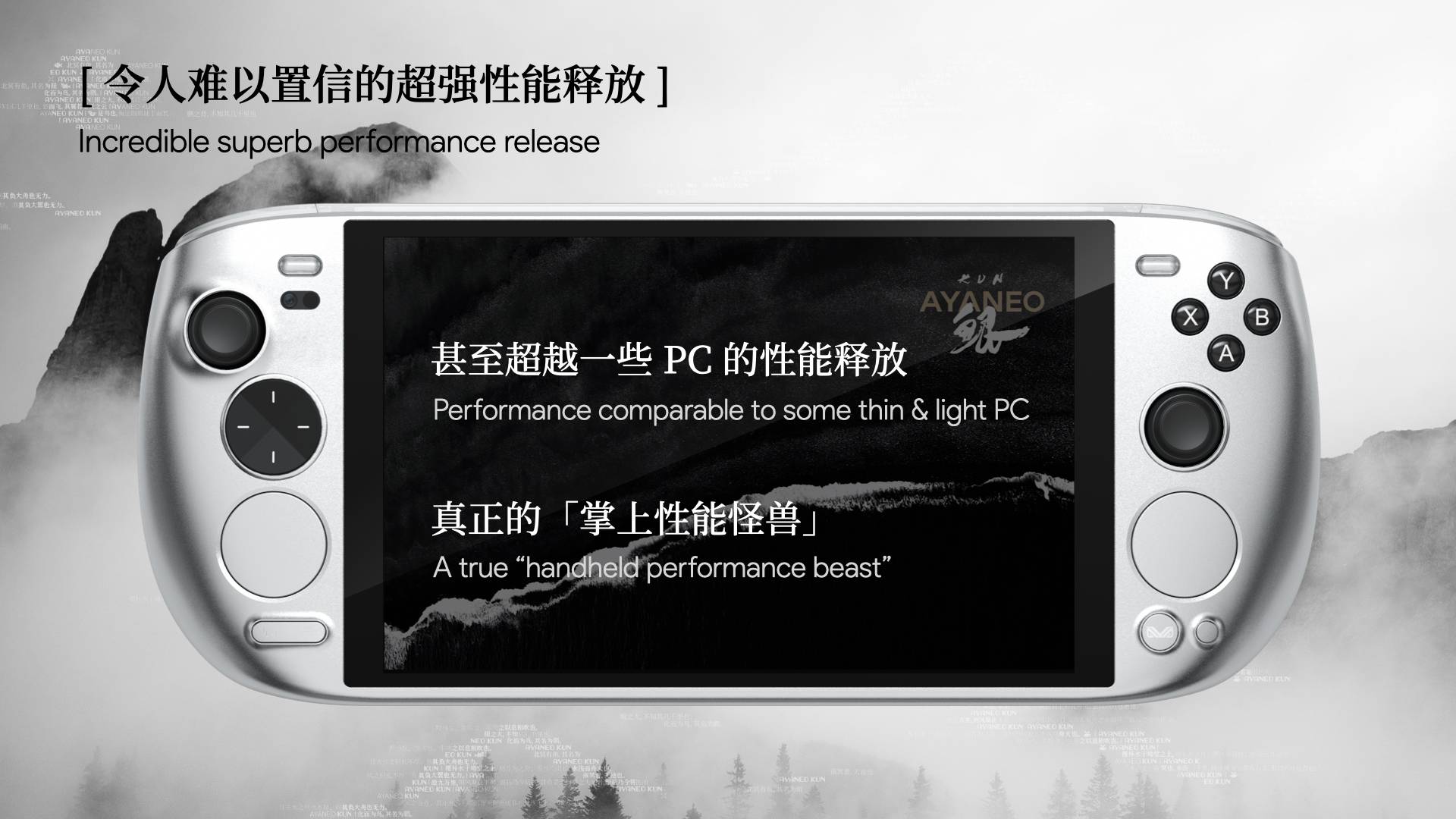 The incredible performance release comes from the newly designed superb heat dissipation system. We took full advantage of KUN's relatively ample space to create an unimaginable heat dissipation system, with a larger three copper tube structure and PC-grade fans to dramatically increase heat exchange efficiency, achieving the strongest heat dissipation capability of any Windows handheld to date.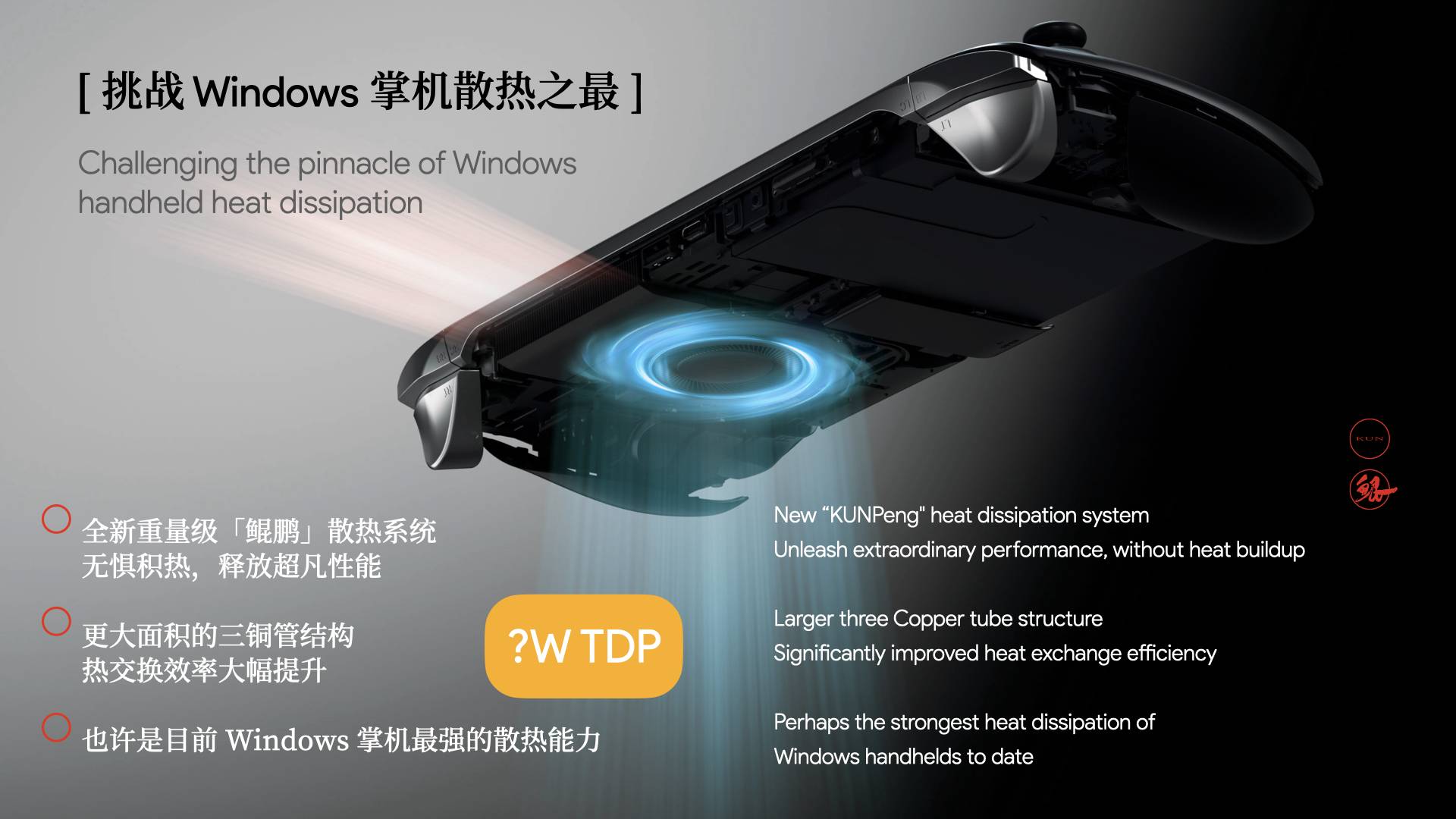 Reliable battery life
With more space in its large size, the AYANEO KUN is equipped with a massive 75Wh (19,500mAh) polymerized battery - the largest ever for a Windows handheld, and comparable to, if not exceeding, the battery capacity of many PCs.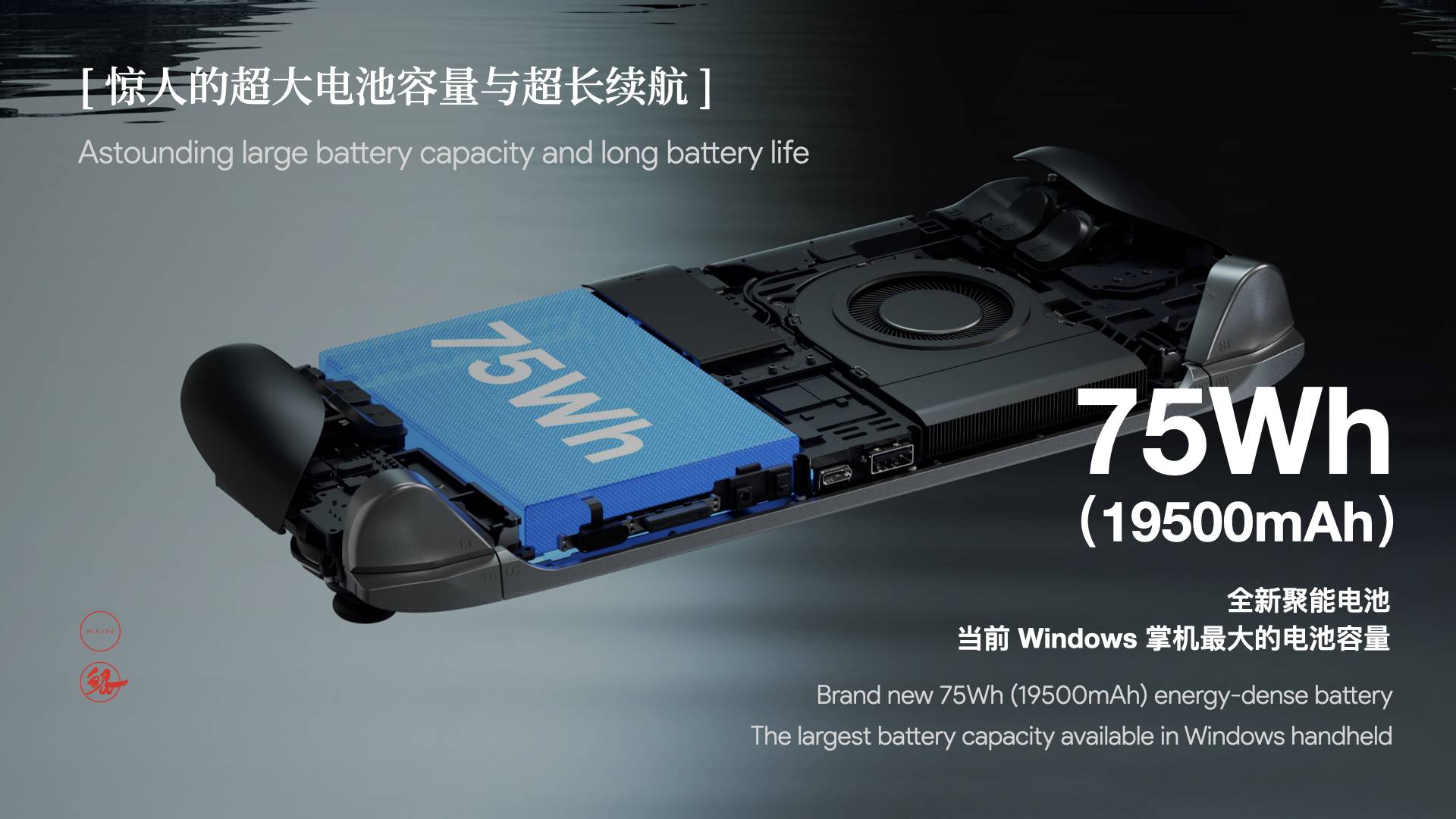 With the outstanding energy efficiency of the AMD Ryzen™ 7 7840U flagship processor and continuous optimization of peripheral power consumption, the AYANEO KUN will have an unimaginable long-lasting battery life.
Enhanced Control Experience
Control has always been AYANEO's unparalleled advantage in handheld gaming. With AYANEO KUN, we are taking this advantage to the next level by equipping it with hand-held level large buttons, providing a softer and more responsive feel, delivering a control experience on par with professional gaming controllers.
Of course, the Master controller still retains its eight major functions, allowing gamers to customize and fine-tune as they wish, providing a master-level and seamless gaming experience.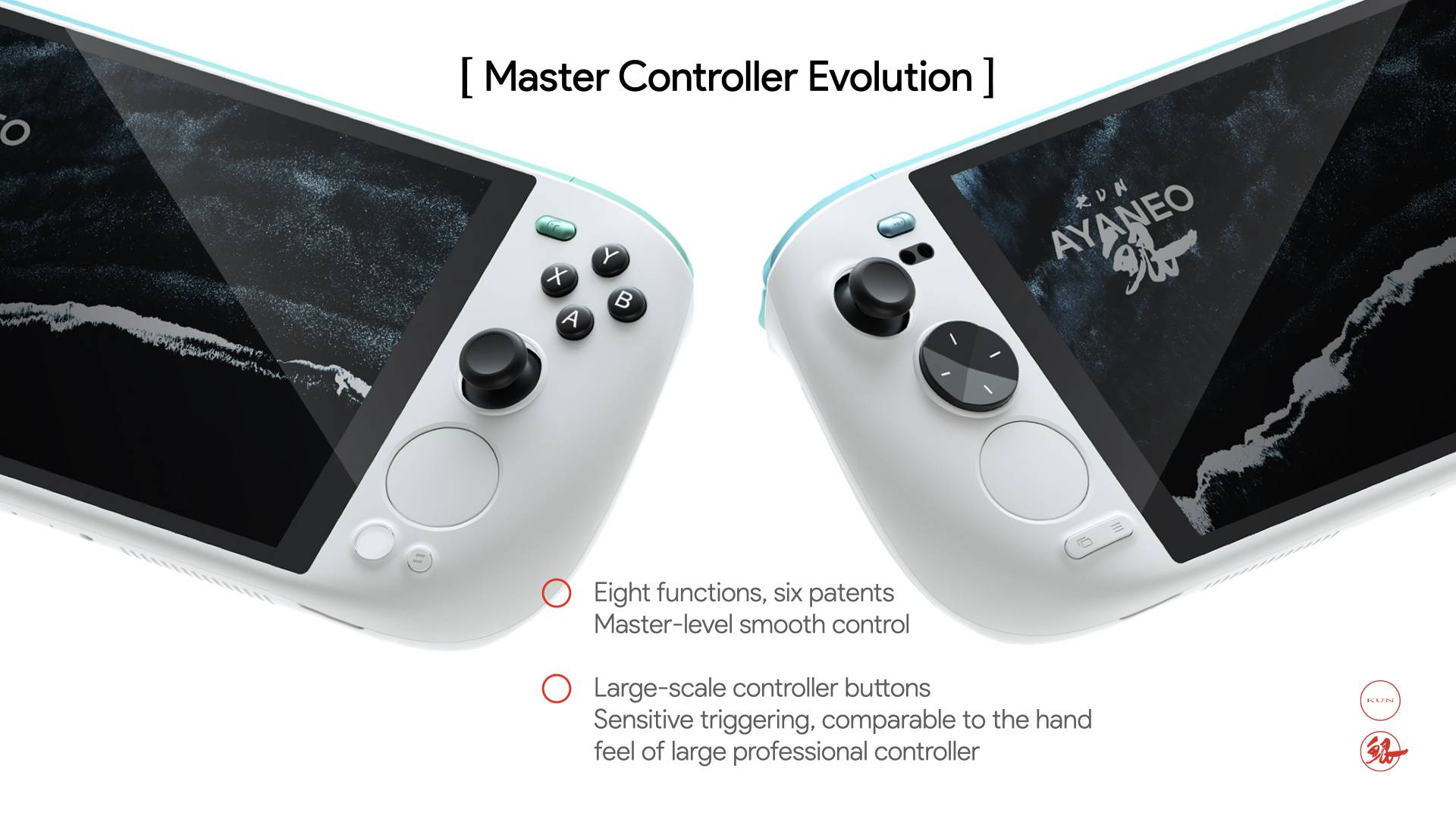 The classic couple of Hall sensing joystick + Hall trigger will continue to bring AYANEO KUN the leading experience of no dead zone, no drift, high precision, long life, wide range and long stroke, allowing gamers to feel a sense of flexible and comfortable control.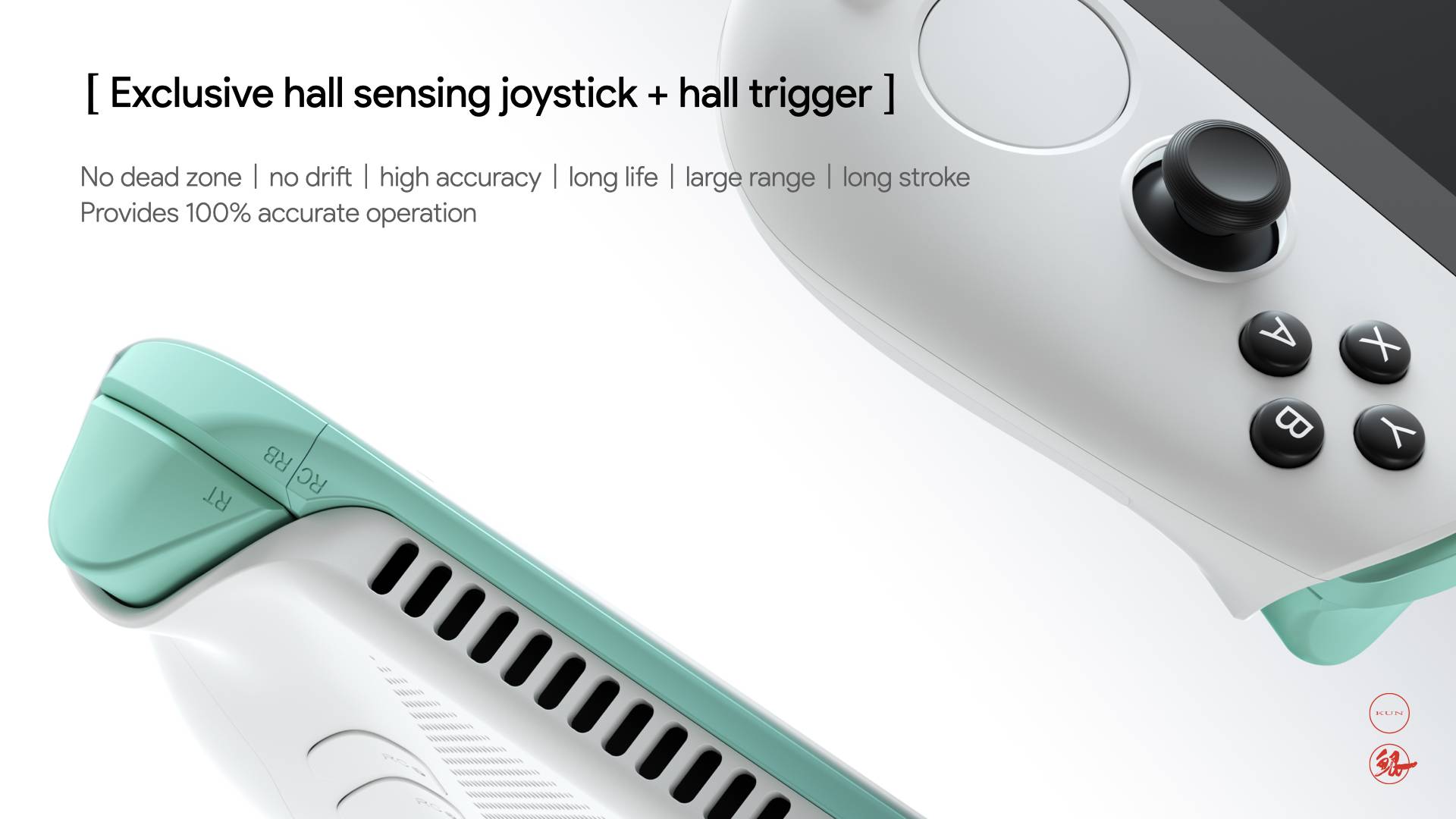 Brand new floating eight-directional D-pad
With configurations previously exclusive to professional gaming controllers, now available on Windows handheld devices. AYANEO KUN will be equipped with a floating eight-directional D-pad, enabling precise and responsive controls in all directions, making the gaming experience even more immersive and enjoyable.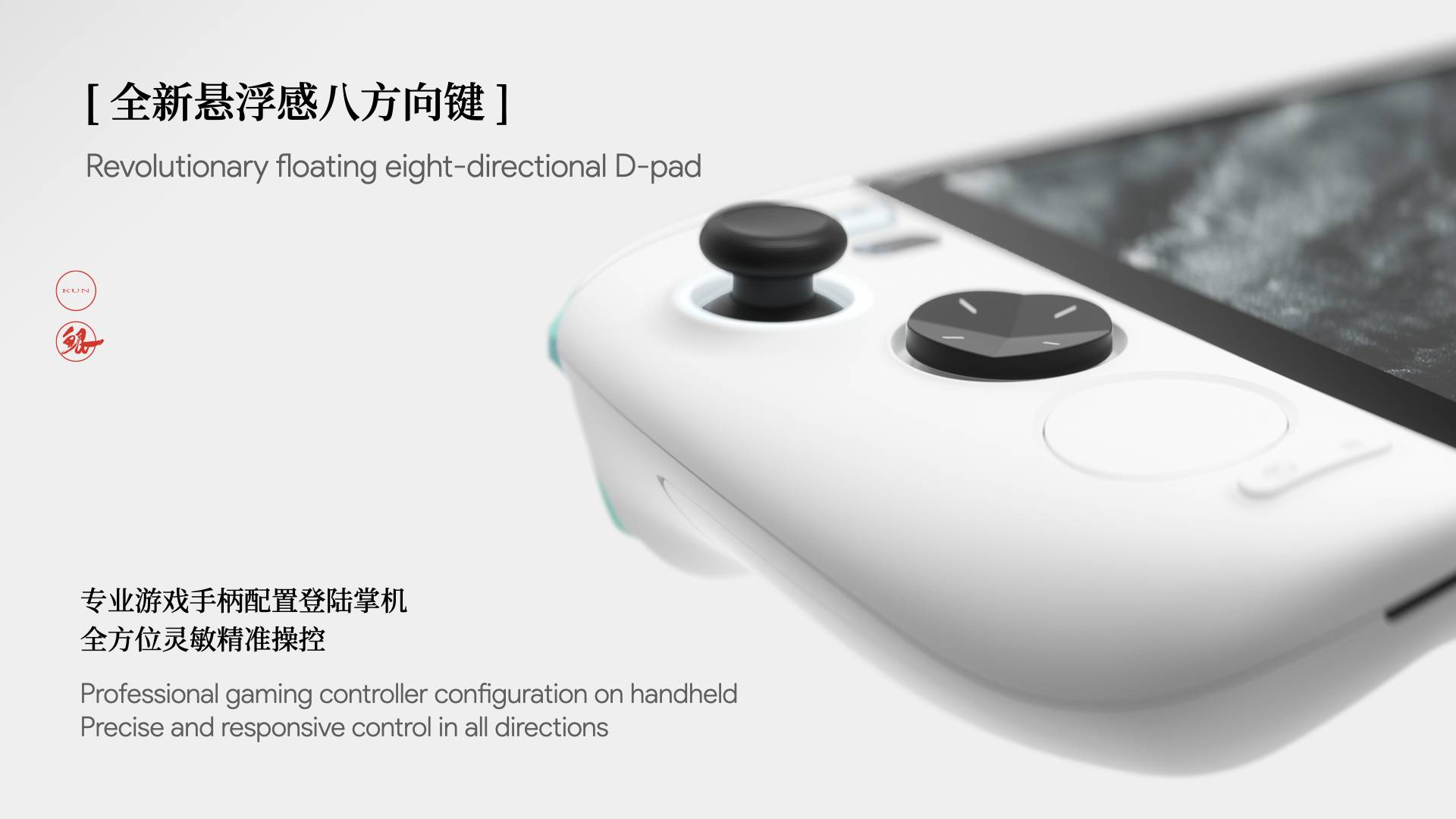 Pioneering dual intelligent touchpads on Windows handheld
AYANEO KUN is the first Windows handheld to feature dual intelligent touchpads, providing a native mouse-like touch experience that truly transforms the device into a PC-like usage, greatly enhancing the overall user experience.
Additionally, KUN introduces key mapping functionality, allowing for convenient custom key combinations during daily use and enabling quick execution of advanced actions while gaming.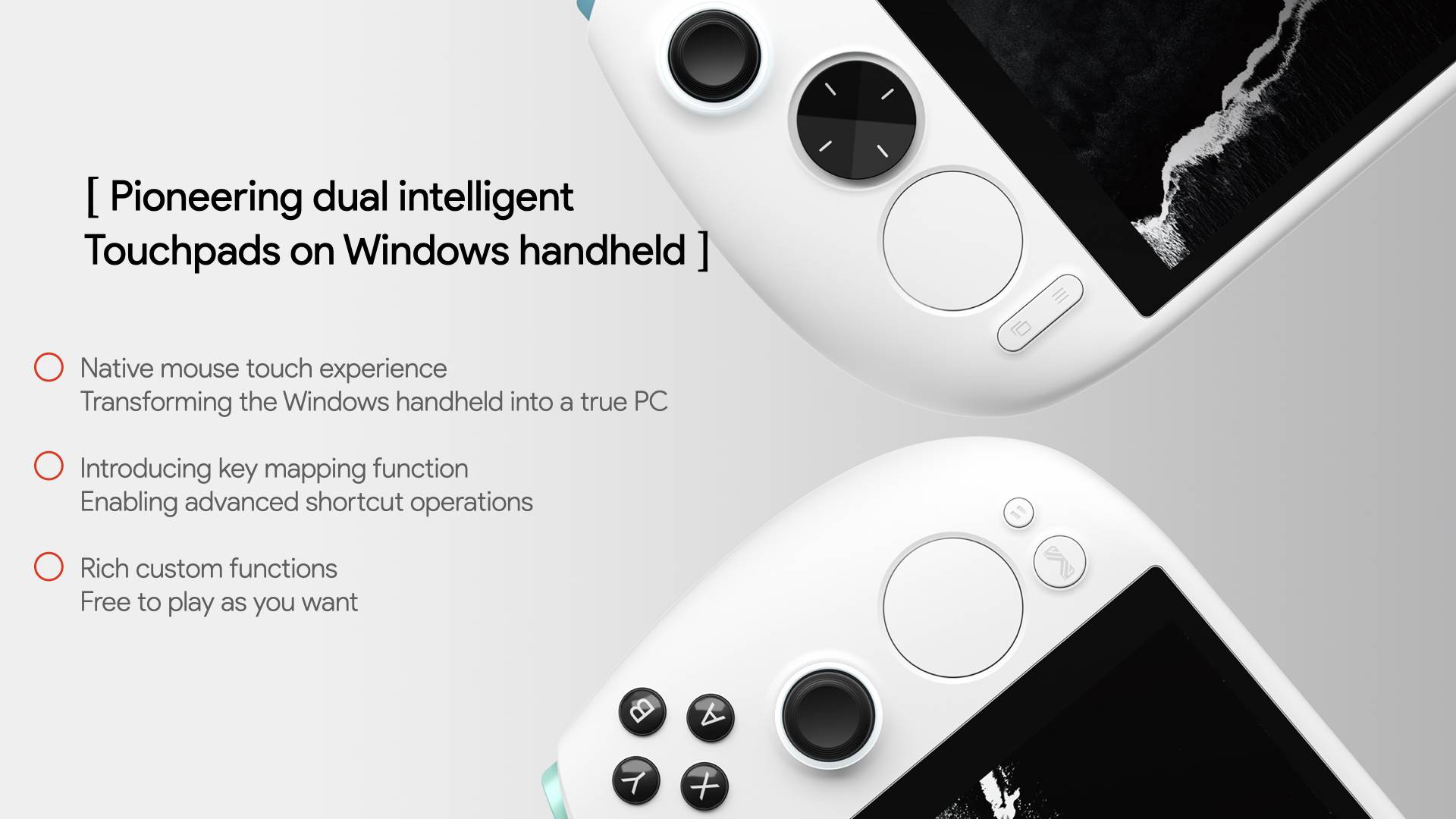 Indeed, beyond just key mapping functionality, we have designed a wide range of rich gesture operations for these two touchpads, and in the future, we will open up even higher levels of customization. The dual intelligent touchpads of KUN can support a multitude of shortcut operations, limited only by the gamer's imagination.
The first AYANEO handheld equipped with back buttons
AYANEO KUN is equipped with four convenient back buttons, strategically positioned in locations where fingers can naturally rest. These four back buttons offer a wide range of functional combinations, allowing for seamless coordination of all ten fingers and unlocking a plethora of exciting operations and gameplay possibilities.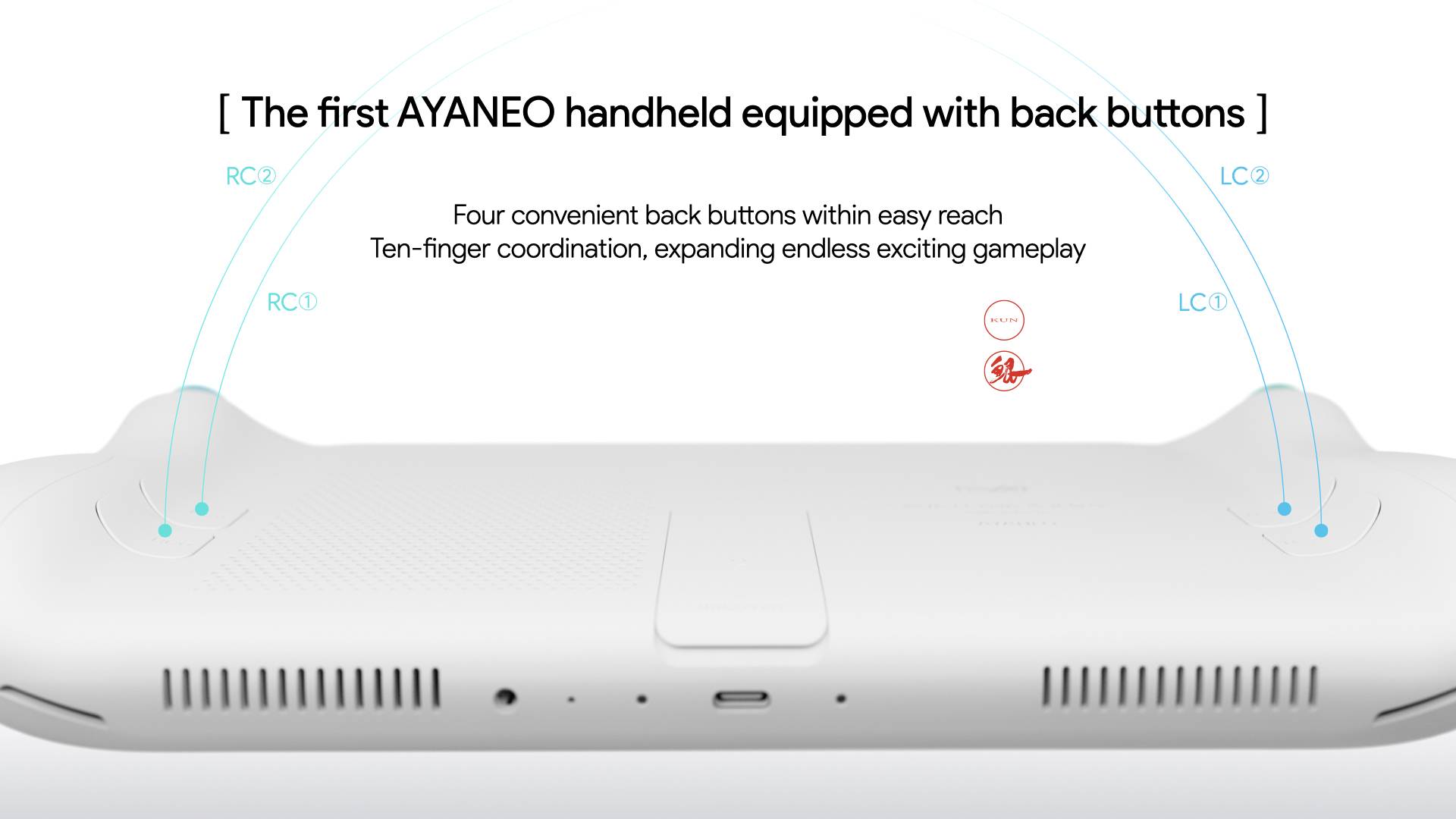 First Windows handheld to support Windows Hello face recognition
This is another breakthrough for Windows handheld devices. In addition to supporting fingerprint recognition, AYANEO KUN is also the first Windows handheld device to feature Windows Hello face recognition functionality.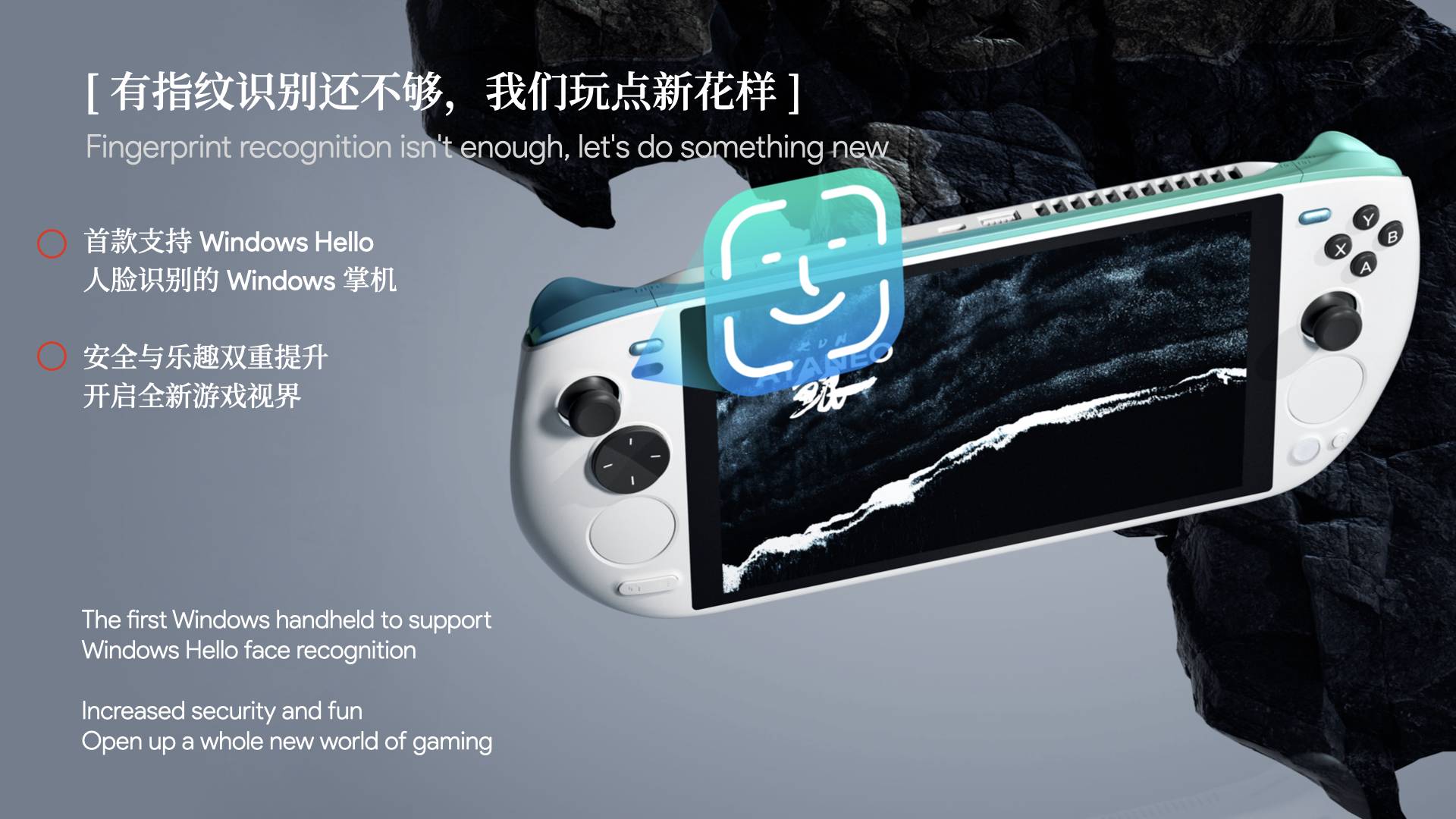 The inclusion of Windows Hello facial recognition brings a dual enhancement of security and convenience, allowing gamers to easily unlock the device with just a face scan. With the addition of the Windows Hello camera, gamers can now engage in video calls on the handheld device, making remote meetings and even gaming with video simultaneously a regular occurrence, combining both fun and convenience.
AYASpace 2 optimized for large screen resolution
AYANEO KUN comes pre-installed with the all-new AYASpace 2 management software. AYASpace 2 features a redesigned user interface and completely restructured underlying architecture, providing seamless adaptation to high-resolution large screens, ensuring a cohesive visual and interactive experience.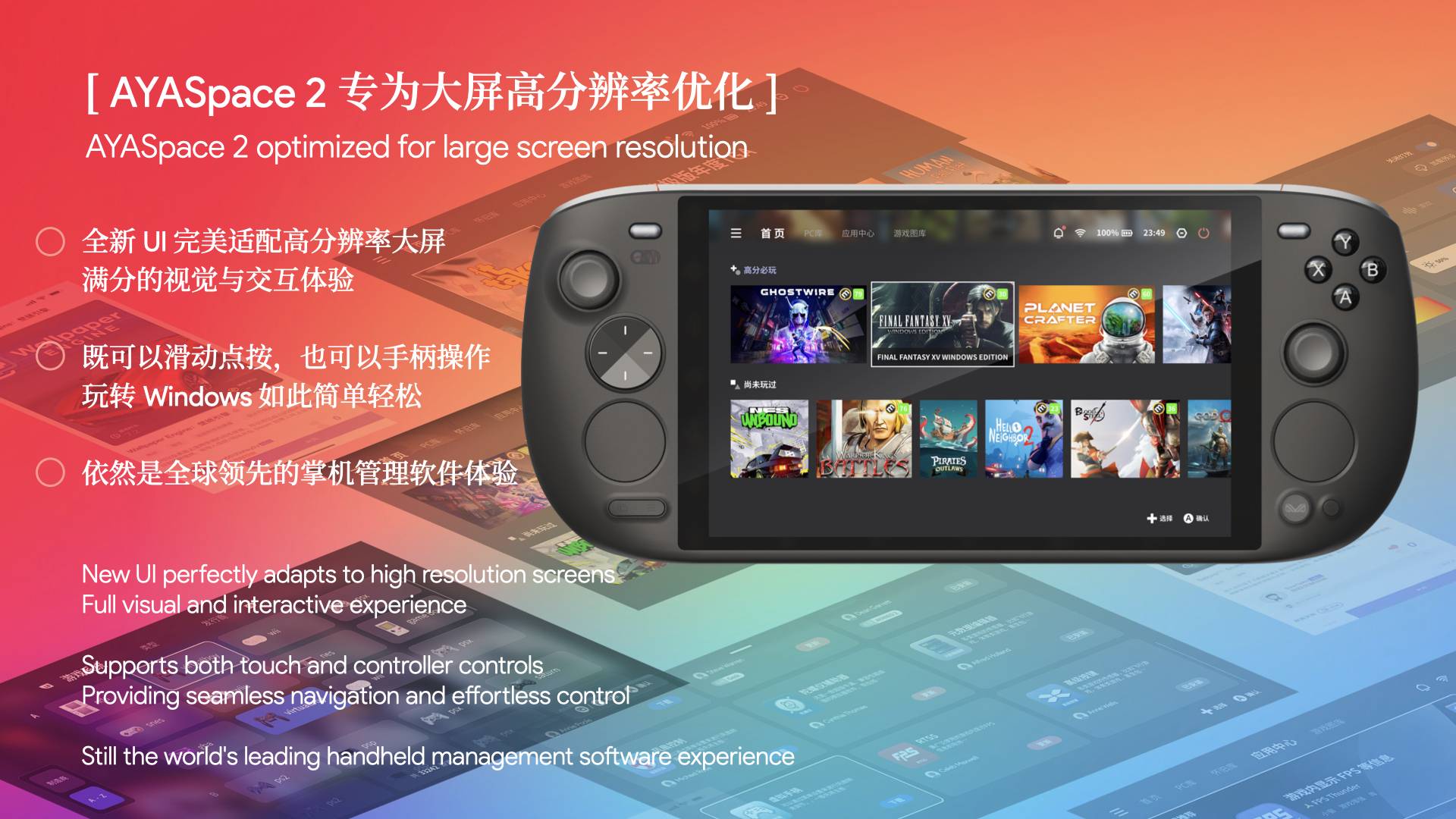 AYASpace 2 operation logic has undergone comprehensive optimization, offering the flexibility to use both touch screen gestures and traditional gamepad buttons and touchpad controls. This versatility allows gamers to adapt to different scenarios and effortlessly navigate Windows with ease.
AYANEO KUN highlights
AYANEO KUN, the high-end flagship large-screen handheld console, is not just about its impressive size, it is also equipped with cutting-edge industry-leading technologies, making it a pinnacle of large-screen aesthetics.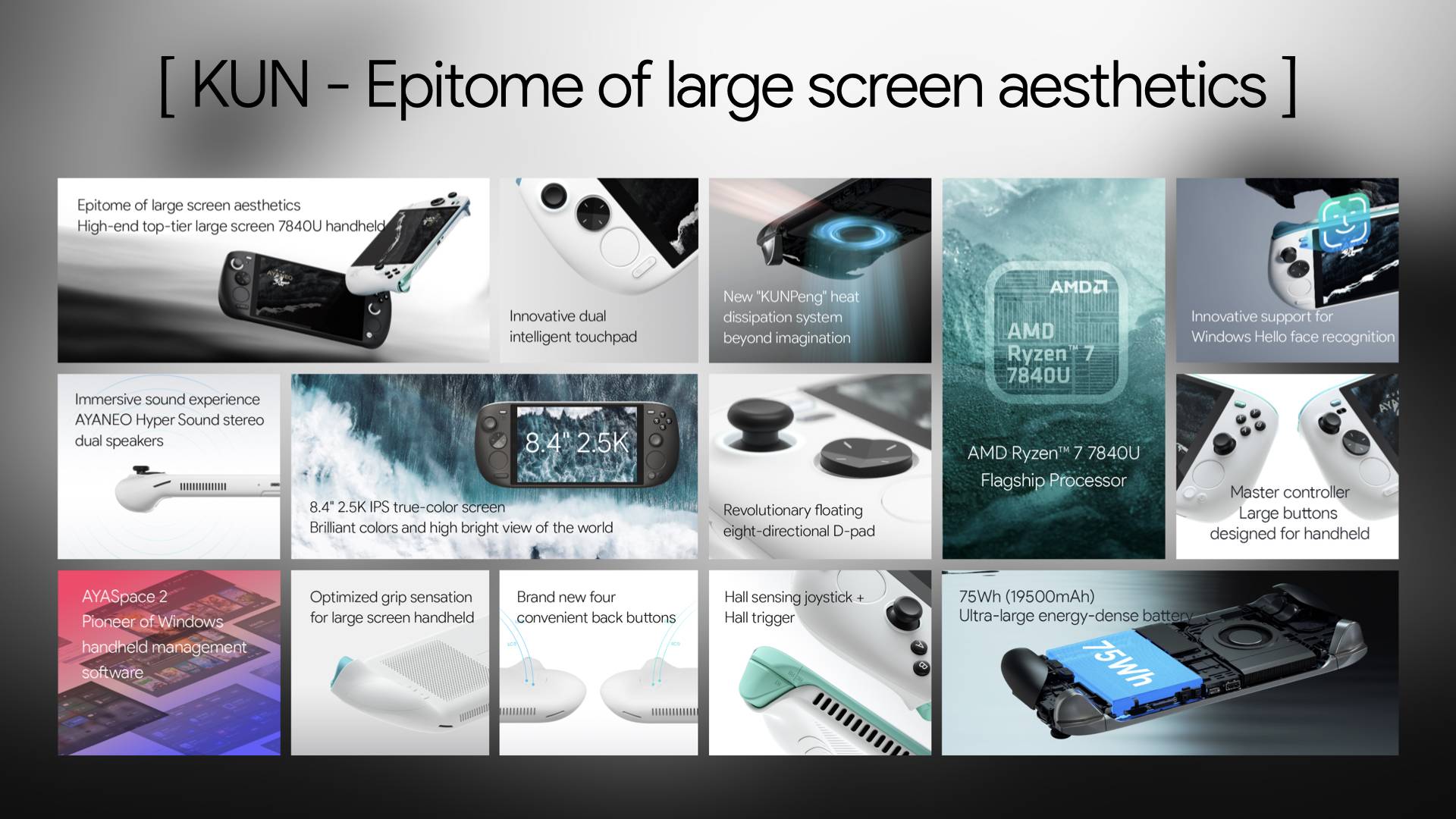 Official launch scheduled for August
Of course, we've kept a lot of things under wraps at this event, and there are still a lot of highlights of AYANEO KUN, the most powerful handheld ever, that we haven't shown to gamers yet.
We'll reveal the real KUN at the official launch event at the end of August, so keep your eyes peeled.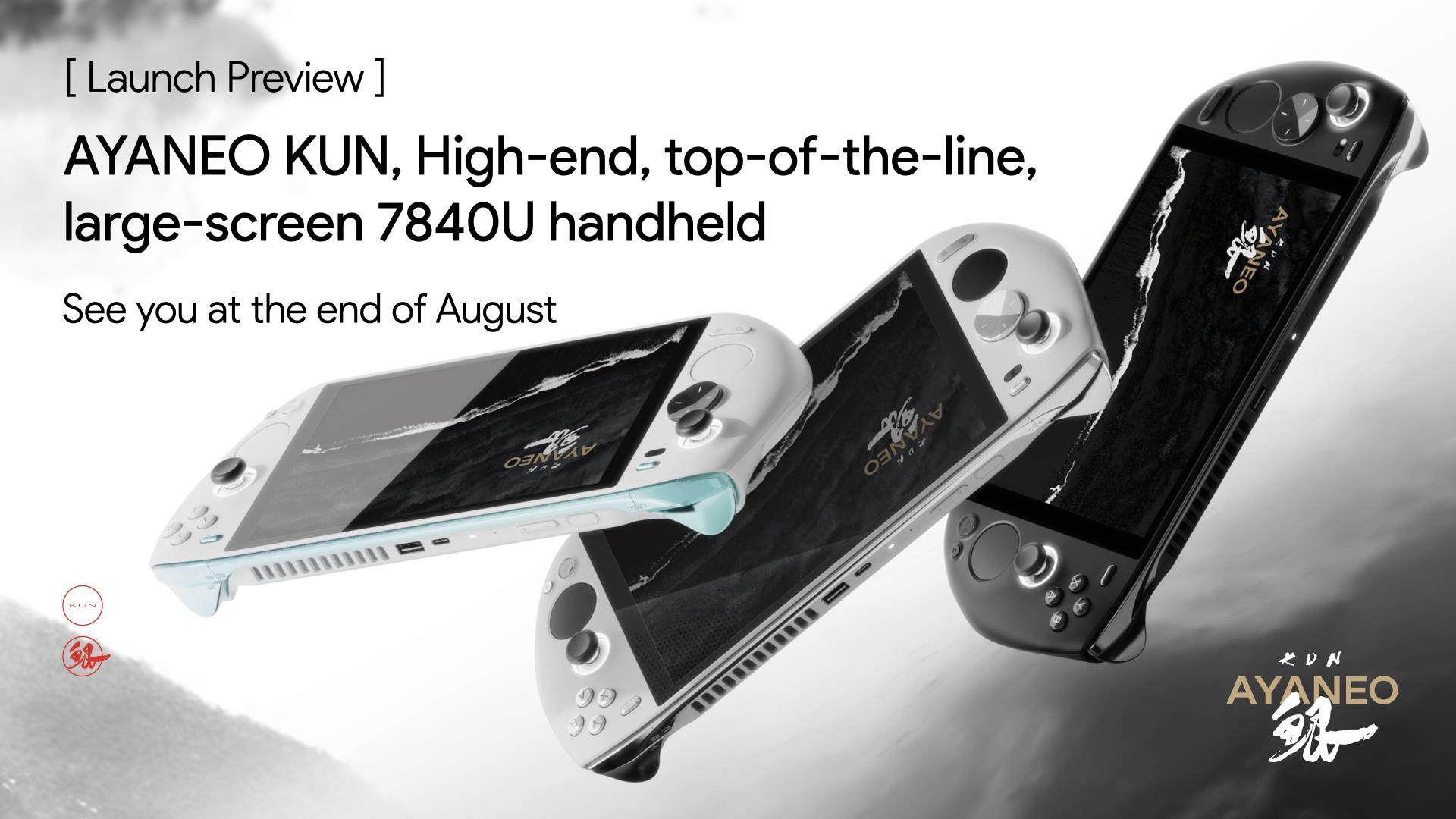 AYANEO KUN is the dream masterpiece of AYANEO, exploring the infinite possibilities of Windows handheld consoles. It will be a high-end flagship that completely revolutionizes the form and experience of Windows handheld gaming.
IGG Pre-launch: https://www.ayaneo.com/igg/KUN
AYANEO KUN Discord: https://discord.gg/zPVcBdra7x